'Bristling' at 'pink-it-and-shrink-it' pitfalls, Sallie Krawcheck files an ADV
Ex-Merrill Lynch chief's Ellevest will charge double the Betterment rate but with hopes of better investing for women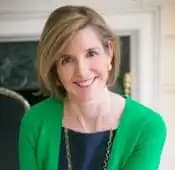 Sallie Krawcheck: If not me and my team, then who?
---
---
Andrew Ghezzi
November 10, 2015 — 1:09 AM
Sorry but "women"is no longer a market niche. These days you need to be much more specific than that.
Stephen Winks
November 10, 2015 — 3:33 PM
Love Sally's research driven, facts based approach. It will take her in a different direction than convention, thus likely dispensing with many of the cultural inhibitors that prevent the brokerage format being effective in advisory services. Women as a category may not be profound as a niche, but women are far better as advisors than brokers. The breaking of the mold portends Sally as an early adopter which puts to bed the many myths of Wall Street sophistication in compelling ways that only Sally can do.
SCW
Stephen Winks
Jeff Spears
November 10, 2015 — 4:12 PM
I wouldn't bet against Sallie!
I didn't work out so well for those who did…Pandit, Moynihan and a long list of other MEN!