Vincent C. Gubitosi is the person behind the people behind the robo that will manage Fidelity Go assets.
Brooke's Note: In our article about Betterment earlier today, we suggested its alliance with Fidelity was scuttled partly in anticipation of an in-house Fidelity robo launch. We were partly right. It turns out that launch has actually already occurred, with a few caveats. This Fidelity Go liftoff does not yet have clients from outside Fidelity and this is not THE ROBO as far as RIAs concerned — other than the fact that this Fidelity Go may offer some glancing competitive threat. Very glancing, it seems.
Fidelity Investments is going robo — without looking terribly "me too."
News that the Boston-based investing giant is launching an automated, end-client-oriented RIA called "Fidelity Go" broke earlier today in the New York Times, following hard upon an RIABiz report that Fidelity and robo-advisor Betterment are winding down their year-long partnership.
One should never underestimate the role of internal politics in such a move, particularly at a behemoth like Fido where a leader with a vision — Abby Johnson — has final say. This type of launch, while not unexpected, represents a grand sally into the future. See: How Abby Johnson won the hearts of mega-RIA clients in advance of taking the CEO spot at Fidelity Investments.
But don't read much into the timing of these announcements, says Fidelity spokeswoman Erica Birke.
"It's a total coincidence that these two stories broke on the same day."
Fidelity filed ADV for the new unit Oct. 23.
Mystery portfolio manager
The robo-advisor is actively managed, a characteristic that makes stand out in a crowded, mainly monochromatic, field, according to Will Trout, senior analyst with Boston-based Celent LLC.
"Undoubtedly Fidelity here has a vision beyond 'me too.'"
Geode Capital Management, a $193 billion AUM RIA in office space at One Post Office Square in Boston, will manage investments for Fidelity Go portfolios. Geode was originally founded by Fidelity in 2001 but spun off in 2003. It is a quantitative manager and it will manage portfolios made up primarily of Fidelity mutual funds and BlackRock ETFs, according to the SEC filing.
Geode's president and chief investment officer, Vincent C. Gubitosi, has virtually no online footprint. He was a Boston College economics major and graduated around 2000. Gubitosi and Geode declined to respond to an inquiry for this story.
A different thing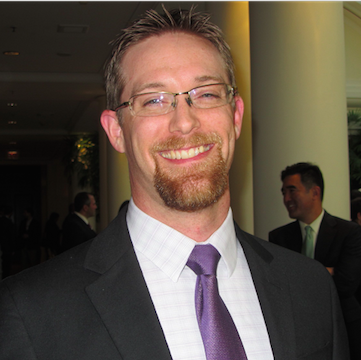 Bill Winterberg: Those who do business
with Fidelity now see yet another
way Fidelity is going to potentially
compete for assets on the retail
side of the business.
This introduction of an investing mastermind into the Fidelity Go process should not alarm RIAs who are counting on Fidelity to become their source of robo technology. That's because, Birke explains, when Fidelity's RIA robo does gets rolled out, it will have a different name.
One major difference: RIAs will fully control the investing process in the Fidelity robo-for-RIAs, if they so choose.
"My thought about the launch of yet another robo is that it is ironic that the very firms who showed portfolio management to be a commodity, are themselves being commoditized. Price pressure here means a race to the bottom. So what's in it for Fidelity?" Trout asks.
Is it good for RIAs?
The advent of B-to-C Fidelity Go has implications for RIAs, according to Bill Winterberg, principal of FPPad.com.
"What does this mean for advisors? Those who do business with Fidelity now see yet another way Fidelity is going to potentially compete for assets on the retail side of the business. But for the most part, Fidelity Go is in direct competition with Schwab Intelligent Portfolios, Wealthfront, Betterment, and Future Advisor. It's not competition for Personal Capital."
Fidelity Go customers will be limited to Geode's portfolios and Geode in turn will be restricted — at least initially — to investing in BlackRock ETFs, namely iShares, and Fidelity ETFs and mutual funds, according to the SEC filing. See: How BlackRock plans to grow iShares using advisors as one key.
Any fees BlackRock pays Fidelity will be rebated to customers.
Client override
Geode will be restricted to investing cash balances in the core Fidelity money market — with one major pitfall that the ADV publishes in bold print.
"Any such cash or cash investments in your account will result in a negative yield to the extent the quarterly advisory fee exceeds the rates
of return for the core Fidelity money market fund," the Fidelity Go ADV reads.
Fidelity, through Geode, will manage the portfolios according to a robo-derived portfolio. But clients have the option of overriding the profile and taking on more or less risk.
"You may select an investment and risk profile that you believe is most appropriate for your situation, subject to constraints defined by Strategic Advisers. If you select an investment and risk profile different from that originally suggested by Strategic Advisers, Geode will provide discretionary management consistent with your selected investment and risk profile."
Performance pressure
Fidelity Go is currently being used by some Fidelity employees — a few hundred, according to the company — and will be rolled out in early 2016 to non-Fidelity people on a pilot basis. It is "free" for Fidelity employees of Fidelity advice fees but investors need to absorb management fees charged by the products that the portfolios are comprised of. It has a minimum investment requirement of $5,000. See: Schwab sings 'Blue' as it rolls out its robo — and phono — functions ahead of deadline, with minimums.
But questions remain concerning Fidelity's ultimate objective in launching the robo-advisor.
Is it to bring in assets to Fido mutual funds, especially active funds?" Trout asks. "Or even to put pressure on the stars of yesterday (progeny of Peter Lynch), i.e. you perform or we revert the fees back to the client?"
---
---
Mentioned in this article:
FPPad.com
Consulting Firm
Top Executive: Bill Winterberg
---
---
---