Christopher Bray: I've told them I'm not going to roll on this.
Brooke's Note: Every time I look up the ADV of an RIA, I'm amazed by how many firms have approximately the same names. With that in mind, this lawsuit seems to matter —particularly as RIAs become more national, which makes branding more critical. Still, in this case the RIA is not national. It is being sued by a national firm that probably didn't realize the emotional thicket it was entering when it sought to have a little guy yield back the name "Ariel" — which means lion of God in Biblical Hebrew, whatever lion of God, pardon my ignorance, means.
A $10 billion AUM mutual fund company whose founder has longstanding, Chicago-forged ties to President Barack Obama, first lady Michelle Obama and members of the current administration, is bringing a team of lawyers down on a $225 million AUM RIA 1,300 miles away for allegedly piggybacking on the firm's brand.
Chicago-based Ariel Investments LLC is suing Ariel Capital Advisors LLC of Naples, Fla., claiming the smaller RIA has "intentionally targeted Ariel Investments, seeking to trade on and profit from Ariel Investment's long-held, valuable name and marks."
The founder of Ariel Capital Advisors, Christopher Bray, is fighting back. He says he named his RIA after his six-year-old daughter — not Ariel Investments — and that the fundamental differences between the two companies' services and geography prevent any confusion.
Bray, 48, founded Ariel Capital Advisors in January 2014. The growing firm serves 45 families between its two locations in Naples and Cleveland. The RIA primarily invests in index funds and blue chip stocks — never in mutual funds or SMAs like the ones Ariel Investments sells. See: Why many RIAs should start a mutual fund, considering the limitations of SMAs.
'Later, boss'
The trouble began in May 2014, when Christopher Bray received a phone call from Chicago lawyers at Michael Best & Friedrich LLP, saying he was infringing on Ariel Investment's rights and demanding that he rename his business.
At first, Bray shrugged off the claims.
"I have a couple clients who were victims of patent trolls," he says, "I just categorized it as that type of scenario." See: Why almost nobody seems fazed by an ominous lawsuit hanging fire against Financial Engines.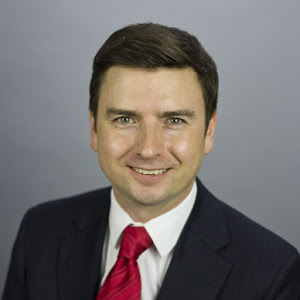 Adam Wolek: This is just overreaching
— this is bullying.
But Bray took notice when he received a letter from the same firm three months later claiming his company's name "creates a likelihood of confusion with Ariel's ARIEL marks in violation of Ariel's rights."
Bray, an attorney who also runs a small estate law practice, fired back with his own letter claiming the name "Ariel" was far too generic to be subject to trademark protection and that the significant differences between their two businesses acts as a natural bar to any confusion.
Undeterred, Ariel Investments' counsel followed up with a phone call to Bray's offices in October. On that call, Bray says he thought the Chicago lawyer was trying to intimidate him and convince him that his own position was meritless. Bray asked to speak with the general counsel at Ariel Investments, and when he was told he couldn't, Ariel Investment's lawyer claims Bray hung up the phone with a sarcastic "later, boss." Bray thought the matter was settled when he didn't hear anything for another six months.
But this April, Ariel Investments escalated the conflict by filing suit against Ariel Capital Advisors in the Northern District of Illinois. Ariel Investments contended that Ariel Investments built "valuable goodwill" nationally and locally, was formerly known as "Ariel Capital Management," still received mail addressed to "Ariel Capital" and had received two phone calls from confused people looking for "Ariel Capital," whom it suspected were actually attempting to reach Bray's offices. Bray, for his part, says his firm has never received a call from anyone trying to contact Ariel Investments.
"This is just overreaching — this is bullying," says Bray's attorney, Adam Wolek of Chicago-based Wolek & Noack. "There's no likelihood of confusion between the two companies."
Escalation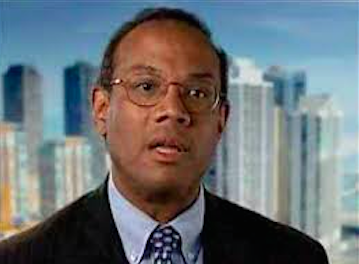 John W. Rogers runs a multibillion-dollar
AUM investment firm and is a
longtime friend of President Obama and
the first lady.
Yet so far the lawsuit has gone Ariel Investment's way. Three weeks ago a judge ruled against Ariel Capital Advisor's motion to transfer the case to Bray's district in central Florida. This would have made it more convenient and less expensive for Bray to continue to fight Ariel's charges.
"We respectfully disagree with the judge's decision," says Wolek, "Frankly, it's the Florida consumers [Bray] advertises to that would have been confused by the name."
Ominously for Bray, the judge sympathized with Ariel Investments' argument that Bray knowingly took Ariel's name. Judge Matthew Kennelly wrote that because Bray admitted searching for "Ariel" in connection with wealth management services, and because AI's lawyers showed that modern recreations of those searches prominently display Ariel Investments, "it is certainly enough for present purposes to give rise to an inference that Bray realized, or deliberately chose to ignore, that he was adopting a name that arguably was confusingly similar to that used by Ariel Investments."
Begin again, and again
A Cleveland native, Bray relocated to Naples in 2003 to run the local branch of National City Bank. He left the bank at the end of 2007 and, during his one-year, non-compete contract forbidding him from acting as an RIA, practiced estate law. His estate-planning practice is still active, but Bray says it now only takes about 10% of his time.
"My main goal is to build my RIA. It's what I love doing," he says. See: How and why I'm starting an RIA from scratch and what I'm spending to make it happen.
At the end of the year, Bray started Willow Street Advisors with two partners and quickly pulled in $150 of assets under management from former clients at National City. The firm had a "pretty successful five-year run,": https://www.investmentnews.com/article/20140126/REG/301269998/a-matter-of-time-management, he says, until, according to Bray, partner misconduct led him to leave the firm and start again. Most of the firm's employees and clients followed, he says.
What's in a name?
To choose a name for his new RIA, Bray consulted with his wife.
"So we just faithfully said — you know, we were grateful for what happened in our lives with regard to the birth of our daughter and we wanted to name the firm based on the name of my daughter, but also invoking the ministry we had been serving and partnering with for a number of years," he told Ariel Investment's attorney during his deposition.
The Brays have volunteered for Ariel Ministries for about fifteen years. A quick Google search showed Bray that his first choice, "Ariel Wealth Advisors," was already taken by a $100 million AUM RIA in New York, so he settled for "Ariel Capital Advisors."
Bray said he reached out to Ariel Wealth Advisors after his October phone call with Ariel Investments' attorney. The CEO expressed sympathy for his situation but said the Chicago fund company had so far left his firm alone. See: David Loeper is taking on UBS but his patent lawsuit is raising alarms in the RIA business.
Ariel Investments did not respond to requests for comment.
Creatures of habit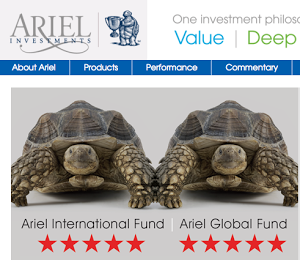 Ariel Investments sued $23 billion AUM
Shenkman Capital Management for using Aesop's
slow-and-steady tortoise in its advertising.
You can't accuse Ariel Investments of picking solely on the little guy for trademark dilution.
In January 2013, New York-based Shenkman Capital Management, a $23 billion AUM specialist in high-yield credit for institutional investors, ran an advertising campaign around its own trademarked slogan: "Discipline drives performance." As part of that campaign, the RIA invoked Aesop's fable of the tortoise and the hare and illustrated its marketing materials with scenes from the tale.
Before the end of the month, Shenkman received cease-and-desist letters from Ariel's outside counsel stating the Chicago fund company had the exclusive right to use either this fable or tortoise iconography to market investment services. Ariel's counsel claimed that over the years both had "become closely associated with Ariel."
Ariel's lawyers further claimed that Shenkman's reference to the tortoise "crawling slowly but steadily," in the fabled race was too close to Ariel's trademark slogan: "Slow and steady wins the race."
All this, Ariel's lawyers argued, "creates a likelihood of confusion with [Ariel] and constitutes trademark infringement, dilution, unfair competition and deceptive and unfair trade practices." Ariel's lawyers threatened that if Shenkman did not stop, its violations would lead to the award of triple damages plus attorneys' fees.
Clash of titans
Shenkman hit back, and hard. The company filed suit against Ariel and asked the courts to declare that its marketing did not infringe on any trademark or copyrights. The firm pointed out in its lawsuit that its tortoise wasn't remotely similar to Ariel's trademark, and that there were at least five other investment management companies with tortoise trademarks. They also provided over a dozen examples of other firms using either this fable or the phrase "slow and steady wins the race" to market investment products.
Convinced it was being unfairly harassed, Shenkman asked the court to punish Ariel's aggression. The lawsuit requested that the court nullify Ariel's "slow and steady" trademark for being too generic, issue a restraining order preventing Ariel Investments from further interference with Shenkman's marketing, and force Ariel pay its legal fees. See: What scores Bill Gross's $200-million lawsuit seeks to settle and why the key allegation may have merit.
The two sides reached a settlement out of court in June 2014, and tortoises have since been replaced with eagles on Shenkman Capital Management's webpage. Shenkman did not respond for comment.
Friends of Barack
If Ariel Investments is throwing its weight around, it has a good amount of tonnage to toss.
John W. Rogers Jr., 57, founded Ariel Investments in 1983 and gathered over $20 billion in AUM before the financial crisis. The firm, which claims to be the country's largest minority-owned investment firm, and its leaders maintain comparatively high public profiles. A 2010 Wall Street Journal profile of Rogers calls him the "consummate insider" with deep ties to President Obama's social circle.
Rogers certainly has a distinguished pedigree. Son of a Cook County judge and the first female deputy solicitor general of the United States, Rogers attended the elite University of Chicago Laboratory School and then Princeton University. It was at the Lab School he met Valerie Jarrett, currently a senior adviser to Obama, and the current Secretary of Education, Arne Duncan. A Wall Street Journal profile of Rogers from 2010 says that "both still are friends" of his.
At Princeton, Rogers played on the basketball team alongside Craig Robinson. first lady Michelle Obama's brother. Rogers was married to Desiree Rogers, who later became Obama's first White House social secretary, from 1988 to 2000, and is a longtime friend of Obama himself. Rogers was one of five co-chairs of the Presidential Inaugural Committee in 2009.
Rogers currently serves on the board of directors at McDonald's and Exelon Corp. and was formerly chairman of the board at Aon Corp.
VIP-rich firm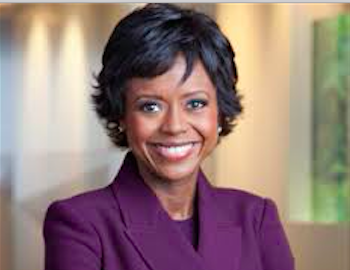 Ariel Investments president Mellody Hobson sits
on the boards of Starbuck's and
Estee Lauder and is married to
director George Lucas.
Like so many other stock-picking mavericks, Rogers has his quirks. He likes simple, familiar meals and eats one meal from McDonald's per day." He also buys toiletries in sixes and collects teddy bears, especially Winnie the Pooh. Rogers was also, apparently, the first person to beat Michael Jordan in a game of one-on-one at his "Flight School" basketball camp.
Ariel Investments' president Mellody Hobson is another heavy-hitter whose influence extends beyond the company's Aon Tower offices. She is a director at Starbuck's, Estee Lauder, and chairman of the board at DreamWorks Animation. In 2013, she married director George Lucas. See: Mellody Hobson and Liz Ann Sonders kicked off IMPACT on a bullish note.
What comes next
Although the first round went to Ariel Investments, Bray expects his lawyers will appeal and he'll eventually get the chance to fight the charges on home turf.
Despite being the David in this scenario, Bray has made up his mind to fight the Windy City Goliath until to the bitter end.
"I've told them I'm not going to roll on this," he says. But the reality of mounting legal fees may turn any victory Bray salvages into a pyrrhic one. If worse comes to worst, Bray says he could represent himself before the court in Florida.
If neither side blinks, a jury trial will likely begin next fall.
---
---
Jeffrey McClure
November 19, 2015 — 11:32 PM
Come on guys, you really think that if you name a RIA firm with the same lead name as a major mutual fund company (and its affiliated RIA) that you are going to be able to do that. I seriously doubt that naming a RIA "Vanguard Capital Advisers" would work. Rule one in naming a firm is to search the trademark data base for the name. Had Mr. Bray done so, he would have found there are already several companies who have variants of his LLC's name, and as an attorney I would guess he would have gladly defended any of them against another firm in the same business using the copyrighted name or something quite close to it.
Had he stayed local and not used the name on an interstate basis he would likely have had a basis, but given that Ariel has several copyright registrations, he is on very shaky ground. There is a simple fact here. "Ariel" as a lead name for a firm providing investment advice and management has been taken since 1983 and has the copyright registrations to prove it. More, they have already successfully defended the name as non-generic, so they have case law backing them up. In the settlement you mention in the article, note that the turtle disappeared as part of the settlement. The smart thing to do would be to simply recognize that that name was already in use and agree to change to another, hopefully original, name.
John M
November 18, 2015 — 8:21 PM
Mr. Bray, welcome to Chicago style in-fighting with Obama sycophants. You want a federal Judge from the Northern District of Illinois to do ANYTHING other than going along with Mr. Obama (and his friends), forget it. I'm wondering why this hack hasn't sued Disney for naming an underwater mermaid Ariel. Can't we all see the similarities? I mean, if I am trying to find an Ariel doll for my daughter, of course I would be confused by the striking similarities of the Disney princess and the largest "Minority Owned Investment Firm". Better get cracking, Mr. Rogers, or a whole generation of Disney watchers will probably not invest with you. And your Constitutional Law Instructor friend will have to help you with another suit.
Steve
This guy is a clown. Ask around Naples...he's lost many employees and clients in Naples over the years.