Tim Hockey: I have been able to observe the company, its culture and its operations.
Brooke's Note: No sooner do I praise Fred Tomczyk for doing what no other CEO of a public company has ever really done — show respect for the virtues of RIAs as dynamos of the advice business in his comments without some built-in homage to Wall Street brokers — than we get notice that he is ready to go. Tim Hockey will have some very big skates to fill.
With more than half his job description related to the 4,000 RIA firms with $300 billion of assets over which he presides, Fred Tomczyk, 60, will step down as president and CEO of TD Ameritrade.
A quiet, unbudging presence, Tomczyk, 60, won't leave until after the fiscal year ends next year. But it still comes as a surprise; he's been in his job for the decade since Joe Moglia stepped aside. (Moglia is still chairman of the Omaha, Neb.-headquartered company.) See: Tom Bradley and Fred Tomczyk team up to give forward-looking state-of-the-TD Ameritrade speech.
Last year, Tomczyk's compensation was $3.04 million. See: Fred Tomczyk shows RIAs at TD's 'Elite' event his drive to beat rivals — by carefully picking his spots.
'Do I really like what I do?'
Tomczyk, an ex-Ivy League hockey star, has a penchant for knowing when to hang up his skates.
"Life is full of moments when you realize that you have to change how you're doing something or what you're doing altogether in the interest of self-improvement. Many of those moments are seemingly insignificant — only noticeable when you step back and look at the entire body of work," he wrote in a 2014 LinkedIn post.
"Some are turning points — begging the question, do I really like what I do? If the answer is yes, let your passion propel you over that hurdle and keep moving. If the answer is no, take what you've learned and move on."
Those words were written not in relation to his time at TD Ameritrade but rather in an essay about leaving hockey after starring at Cornell University amid inquiries from NHL teams.
Life after hockey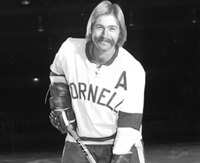 "I was leaving college in the time of the Broad Street Bullies and the Big Bad Bruins. It was a violent period for the NHL, where bench-clearing brawls were not uncommon. The minor leagues were full of people trying to make it to the pros with their fighting skills, as opposed to their hockey skills. Was I willing to tolerate that for a shot at maybe three-to-four years as a pro? No," Tomczyk wrote.
"I walked away from hockey. Do I regret it? I don't. Do I miss it? I do. There's nothing like having a good workout, being on a team. Sometimes it's great, like winning your league, and sometimes it's not, like losing your last game in double overtime. Nothing compares to the adrenaline rush you get just before a game, and the satisfied exhaustion you feel when it's over — regardless of the outcome."
He continued: "Would I have liked to have been on the ice — just to see if I could have changed the outcome of that last game? Yes, but I knew that rotating me out was the right call. When you hit those moments, you want to make sure that you have nothing left, and I knew that I had nothing left. I gave it everything I had, and we still lost. There's no shame in that — no regret. I was time for me to move on to life after hockey."
Surpassed expectations
if managed assets are any measure of success, Tomczyk had a winning run.
He started his career with TD Ameritrade as a member of the board of directors following the company's acquisition of TD Waterhouse USA in January 2006. Tomczyk joined the company as chief operating officer in 2007 and succeeded Moglia as CEO in the fall of 2008.
His decision to retire will bring to a close a remarkable chapter at TD Ameritrade. Taking the helm of the firm on the eve of the financial crisis, his legacy includes seven consecutive years of double-digit annualized net new client asset growth, an expanded leadership position in trading and innovation, growth in total client assets from $278 billion in 2008 to nearly $700 billion today, consistent best-in-class employee engagement rates of more than 85%, and industry-leading shareholders returns.
"The results have surpassed any expectations I might have had," Tomczyk said.
Canadian moves
His replacement, Tim Hockey, is a wealth management executive currently heading TD Canada Trust, including Canadian personal banking, business banking and auto finance. Hockey also oversees TD's global wealth management division, which includes the bank's direct investing, advisory and Canadian asset management businesses. See: A hockey star went from being a Merrill Lynch client to a Merrill Lynch advisor to the latest Merrill Lynch breakaway.
As president of TD Ameritrade, Hockey, who is 52 and holds an M.A. in business administration from the University of Western Ontario and sits on the advisory board of the Richard Ivey School of Business, will initially be responsible for the company's core client channels: retail, institutional and trading then expand his dominion to technology, operations, finance, human resources, legal and risk.
"Thanks to a close partnership between TD Bank and TD Ameritrade that has grown and evolved over nearly ten years, I have been able to observe the company, its culture and its operations," Hockey said in a statement released today. "TD Ameritrade has a 40-year legacy of innovation and commitment to its clients, and a strong, vibrant culture that has helped it develop a significant leadership position in a competitive industry." See: Fred Tomczyk shows RIAs at TD's 'Elite' event his drive to beat rivals — by carefully picking his spots.
Moglia praised Tomczyk in a statement.
"Throughout his tenure Fred has guided our company through challenging economic times that were far beyond the control of any CEO. And yet, he had the foresight to push ahead — to invest in future growth and to take market share. His leadership and vision helped us create one of the fastest-growing and best run investment firms in the country, deliver strong financial results, and build significant earnings power, all while being a good steward of shareholder capital."
---
---
Mentioned in this article:
---
---
---
Mr. RIA
November 10, 2015 — 10:20 PM
So, what happened to Tom Bradley?