Members of the Summit Trail team stayed at their desks through the Lehman crisis earning enduring client loyalty.
Brooke's Note: Remember Lehman Brothers? You should. But if you don't I think you could be excused. One reason for getting a pass is that when it went down, it went down so quickly and fully that it was almost as if it had never existed at all. Never did violins play on deck. But a few iceberg-watchers on the Lehman deck were concerned enough that they tried to sell off a pristine chunk of the sullied company before bankruptcy enveloped it. That piece was its wealth management unit. That effort failed to happen ahead of the unit transferring to Barclays where it promptly got neglected, or more to the point, buried in corporate red tape of the pernicious British banking variety. The following day, Barclays announced its agreement to purchase Lehman's North American investment-banking and trading divisions along with its New York headquarters building. But while corporations can die in bankruptcy, people survive. Part of what survived with Lehman's very capable workforce was its terrific can-do, old-school, do-what-it-takes corporate culture. This emerging serial success story of Dynasty Financial reaping Barclays people is very much a Lehman story, an echo-boom of its submersion. The Lehman wealth management types were initially swimming for their lives but now that they've toweled off, the good ones are looking to resume their destiny as builders of a new wealth management industry. But as they look around at their options, they are finding a greater kinship with the RIA world than a Wall Street that has been bastardized (let them eat cross-sold mortgage products) by bank ownership since 2008. See: As Joe Piazza's 'Robertson Stephens' venture gears up for '$40 billion,' he adds Mercer, Addepar, Fidelity and Schwab and subtracts Fortigent. Lehman Brothers' past should not be overly glorified. At best, it was a lovable rogue. See: Wall Street thriller 'Margin Call' is a cautionary tale — even for RIAs. But I believe it always had people determined to do the best they could for their clients given the platform they existed on. With Dynasty, Addepar, a removal of several layers of conflicts and a second chance, you have to like where this titanic RIA of Summit Trail might be headed.
How profoundly has the RIA landscape changed since the '08 crash? So drastically that a UHNW team leaping to independence from a mammoth financial services company to a just-created RIA looks like the conservative, not the radical, move.
Summit Trail Advisors recently welcomed a $1 billion team from Barclays — the latest major defections from the New York-based firm since it announced massive job cuts in 2014 leading up to its sale in June to St. Louis-based Stifel Financial Corp. See: How exactly five ex-Barclays advisors and one analyst across three time zones combined to make a $3 billion RIA.
The four-person team, diverse in terms of age and gender, have one common bond: they are all Lehman Brothers veterans who stayed at their posts as the venerable wirehouse disintegrated around them, but who couldn't get comfortable with the idea of Stifel as their new corporate overlord.
Barclays heist
New York-, Chicago- and San Francisco-based Summit Trail is only four months old, composed of an ex-Barclays' research analyst and four ex-Barclays advisors with $3 billion in assets under management. Summit Trail's big vendor relationships are managed through Dynasty Financial Partners of New York. See: How exactly five ex-Barclays advisors and one analyst across three time zones combined to make a $3 billion RIA.
The five founding advisors hinted there would be rapid growth at their firm and they weren't kidding.
Just weeks after the original firm was founded, Barclays advisors Daniela Pedley, 47, and Lauren Cosulich, 35, left Barclays for Summit Trail, bringing with them $500 million in assets held by 30 ultrahigh-net-worth families who range in age from 20 to 90. See: Why two women advisors broke two unwritten breakaway rules en route to taking $500 million to a $3-billion RIA.
(Dynasty also announced last week that Jason Pinkham, one of its founders, has been promoted to director of relationship management and transition services, reporting to Shirl Penney, CEO of Dynasty. In addition, Stan Gregor, formerly the head of Cantor Fitzgerald Wealth Management, is joining Dynasty as director of network development — Eastern division, reporting to Tim Bello, head of network development.)
Now come Jerry Lucas, 63; Peter Gambee, 55; Megan Sclafani 32; and Michael Cohen, 45. They've been partners since 2010 and will work out of Summit's New York office.
Looking back over the wild ride he and his partners have taken during and since the financial crisis, Lucas wonders at the changes in the independent advisor landscape.
"It's changed so dramatically," he says.
Crunch time — again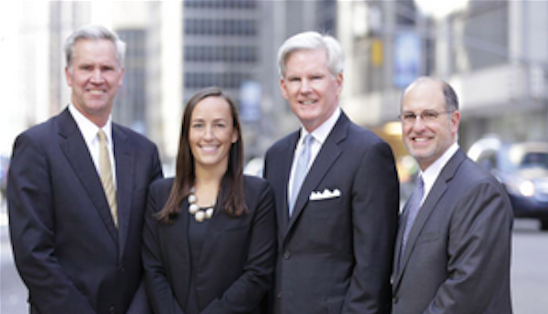 Megan Sclafani [with, l.-r. Peter Gambee,
Jerry Lucas and Cohen]: Two plus
two is more than four with
us. We knew partnering together it
would be powerful.
Summit Trail's new team acknowledges that it was Stifel's acquisition of the U.S. division of Barclays that triggered their decision to move.
"For our team, it was really the Stifel announcement that made us take a pause. Clients began calling us and asking what it means for them," Lucas says. "We had to take a pause and say OK, what does Stifel mean for our clients? That's the first thing our clients were asking us and we didn't know. We didn't have that much experience with them. We arrived at the conclusion that Summit Trail would be best for our clients. We'll live up to the expectation of trust we've built for our clients." See: The backstory of how a Merrill UHNW team found love in the time of U-5 — but not with an RIA.
That trust was forged in the fires of financial crisis. During the 2008 implosion of Lehman Brothers, all four were working there, with Gambee and Sclafani on one team and Cohen and Lucas on another.
Through the crisis, Sclafani stayed at her desk fielding constant calls from clients.
"Our team stayed through the bankruptcy and that was comforting to clients. It all happened so quickly and I wanted to stay focused on sitting in a seat and answering phone calls. The decision to stay at Barclays was a pretty easy decision," she says. "For me, I learned a lot about the importance of relationships with clients. There were real difficult times for us and for our clients even more so. It was really cool to see relationships I'd built over the years pay off and clients really appreciate the consistency." See: An ex-Lehman exec with a 2008 crash sideline seat becomes Mr. Inside for the TAMP, roll-up and RIA where Michael Kitces is Mr. Outside.
Lehman ultimately became Barclays and in 2010 the two-person teams joined forces, becoming a quartet.
One common thread for the team from Lehman to Barclays to Summit Trail is Jack Petersen. In 2008 he headed up the private wealth business at Lehman. This summer, he was a lead partner in the foundation of Summit Trail.
"We went through one of the most profound living crisis' in living memory," Lucas says, explaining why he feels connected to the original Summit Advisors partners.
Stifel did not respond to an email seeking comment. Barclays did not respond to email requesting comment.
Boutique niche
John Furey of Advisor Growth Strategies LLC in Phoenix says Stifel suffers in comparison with other advisor platforms.
"The Stifel brand is simply less attractive relative to other brands or going independent. Essentially, advisors had a 'free roll' to evaluate other platforms versus Stifel. Since you had to go through a transition anyway, it allowed advisors to evaluate them versus others. We're probably looking at a 50% retention rate."
Furey, who works with Summit Trail, sees the firm creating a new type of boutique firm.
The four advisors already had a mostly advisory-based business but Furey says Barclays advisors with more transactional sales might consider staying put since their books are less portable.
The firm uses Addepar's software and Pershing Advisor Solutions and Fidelity Institutional Wealth Services as custodians.
Synchronicities
While he doesn't offer up names, Lucas says he and his colleagues looked at the usual suspect list of wirehouses and boutique firms, as well as independent firms across the country.
But once Summit Trail hung out its shingle, events moved quickly.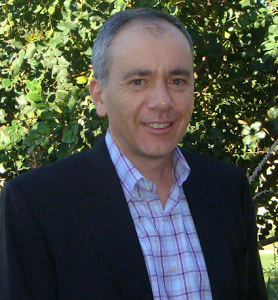 John Furey: advisors had a 'free
roll' to evaluate other platforms versus
Stifel …. We're probably looking at
a 50% retention rate.
"This was a five-to-six month journey that was accelerated," Lucas says. "It wasn't until the announcement of Summit Trail that we were made aware of what the other partners had set up and they were obviously very thoughtful, disciplined and wanted to make their announcement in the most professional way. When we became aware, they reached out to us and said, 'you guys would be a perfect fit.' As they say, the rest is history."
As it turns out, clients already had a longstanding relationship with Romhilt. His connections with clients made this move easier, Lucas says.
Even though the decision to join Summit Trail happened relatively quickly in terms of breakaways, Lucas says the firm was focused on making the right decision. "A huge responsibility to us is that we're giving clients unconflicted advice and the burden was to be thoughtful so at the end we could look clients in the eye and say our decision to go to Summit Trail is totally consistent with the trust you've put in us over the last 10 years. The fact that we've known these guys is great but if what they were building didn't meet that, I couldn't recommend it. It takes a lifetime to build a reputation and one or two bad judgments to put it all at risk." See: Fiduciary leaders splinter into two advocacy groups over divergent views.
Long road
In addition to a shared philosophy about financial advice, the team boasts a range of experiences and expertise.
"We're four people with complementary backgrounds," Lucas says. "I'm in investment banking and Michael was in derivatives and Peter was more in traditional private wealth and Megan grew up in private wealth. We've got banking, capital markets and private wealth and all have complementary skills."
As the one female on the team, Sclafani points out that "being a woman and being younger than the average advisor of our industry, I bring experiences and a background that the next generation can relate to." See: Extraordinary women awaken the RIA business, shepherd billions.
"It became pretty obvious that what was so interesting and what makes us so special is each person has different backgrounds and perspectives that we bring to a client," Sclafani says. "It was the four of us putting that together. Two plus two is more than four with us. We knew partnering together it would be powerful."
---
Related Moves
February 17, 2022 – 2:50 AM
---
---
September 24, 2019 – 2:02 AM
---
---
Mentioned in this article:
---
---
---
Stephen Winks
October 26, 2015 — 5:02 PM
Summit Trail's search illustrates the limitations of a conventional brokerage format in supporting advisory services. Dynasty has emerged as an attractive candidate, yet there is extraordinary room for innovation. Recruiters are swift to sell what they have (triggering a transaction and their compensation) and are rarely introspective concerning the advisor. There is a difference in a firm acting in fiduciary capacity as a money manager (which is geared to avoiding fraud) and an advisor rendering individualized advice fulfilling their many ongoing fiduciary duties. The industry's primary focus on asset management has ignored the advisor's principal fiduciary duties in rendering ongoing individualized advice, which is presently not supported by anyone for fear of fiduciary liability. This is not a good thing. The key to authenticity and reliability in advisory services (and market share) is the authentication (back to statute) and support of expert advisory services. This is beyond the challenging asset management/portfolio construction function. As Summit Trail discovered there is not a single brokerage firm, including Lehman, or a rollup that has distinguished themselves in being accountable for every recommendation their advisors have ever made, achieving continuous comprehensive counsel required by statute of all those rendering "individualized" advice (acting as advisors). This is an industry wide problem, yet for those that embrace the requisite innovation in the best interest of the investing public, market share is theirs for the taking.
SCW
Stephen Winks