Mike Durbin: We want eMoney to infect the rest of Fidelity to change its culture, thus we need to keep it independent.
Brooke's Note: Not to be too dramatic or too political, but the eMoney Summit was a sort of Benghazi hearing for Mike Durbin. Not only had big old Fidelity purchased the future-is-ahead-of-you eMoney but eMoney's beloved founder had since vanished. When Fidelity Investments acquired eMoney seven months ago, its executives made a series of statements about why the company had taken such an unusual step. Fidelity has tremendous in-house technological capabilities and traditionally it builds or rents, not buys. The Boston-based giant's executive explanations ranged from eMoney's economic value as a standalone unit to the way its technology could be infused into all of Fidelity and help RIAs and IBD reps. In addition, the company offered the tantalizing prospect that, by the way, eMoney could pave the way for a change of the revenue model of Fidelity's RIA custody business to one based more on license fees. Custodians tend to rely on fees generated from mutual fund platforms, money market funds and commissions. The challenge for the industry with Fidelity's responses was that it was less an explanation than a series of them. What exactly, we wondered, would a Fidelity executive tell us eyeball-to-eyeball if pressed on the matter. Tim Welsh wastes no time sharing his hard-won answer gained by traveling from Larkspur, Calif. to Orlando, Fla.
The best was saved for last at the eMoney Summit held at the massive complex that is the Orlando JW Marriott and Ritz Carlton from Oct. 19 to Oct. 21.
It took until the very last session of the event to get an answer that was delivered by Mike Durbin, interim CEO of eMoney and the long-time (formerly) head of Fido's RIA business. (To get to this point involved dodging Disney World tourists and about a half-dozen other overlapping conferences and the temptations of a thriving bar scene at the JW.)
"We bought eMoney because it had a culture, a movement even, because culture eats strategy for lunch," he said. "We will keep eMoney as an independent company because we want to preserve its innovative culture. In fact, we want eMoney to infect the rest of Fidelity to change its culture, thus we need to keep it independent."
If there is a cult of eMoney, it is a group of technologists and advisors who believe that the whole nature of financial advice — its value proposition and how you capture that market as a vendor — is on the cusp of massive change with, paradoxically, a greater emphasis on people helping people, as facilitated by a much better version of software system.
This blue ocean approach — as opposed to a zero-sum approach — seemed apparent to attendees of the conference, which featured news of a tight integration and partnership between eMoney and former mega-competitor MoneyGuidePro.
Fresh off of its purchase of eMoney for $250 million earlier this year, Fidelity Investments has raised the bar for all players in terms of strategic positioning by driving this combination of financial planning and client portal platforms.
Change agent
The cultural bind between Fidelity and eMoney is something to which Durbin pays strong lip service. "We don't like being a technology vendor — we want to be advisors' strategic partner."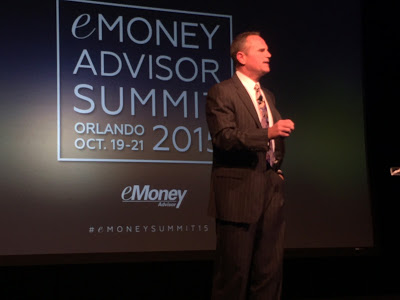 Ron Carson: My margins are a
third of what they were 10
years ago. And its only going
to get worse.
Durbin highlighted the rationale for the purchase in terms of "leapfrogging" the competition — though his comments seemed to conflate the issues of culture and technology.
"We compete primarily as a clearing and custody provider, so when we saw the opportunity in the competitive auction for eMoney, we wanted those innovative technologies," he said. See: The mission-critical task Abby Johnson has entrusted to Mike Durbin regarding Fidelity's RIAs and automation.
"Ultimately, eMoney will be a change agent for Fidelity."
Three-way combo
Advisors, custodians and the technology sector are taking notice, particularly when once-competitors become partners under the watchful gaze of a parental custodial giant. See: Mike Durbin gets right to work as eMoney CEO with MoneyGuidePro coopetition deal — even though he's 'interim'.
The on-the-ground implications of the MoneyGuidePro combination include the ability for advisors to access MoneyGuidePro's financial planning engine directly in eMoney's emX Select operating system. See: MoneyGuidePro back on a roll after the.
The partnership provides advisors the flexibility to meet their clients' range of interactive goals and cash flow-based planning needs from one platform, promising to bring all sorts of operational efficiencies in the way advisors manage clients, provide advice and serve their growing client bases — a combination that potentially helps eMoney, MoneyGuidePro and Fidelity reach a new echelon of success. See: Advisor Tested: eMoney's automation adds the biggest benefit; account aggregation still building.
What won't change, according to Durbin, is the continued innovation and enhancements eMoney is known for as the entire senior team — minus the effervescent former CEO Edmond Walters — has been deputized to lead the company.
"We will have a permanent CEO soon," Durbin said. "A formal search has been launched." See: Edmond Walters bolts from eMoney and Fidelity Investments scrambles to manage the jilt.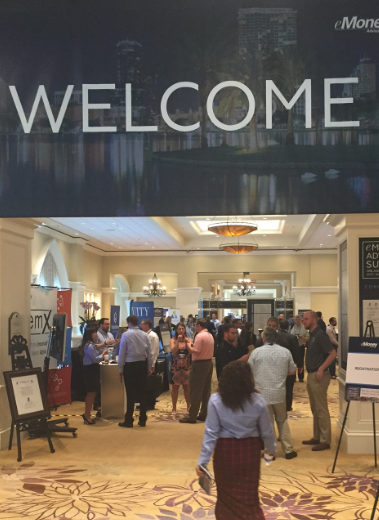 Conshohocken's eMoney intersects with Boston's Fidelity
in Orlando.
Advisor intelligence
Carson shared his views on what advisors should be thinking about now from his vantage point atop a $6 billion advisory firm and a practice management consulting business. See: Why exactly is Ron Carson forming an RIA and why is it happening now?.
"We all know that IQ stands for intelligent quotient," Carson said. "But intelligence on its own is not a requirement for success in wealth management. What is required is a high implementation quotient. You need to improve your 'do' factor."
This theme of executing on business building ideas was central to Carson's keynote address.
"In this business, more gets said than done and we often are competing with our own potential," he wryly remarked. See: Ron Carson chooses Orion-Salesforce software for his $5-billion RIA as he lines up an additional $3 billion.
Wider than deep
Carson sprinkled his talk with nuggets like: "We need to provide Four Seasons service with FedEx efficiency," "Don't defend what you know — embrace the unknown" and "Clients are paying us a fee not to guess — you have to demonstrate your process."
On a more profound level, Carson shared details of the mistakes he has made in building his business over the years in a very personal way.
Executives of eMoney could only have been smiling inside as Carson implored advisors to focus more on financial planning and the human touch — for anything but touchy-feely reasons.
"My margins are a third of what they were 10 years ago," Carson said. "And its only going to get worse. Investment management will become commoditized down to a handful of basis points." See: What exactly are robo-advisors, why did they steal the 2014 show and what will a 2015 repeat take?.
To combat the margin compression and commoditization of investment fees, Carson is shifting his business to use more and more technology, crediting eMoney as the key platform to deliver better advisory services on a more flexible basis.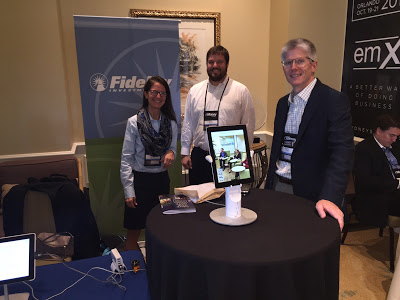 Ed O'Brien and the Fidelity team
taking a low profile at the
exhibit hall.
Other interesting tips from Carson were to always sit to on the left side of clients in meetings. "You want to avoid their dominant side," he said as part of his focus on details.
He also gave the audience his ultimate Zig Ziglar closing line to deliver to a client:
"Is there anything else you need to move forward with us today?"
Next stops: T3 and IMPACT
For the tech vendors in attendance, all eyes are now looking forward to T3 Enterprise and Schwab IMPACT next month as the conference season hits its fever-pitched stride and many new strategic announcements are expected. We'll see you there.
To learn more about what went on at the eMoney Advisor Summit, check out the many tweets on the #eMoneySummit15 hashtag on Twitter.
Timothy D. Welsh, CFP® is President and founder of Nexus Strategy, LLC, a leading consulting firm to the wealth management industry, and can be reached at tim@nexus-strategy.com or on Twitter @NexusStrategy.
---
---
Mentioned in this article:
---
---
---