News, Vision & Voice for the Advisory Community
Robos had their hush moment over a lost $5 million account and advisors buzzed over the Total Rebalance Expert-Morningstar deal but Friedman kept CRM at the center
October 12, 2015 — 4:34 PM UTC by Guest Columnist Timothy Welsh
Brooke's Note: I continue to be amazed at how RIAs can start a software company in their non-existent spare time, make it succeed to the point where they attract world powers to compete against them and then raise their game to meet that challenge. Stephanie DiMarco, founder of Advent Software, is perhaps the Grand Kahuna in that category of advisor-turned-RIA software magnate, along with Eric Clarke at Orion Advisor Services, in a very esteemed category. But then there's RIA Sheryl Rowling of Total Rebalance Expert who just sold her firm to Morningstar, and Greg Friedman with Junxure CRM software. It's Friedman — the San Rafael, Calif.-based entrepreneur and RIA — who has attracted the biggest titan to his doorstep; SalesForce keeps coming and coming and is now threatening to offer a purpose-built RIA software package. What Salesforce already has is, as you might imagine, a mighty sales force and the brand to back it up and is making big headway with big RIAs. It also has a cloud that is second to none and a conference in Dreamforce to drive home all of its advantages. See: Salesforce rolls out giant product, pricing changes — a virtual doubling for the direct-sold version that could price out some mainstream RIA practices. But as this article shows, Friedman is undaunted. He has gone out and gotten his own cloud and found his own inner Marc Benioff (Saleforce's chief) up on stage at his own conference complete with the presence of some $1-billion-plus RIAs in attendance. What's nice for Friedman is that he can brag that some of those RIAs got to be so big in part by using his software. What's better is that Friedman was an original industry force in trying to integrate software, whether or not it directly benefited him. Now he sees the chance to make that happen with Junxure itself and he was able to show more of how he plans to accomplish that last week in Las Vegas.
In the rapidly consolidating RIA solar system of advisor technology, CRM is still the sun.
And if the turnout of advisors and sponsors at the Junxure Advisor Conference was any indication, the heads of big firms know it.
The Galileo charting this system is Greg Friedman, CEO of San Rafael, Calif.-based RIA Private Ocean and of a CRM firm, Raleigh, N.C.-based Junxure. His efforts to improve Junxure software and, by extension, up the game of his RIA, resonated with his audience of more than 200 advisors at the Four Seasons hotel in Las Vegas last week. See: At Junxure confab No. 2, Friedman kvells about his 6-week-old Cloud and announces closer ties with Pershing.
"In our early years, wealth management was easy," said Friedman in his opening remarks. "Now, however, the game has changed — we have so much more competition, complex regulations and increasing client demands that is forcing us to continue to enhance the client experience even more and run great businesses."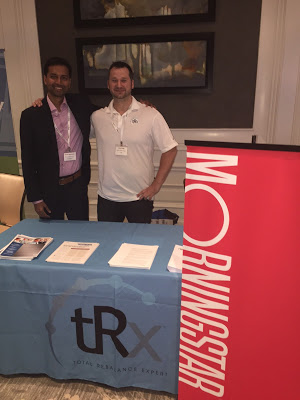 Kartik Srinivasan and Blain Hefty are
all smiles in the wake of
the Morningstar-TRX deal.
At a premium
TAMPs and other big players, particularly behemoth custodians, are looking to fill out their technology stacks of CRM, portfolio management, rebalancing, financial planning and client portals. Now that there are fewer and fewer options available, the price of those stand-alone players will certainly continue to soar. See: Part II: RIA custodians' answer to challenges to their monolithic control: We still have big-time scale advantages.
Friedman addressed RIAs whose businesses have seen extraordinary growth using Junxure as their core system of record, but which are now ready to move onto the next iteration of its office management and client relationship technology. See: Salesforce discloses upcoming RIA CRM product, cryptically and to some jeers.
"In order to succeed in the new environment, we need to take advantage of what's available now, and what is coming down the road," Friedman said as he revealed the latest Junxure upgrades, which include some Apple-esque developments.
Critical mass
Introducing the new Junxure Store, a knock-off of the App Store for iPhone. Friedman continued: "We have so many users that we can take advantage of that 'network effect' and create a platform for advisors to innovate various applications for automating workflows, and be able to share those with other Junxure users." See: Orion Advisor Services goes mobile with advisor-branded apps for the iPhone and Android.
Other new enhancements to the Junxure platform, Friedman said, create more efficiencies through meaningful integrations, use technology adoption resources to better penetrate features, and help increase profitability through more dashboards, business analytics and reporting widgets. See: Friedman makes his case to Hong for why Junxure Cloud's doubling-plus of fees is worth that much more.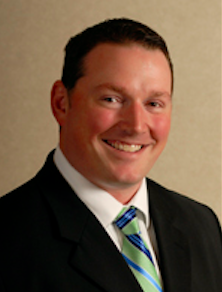 Brian Jack: We lost a $5
million account to a robo and
it really shook us as a
firm.
White label robo-fighter
Speaking of robo-advisors, automated investment options were a persistent topic in the many sessions on the conference agenda.
One brave RIA executive gave voice to the questions surely on many advisors' minds: "How many of you have lost a client to a robo?" asked Brian Jack, operations director for Budros, Ruhlin & Roe Inc., a 40-employee RIA that manages $2.15 billion.
When no one in the packed crowd spoke up, Jack confessed: "We lost a $5 million account to a robo and it really shook us as a firm."
While the Columbus, Ohio firm hasn't yet implemented a robo strategy, it has been actively exploring the many options available to advisors to "white label" the service as an added capability. See: Can Schwab, six years late to the robo party, 'freeze the market', catch up and blow doors?.
"We looked at the robos and the one thing they do better than us as an industry is their efficiency in operations," said Jack. "As a result, we are going to try and take the best of those features and integrate them into our firm. The robo topic is now a standing agenda item in all of our management team meetings." See: Envestnet buys baby robo-advisor to add 'last mile' to its grown-up platform.
Special appearance by…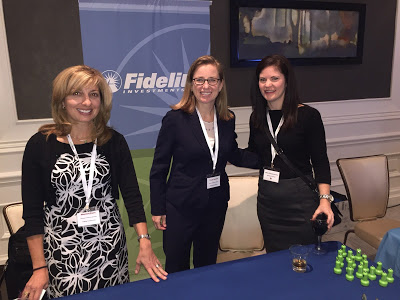 Fidelity's Shannon Porro and Trish Haskins
and Marla Kloosterhouse of Rehmann pose
in the exhibit hall.
There are about 1,500 RIA firms using Junxure and about 12,000 users. The exhibit hall had all of the top custodians — Schwab Advisor Services, TD Ameritrade, Fidelity Institutional Wealth Services and Pershing Advisor Solutions.
Add to that another 20 technology firms — all of which are dedicating technology investments to integrate with Junxure.
Top sponsors included TD Ameritrade, Pershing, Orion Advisor Services, LLC, and Laserfiche. Other firms included Schwab Intelligent Technologies, Fidelity, itegria, Morningstar, Total Rebalance Expert, Cities Digital, Laser App Software, Worldox, Advisor Websites, Wealth Access, Inc, Advent Software, MoneyGuidePro Rixtrema, Rightside Solutions, Oranj, IV desk, Finance Logix, Longevity, Modestspark, and Shareholders Service Group Inc..
In a surprise appearance, Dimensional Fund Advisors, known industry wide for not sponsoring anything or exhibiting anywhere, threw a high-end dinner for 30 big RIAs in attendance. See: How DFA is putting its John Hancock on the ETFs category.
To learn more about what went on at the Junxure Advisor Conference, check out the many tweets on the #JAC2015 hashtag on Twitter.
Disclosure: Welsh has consulted with several of the companies mentioned in this article, including Junxure.
Timothy D. Welsh, CFP® is President and founder of Nexus Strategy, LLC, a leading consulting firm to the wealth management industry, and can be reached at tim@nexus-strategy.com or on Twitter @NexusStrategy.
---
Mentioned in this article:
Junxure
CRM Software
Top Executive: Greg Friedman
---
---
Share your thoughts and opinions with the author or other readers.
---