Andrei Cherny: We're trying to bring the investment product relationship online. I do think it harks back.
Aspiration Fund Adviser LLC was launched last November as a robo-advisor that aspires to sell high-end products to low-end customers.
The Los Angeles-based brainchild of Andrei Cherny comes as a late entrant to the automation-of-retail-finance game — but with some twists.
Aspiration uses a fund of funds approach. The Aspiration Flagship mutual fund will invest in so-called alternative funds that pursue hedge-fund-like strategies including arbitrage and long/short trading. See: How RIAs can best pick alternative investments: Punt.
Another factor that is either brilliant or gimmicky, depending on your viewpoint, is how Aspiration sets fees by asking the investor what they want to pay. Aspiration asks its investors to donate a fee based on how their conscience guides them. Still, even if an investor chooses a zero fee, the underlying asset management fees are about 1.22% a year. Aspiration also asks for a fee to offset operating expenses like legal and administrative services, which are capped at half a percentage point. That is a combined 1.72% of fund assets a year. Aspiration does not participate in any revenue sharing of the fees received by its money managers.
Another difference is the firm's is its "Dimes Worth of Difference" in which it donates "a dime out of every dollar our company earns to successful charities focused on bringing economic opportunity to struggling Americans," according to Aspiration's website.
Third dimension
Perhaps even more unusual is that Aspiration has set a $100,000 maximum limit for potential customers instead of the minimum asset buy-in, as is often the case with hedge fund managers and traditional RIAs, for that matter. See: A cottage industry of hedge funds-to-RIAs is springing up but so far the mutual fund industry looks like the big winner.
"It's different from robo-advisors in the sense that we don't say give me all your money and then spit out a portfolio, Cherny says.
Walk like a robo
The onboarding and servicing is entirely automated, says Cherny. Another robo-qualifier for Aspiration is that it has received some Silicon Valley-level backing. Jeff Skoll, who headed eBay until Meg Whitman took over in 1998, invested about $1 million. Appropriately enough, considering eBay's bidding business model, Skoll was the first eBay employee. He took $2 billion with him as he cashed out of eBay, pegging his wealth at about $3.8 billion. Some of that capital gets invested through Capricorn Investment Group in Palo Alto, Calif., an impact advisory firm owned by Skoll. See: Can Silicon Valley rewire the RIA business? eBay investors think KaChing is the answer.
The idea for Aspiration was hatched with help from Joseph Sanberg, a one-time managing director at hedge-fund company Tiger Global Management. Alexis Maybank, a co-founder of online luxury retailer Gilt, is another investor.
Aspiration's website lists the support of alumni of New York-based The Blackstone Group LP; a former director of Ryan Seacrest Enterprises; a former user interface designer for Nest Labs, a home automation firm also in Palo Alto; and investors from Wells Fargo-owned Merlin Securities and Cantor Fitzgerald, both based in New York.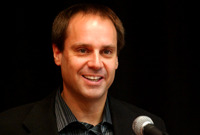 Jeff Skoll, who was eBay's first
hire and so knows from 'pay
what you wish,' invested about $1
million in Aspiration.
Skoll was attracted to Aspiration, Cherny says, in part because its business model relies on trust as eBay's did. In the case of eBay, customers need to have faith that they will get what's advertised in a timely manner. At Aspiration, the company needs to trust customers to pay fairly.
Cherny says he is encouraged by self-charging behavior of charter customers though he declined to say how much customers are paying on average — or on the high and low end — or how many customers or assets his firm has.
For now, Aspiration's main claim to success is that 50,000 people have asked to learn more about the company. Still, the interest has been a mixed blessing and about 40,000 people remain waiting in the information queue. Cherny allows that it could take another month or longer to work through that list given his firm's relatively small staff.
"The invitation list is more about the customer service aspect in terms of people calling in with questions — run of the mill things like having forgotten their e-mail password and not being able to figure it out, etc. We have a two-person customer service team at this point that will grow (I think Motif currently has three). We want to make sure people get good service during the onboarding process," writes Cherny in an e-mail. See: Pershing is working to create a better alternative assets experience.
Emerald city
One significant aspect of Aspiration that is not automated is the selection of mangers for its mutual fund. Emerald Advisers Inc., a firm with $1.7 billion of managed assets that exists in proximity to cows and cornfields in Lancaster, Pa., is in charge of picking investments. (Brooke's Note: I have actually been to Emerald's offices in 1994 as a reporter for the Central Penn Business Journal. At the time the firm had gained some national recognition for a successful mutual fund that invested only in Pennsylvania-based companies.)
Emerald gets a 27% cut of Aspiration's volunteered fees, ensuring that its skin is fully in the game — and that it remain a variable expense.
Aspiration uses Minneapolis-based UMB as its custodian. See: A peek inside the rising RIA custodians fighting to overtake the Big Four.
Brand names for the ultra-average
Aspiration's approach is reminiscent of the relationship consumers once had with mutual funds — opening accounts directly with the product-maker rather than buying mutual funds through a supermarket platform of the kind used by Schwab, Fidelity, TD Ameritrade and others. See: TD Ameritrade's raised its NTF fee to mutual funds and analysts believe rivals may hike theirs, too.
Cherny, 39, agrees with that characterization.
"We're trying to bring the investment product relationship online. I do think it harks back."
Cherny sees a large swath of the American investing public that's been left behind as Wall Street has merged so many of its mass-market brand names out of existence, specifically Dean Witter, E.F. Hutton and Smith Barney. "They've disappeared," he says. "You see investments on Wall Street for more of the ultrahigh-net-worth investor and less on the retail or mass affluent side that we're trying to fill."
Indeed, Hutton and Smith Barney had the iconic mass-market tag lines: "When E.F. Hutton speaks, people listen" and "At Smith Barney we earn money the old-fashioned way: We earn it."
Dean Witter's mass appeal was never more apparent than when Sears owned it but it had its own unfortunately unforgettable line: "We measure success one investor at a time." Its success was ultimately measured by Morgan Stanley's investment bankers who agreed to buy it in 1997 and meld it with their existing sales force. See: Advisor Spotlight: Two small Dean Witter breakaways are now Symmetry, a big DFA TAMP.
The success of Aspiration will be measured by how it brings in assets from investors in small increments. Its minimum investment is $500.
Running man
Another robo-intangible the company boasts of is the founder's American Dream CV.
The child of Czechoslovakian immigrants who spoke little English upon coming to North America, Cherny earned degrees from Harvard College and the University of California Berkeley School of Law.
Cherny's enterprising nature first came to the fore when he wrote political pieces for the Harvard Crimson about Bill Clinton's reelection campaign. Clinton was so impressed that he co-opted some of Cherny's lines in his 1997 inaugural address and hired Cherny, then 21, as a speechwriter soon after.
He has since provided policy and strategic advice to Democrat all-stars like Barack Obama, Joe Biden, Bill Clinton, Al Gore, Hillary Clinton, John Kerry and the top executives of companies such as Microsoft and Intel. Cherny is the co-founder and president of Democracy, a public policy journal and think tank that lays claim to coming up with the idea for the Consumer Financial Protection Bureau as part of Wall Street's reform efforts after the '08 meltdown.
Cherny's own political career has been less successful. He ran for the California State Assembly and lost while he was still a law student. In 2012, he lost the Democratic primary for Arizona's 9th congressional district. He lost a run for Arizona State Treasurer in 2010.
Cherny says that for now all his efforts are being poured into Aspiration.
---
Mentioned in this article:
Aspiration
Advisory Firm
Top Executive: Andrei Cherny
---
---
---
Mr. Jesse Livermore
January 26, 2015 — 8:19 PM
Brooke,
I hope their name doesn't elicit thoughts of administering last rights:-)
Regards,
JLL
Mike
February 20, 2015 — 7:22 PM
Great article Brooke! It's the dawn of a new day in the digital investing industry. There's a lot of talk about the "Robo 2.0" movement as was discussed here- https://www.hedgeable.com/blog/2014/12/we-dont-need-robots-introducing-the-digital-wealth-manager-2-0/