F-Squared's Wellesley, Mass. headquarters
Sanders' Note: Thinking there was little chance I could get through to any sources on MLK Day, I went to Wellesley, Mass. office park off Rt. 128 where F-Squared is headquartered looking for someone to speak with. Three of the five brokerages that have limited the purchase of F-Squared products for their advisors have a retail office in the same office park, and I was looking for someone to give me the local perspective. But while the law offices and private-equity firms were open and bustling, F-Squared and the nearby retail brokerage offices were completely deserted. I repeated the trip Tuesday but it might as well have been a holiday. I didn't get past the front desk anywhere, although one receptionist did phone a back-office employee so he could come "run interference." When I swung by F-Squared headquarters at the end of the day, I was informed that those who could have spoken with me were booked solid. I did gain a glimpse of F-Squared CEO Laura Dagan heading up a meeting, though, and she has, through her spokesman, extended a tentative invitation to speak to me next week from a conference she is attending in Florida. See: Following serious questions about how it calculated returns, F-Squared hires a new CEO after the old one leaves. With any luck, I can gain a greater appreciation of where she hopes to lead the company in the wake of its recent challenges. The new challenge covered here is to keep broker-dealers, TAMPs and the like from dropping F-Squared's portfolios from their fund platforms in the wake of a scalding SEC investigation.
At least five companies have reacted to the SEC investigation against F-Squared Investments by either warning their advisors against putting new money with the company, or completely prohibiting it.
AssetMark Inc. has been most aggressive in severing ties with the Wellesley, Mass.-based ETF portfolio manager, not only ensuring that new assets don't go to F-Squared products, but taking on the stickier issue by transitioning investor assets out of them.
RBC Wealth Management has limited its advisors from purchasing F-Squared separately managed accounts, and held a meeting yesterday to consider dropping F-Squared sub-advised mutual funds as well, according to a source who asked not to be named. RBC's press office said this morning it had no changes in policy to report, and couldn't give further comment on yesterday's meeting as, "nothing has been communicated internally or to the product managers."
Neighbors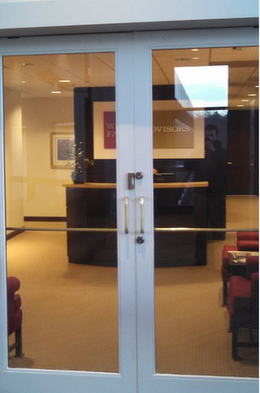 Wells Fargo Advisors Wellesley office
St. Louis-based Stifel Nicolaus and St. Petersburg, Fla.-based Raymond James Financial Inc. have both barred new money from being placed with the company, and F-Squared remains on the "watch" list at St. Louis-based Wells Fargo Advisors LLC, essentially a caveat-emptor for those thinking about purchasing.
A common denominator of those broker-dealers is that they have satellite retail offices just down the street from F-Squared headquarters in the same Wellesley office park.
Visits to these retail brokerage offices on Tuesday elicited no new information about why exactly their home offices had advised their employees against investing in F-Squared. The branch manager at Stifel Nicolaus turned down an interview request through a receptionist, and the Raymond James and Wells Fargo offices directed requests for comments to their respective press offices. E-mails to Stifel asking about this interesting geographic coincidence have not been returned. Raymond James declined to comment.
Wells Fargo Advisors say the decision to put F-Squared on its "watch" list came soon after a WFA representative traveled from St. Louis to F-Squared headquarters in May 2014. Wells Fargo says the Wellesley branch's location "had nothing to do" with the decision to place the firm on the warning list.
Hanging fire
Meanwhile, it's business as usual for many other brokerages and advisors vis a vis F-Squared.
When asked what LPL Financial was doing (or not doing) with its accounts at F-Squared, a spokesman for the Boston-, Charlotte, N.C.,- and San Diego-based independent broker-dealer said "we are going to decline any comment at this time."
A spokesman for Charles Schwab & Co. says his firm has not placed any limits on the strategy within its advisor network, while a spokesman for Commonwealth Financial Network wrote, "As with all products offered by the firm, we conduct initial and ongoing due diligence and review and products related to F-Squared are no different. We remain focused on monitoring corporate governance issues, regulatory action and disclosure, as well as routine monitoring of the investments."
For now, UBS and Ameriprise Financial, both of which have advisors putting funds into F-Squared investments, haven't responded to emails or voicemails asking for comment on F-Squared.
Fund Down
Scrutiny of F-Squared increased on Dec. 22, 2014 when the SEC announced the results of its sixteen month investigation, started after a July 2013 audit of the firm turned up irregularities. The SEC presented evidence that F-Squared chief executive Howard Present knowingly falsified the historic returns of F-Squared's indexes, exaggerating their gains 350% in order to sell to potential clients. See: How Howard Present parlayed an intern's algorithm into a small fortune — and when the SEC says he knew of a mega-disconnect.
Exacerbating the SEC's disapproval was the fact that F-Squared claimed live client assets had been tied to these strategies since April 2001 when in reality F-Squared didn't manage money until 2008.

Wellesley office of Stifel Nicolaus
As of September 2014, F-Squared was the largest model ETF provider in the country, with about $28 billion in assets under management and 115 employees.
Howard Present resigned from the company in November. And as a result of the SEC's investigation, F-Squared was required to pay a $5 million fine disgorge $30 million in profits.
"We are pleased to put this matter behind us so that we can focus on our clients and continue to invest to ensure that our compliance, research, analytics and operational teams are best-in-class," said Laura Dagan, the new chief executive at the time.
Bleeding outflows
As F-Squared puts the matter in the rear view mirror, the investigation has produced serious collateral damage for Virtus Investment Partners, the Hartford, Conn.-based mutual fund company. Virtus [VRTS] has packaged F-Squared's AlphaSector strategy into mutual funds since late 2009 and has seen its stock plunge 35% from a high of $223 to its current price of about $140 since word of the investigation became public in early September. Before the results of the SEC investigation were released in late December, about 20% of the $60 billion in assets at Virtus were influenced by the F-Squared algorithm that was the basis of the SEC-questioned returns.
That percentage appears to have waned. According to data on Virtus' website, investors currently have about $9.3 billion in assets under management in F-Squared AlphaSector mutual funds, down dramatically from $12.8 billion "reported by The Wall Street Journal": https://blogs.wsj.com/totalreturn/2014/09/17/popular-virtus-f-squared-funds-havent-been-big-winners in September.
And investors continue to pull money out of AlphaSector strategies. Since Dec. 1, F-Squared and Virtus' flagship fund, the Virtus Premium AlphaSector fund, has lost $800 million in value, while its second largest fund, Dynamic AlphaSector, has lost about $230 million. Based on data from Virtus' own website, F-Squared backed funds saw over $40 million in outflows on Tuesday, January 20, and at least that much again on Wednesday.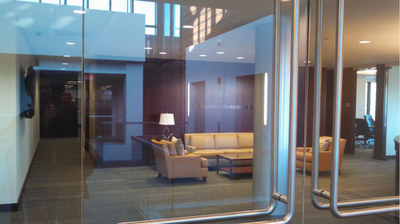 F-Squared's reception. No photos were allowed
inside the headquarters.
Though sizable, that $40 million outflow reflects an ebb compared to the fourth quarter's investor exodus from Virtus funds. Last Wednesday, Virtus reported over $5 billion in outflows for the fourth quarter of 2014, and net negative flows $2.187 billion.
If Virtus can weather these initial outflows, the company appears to be in a good position to benefit. Fees assessed by Virtus are healthy, and average around 1.75% across all share classes for F-Squared based mutual funds. At the high end of the scale, Virtus charges 3.42% for C shares of its Dynamic AlphaSector fund, essentially a managed portfolio of four to 10 State Street SPDR ETFs. Back of the envelope math, i.e. simply multiplying annual expenses assessed by assets in F-Squared sub-advised funds, shows Virtus currently pulling down almost $140 million in advisory fees before F-Squared gets its cut.
The SEC has not accused Virtus of any wrongdoing.
Lawyer Brigade
Perhaps emboldened by the SEC findings, at least two law firms — San Diego-based Robbins Arroyo LLP and New York City-based Rosen Law Firm — are conducting investigations of their own, and are rounding up potential victims of F-Squared's fraud for potential class actions. A spokesman for Robbins Arroyo said the F-Squared case "is an ongoing investigation and we have no further comment."
While Robbins Arroyo is pursuing Virtus and F-Squared, the Jan. 8 press release from the Rosen Law Firm says it is investigating "potential securities claims against advisors affiliated with F-Squared Investments and Virtus Investment Partners Inc."
No one was available for comment in F-Squared headquarters Tuesday; a spokesman for the company has not given comment for this article.
---
---
Mentioned in this article:
---
---
---
FAA
January 25, 2015 — 11:25 PM
Why would any advisor/ platform/ wire house etc. keep there clients in F-Squared? There's no upside just a lot of exposure and potential liability.
JohnSanbo
January 26, 2015 — 11:34 PM
how did these two firms(Virtus Investments and F2) get away with this massive fraud scheme for so long? There must be justice including jail-time and disgorgement of ill gotten gains from both firms. Does the SEC even understand the size of this fraud?