John Hyland pictured yesterday at his chemo session: I have every intention of coming out the other end.
Latest: Guy Adami is going to do a pitch for John Hyland and the bone marrow drive at the end of tonight's CNBC's Fast Money show. Roughly 5:50 EST on Thursday.
Lisa's note: My first conversation with John Hyland back in the fall of 2010 was during his darkest days fighting leukemia for the first time. He physically labored just to do the interview. Since then, it's been brightness and light with our chats centering on the growth of his firm Private Advisor Group and his success in completing triathlons. With a heavy heart that I write about his renewed battle with leukemia. In our recent conversations, he is surprisingly upbeat. Don't get me wrong — he's still very sick but hearing the optimism in his voice was encouraging. This story gains extra dimension as the financial services industry steps up an effort to save his life and potentially save others in so doing. Consider being part of it.
In May 2010, John Hyland was battling raging fevers of 105 degree from horrific chemotherapy as he fought for his life against myeloid leukemia.
The managing director of Morristown, N.J.-based Private Advisor Group survived. Eighteen months later he was completing an Ironman Triathlon, one of the most physically grueling races, with a 2.4 mile swim, 112-mile bicycle race and 26.2-mile run. In fall of 2013, he competed in the Hawaii World Championships in Kona.
His most recent Ironman was six months ago in July 2014 in Lake Placid, N.Y. where he swam the 2.4 miles in the lake in 38 minutes, cycled in six hours and 36 minutes and ran the marathon in five hours and 22 minutes. All told, it took him 12 hours and 42 minutes. It was a good time, but it was about 30 minutes slower than his fastest time of 12 hours and 11 minutes.
During the whole race, Hyland felt off his game but he couldn't pinpoint why. "I just didn't feel well at all and I had a really hard time training."
In September he would learn why he didn't feel like himself — he had leukemia again.
Worse yet, the only way to placate the vengeful disease this time around is to receive a bone marrow transplant. See: Eighteen months after the fight of his life, an advisor raises more money for a Leukemia cure.
#SwabforJohn
This week, Hyland, 47, is enduring his third month of chemo. His doctor's goal is to kill all of the cancer cells from the leukemia so that he can undergo a bone marrow transplant. Patients who still have some cancer cells left when they have a bone marrow transplant face tougher odds. His best chance at survival is to undergo the transplant without any cancerous cells present to interfere.
"I have every intention of coming out the other end," he says. "The reality is it's not that easy but I have every reason to believe I will survive. I'm pretty driven — whether it be at work or health. That may have helped."
But Hyland knows that he can't push his way to remission this time on willpower alone. He will need help to find a donor. The grand network of financial advice he built under LPL Financial is now filtering its powers back up to him as a means of taking on this challenge.
Taking a lead role is Abby Salameh, chief marketing officer of Private Advisor Group, who has helped set up an in-person bone marrow drive on Jan. 21 from 1 p.m. to 7 p.m. at 65 Madison Avenue in Morristown, N.J. Between that effort and the online appeal, the goal is to get 3,000 people in the advice industry to join 23 million existing registrants on the Match Registry.
This process is not like giving blood. A person provides a simple mouth swab to collect DNA for the database. The hope is that the swab drive will enlarge the pool of possible matches just enough to lead to a match for Hyland. Often siblings are the best bet in these cases but Hyland has two older sisters who are not marrow matches.
Salameh has also launched a PR and social media campaign to get the word out about Hyland in the advisor community. InvestmentNews editor Fred Gabriel wrote a piece on Monday encouraging advisors to get on the register. Several advisors has also posted on Twitter using the hashtag #SwabforJohn to indicate that they will join the registry.
How to Be the Match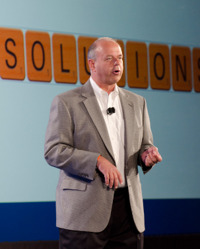 Robert Moore: We have 3,000 employees
and hopefully by creating awareness we
will ultimately surpass that number of
3,000.
LPL's president Robert Moore wants to help blow away the 3,000-swab goal.
"We have 3,000 employees and hopefully by creating awareness we will ultimately surpass that number of 3,000. We want to do far more than that and we'll do what we can to be of help."
Approximately one out of every 40 registry members is called for additional testing to narrow down the list of potential donors and determine the best possible match for a patient. One in 500 will actually donate, according to The Match Registry, a non-profit entity that has made the process for donors a relative cinch. Anyone can go to the website and sign up to be a donor. Applicants will receive a swab kit in the mail and swab themselves on the cheek and send it back.
Registry members are listed on Be the Match Registry until they turn 61 but doctors feel the best matches are individuals who are 18 to 44. Donors don't have to pay any costs related to medical procedures or travel occurred as part of their donation.
Salameh doesn't mince words about what is needed to save her boss.
"The bone marrow is the only thing that will save him. If he doesn't get one, he'll die and we need a match. So, this is getting the financial services community to band together and maybe we can find a match. There's urgency because he needs this within a few months," she says. "It's really hard to imagine that we can't get people to rise to the occasion especially given the fact that the process to join the registry is so simple. If you're called upon, they've made it so simple that it's just a five-hour process where there are two shots. It's minimally invasive and can save someone's life. I think the biggest issue is to get people to join the registry and hopefully one of them will be John's match and a chance that one of these people will be a match for someone else."
Hyland began a leave of absence from the firm he co-founded with Patrick Sullivan about 12 weeks ago. Private Advisor Group is one the largest advisory practices with LPL Financial. The firm's assets in its own RIA were $5.8 billion at the end of 2014 . PAG held $1.7 billion in LPL's corporate RIA and the firm has about $10 billion in brokerage assets. The company, with a total of $17.5 billion of advised assets, had revenues in 2014 of $135 million. See: How LPL's biggest branch office added $3.5 billion this year by beating LPL itself with a key service.
Ironman challenge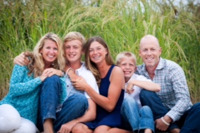 Hyland family: From left to right:
John's wife Kristin, Patric 14, Kelsey
16, Kieran, 10. and John

Hyland's diagnosis as of September 2014 is chronic myelomonocytic leukaemia (CMML), which is a type of blood disorder in which there is too much of monocytes in the blood. Monocytes are a type of white blood cell.
Chronic myelomonocytic leukemia is a form of myelodysplastic syndrome (MDS). Hyland's doctors believe his current condition is a product of treatment-based leukemia — meaning it arose from the chemotherapy treatment that he underwent in 2010. However, it is not uncommon for leukemia to return even after a patient has been cured. Most causes of blood cancers are unknown according to experts.
Hyland is certain he'll beat this disease and if his track record is any indication, he will.
Back in 1999, Hyland was about 50 pounds overweight and generally out of shape. He recalls being at a Giants game drinking beer and heard someone mention an Ironman and decided on the spot he'd compete in one. "I got it in my head right there while I was eating hot dogs and chicken wings that I was going to do an Ironman and it changed my life."
All totaled, he's completed 11 Ironman competitions. And, he loves to joke about the fact that his leukemia returned during the most recent last July Ironman — even though he didn't know it at the time.
"Wow, I just did an Ironman while I had cancer. How do you like that," he chuckles. "I did the Ironman in late July and first week of September I got a case of the shingles. I didn't think much of it because I had it in high school. But it was a symptom of the leukemia and that was the beginning of the snowball that started. My only path for survival is a bone marrow. I have just one path."
Mental preparation
In 2010, Hyland received toxic and powerful chemotherapy because 80% of the bone marrow was cancerous. This time, just 3% of the bone marrow is cancerous and his latest course of chemotherapy hasn't been nearly has horrendous.
This week, Hyland watched "The Shawshank Redemption" during his chemotherapy treatment. "That line where they say 'get busy living or get busy dying' really got me fired up. It was such a great movie for me to watch now."
But he knows the hard part is yet to come. Even though there is no donor yet, Hyland is already mentally preparing for a transplant and realizes the chemotherapy he'll receive the days leading up to the transplant will be the most grueling he's ever faced.
"In the 2010, the chemotherapy you get beats the crap of you but your body will grow blood again. With the treatment I get before the transplant, there's no coming back because they kill it all. They kill it all. You're jumping out of a plane. The toxicity will be way worse."
The fight against Leukemia has been personal cause for Hyland ever since his aunt died from the disease in 1992.
"She was a really sweet lady and was the first death of an aunt or uncle that hit close to home for me," he says. "Things do work out for a reason. I started volunteering with the organization and got involved."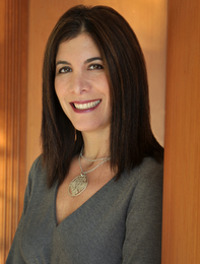 Abby Salameh: The bone marrow is
the only thing that will save
him. If he doesn't get one,
he'll die.
Vicious disease
After her death, Hyland began dedicating a huge chunk of his time to fundraising for research, treatment and eventually a cure of leukemia and lymphoma. He has helped to raise more than $3.2 million in contributions for that cause.
When he was diagnosed with leukemia the first time, he kept fundraising for the organization even when he was stuck in a hospital bed, says Stacey Weathers, executive director of the Leukemia & Lymphoma Society.
"He never stopped. He would post pictures of himself when he was still training," Weathers says. "Amazingly, he participated in an Ironman the first year after his treatment." In that race alone he raised $650,000, she says.
But Leukemia has an insidious way of recurring, Weathers says.
"The problem with this condition is it really likes to come back. It's a rapidly progressing disorder and it affects the white blood cells," she says. "The blasts grow and fill up the bone marrow so quickly that the cells fail to mature. It's just so hard because the cancer cells spread all over the body and for some reason they like to come back and are so vicious."
Authentic optimism
Moore, who has known Hyland for years and became friends with him back in 2010, says he is impressed that Hyland is continuing his efforts to educate others and to raise money and awareness for leukemia.
"We all have adversity and we all have ways of dealing with adversity. In my experience, it is a privilege to have such a deep connection and to know John has such authentic optimism. He's incredibly genuine. Anyone who knows John knows that he's creating visibility in the pursuit of helping others."
Hyland even says he wants to document the treatments leading up to the blood marrow transplant so that people can understand how much financial help this disease needs.
"I might try to video it because it'll be good for people to see how barbaric this process is."
Going skiing
Hyland is an optimist but he's also a realist. Given his profession it's no surprise that Hyland has broken down the numbers associated with his illness. He says that a white male has a 75% chance of getting bone marrow. Of those who receive a bone marrow, 25 out of 100 will die of the disease. The chance of survival the first year is as low as 35% though it can be higher in some cases.
"Survival is a flip of a coin," he says. "It's a little over 50%."
But that doesn't impact his upbeat attitude.
"The data is terrifying but I need to know it. The numbers don't stick in my head all day long. I've lived a fairly normal life for the past three months. My doctors are very optimistic that I'll find a very suitable and perfect donor. There's people on the registry. It's a very secretive process. As a patient, you can't get into that process. They identify donors and pick the one. You talk to them and make sure they're OK to give and all sorts of tests are done to make sure they're healthy."
Over the years, Hyland has been adamant about enjoying his life and since he still feels relatively OK, he's hoping to go skiing with his wife Kristin and three kids this weekend.
"They're my single influence and it's all about them. I'm an optimist at some level and I could be in a transplant as early as March or it could be six months," he says. "It's not a straight line and so many things can happen to push it out or accelerate it. I'm being optimistic that everything will fall into place."
---
Related Moves
August 19, 2020 – 2:18 AM
---
October 5, 2018 – 7:40 PM
---
---
Mentioned in this article:
Private Advisor Group
Specialized Breakaway Service, RIA-Friendly Broker-Dealer, RIA Serving Other RIAs
Top Executive: RJ Moore, Chief Executive Officer
---
---
---
Lynne McAuley
January 15, 2015 — 6:10 PM
Good luck with finding a donor. I am also a cancer survivor and you are an inspiration.
Biphenotypic Acute Leukemia Fighter; No Financial
January 14, 2015 — 7:55 PM
Mr. Hyland, consider yourself lucky that at least you won't need to worry about whether or not your "financial advisor" will take advantage of you during your medical event. I lost a dear friend to biphenotypic acute leukemia. We fought it for one year via chemo. Lost that battle so went to a salvage chemo and prepared for a BMT. He never made it to the BMT. He developed an infection and then sepsis set in. Then hepatic encephalopathy. Devastating. Little did I know that a medical event put me on my "financial advisors" low-hanging HNW fruit radar. My "financial advisor" at one of the wirehouses—you know the places where a top official of one of them told Arthur Levitt privately that he wouldn't send his mother—took our medical event as an opportunity to exploit me/us. Unbelievable. Unfathomable. Utterly Disgusting.
BAL Fighter; Now Financial Advisor (esp. wirehouse
January 14, 2015 — 8:24 PM
It's a feeling of being raped in every orifice at a most vulnerable time. BAL and my friend's death beat me down; my wirehouse "financial advisor" kicked me when I was down but didn't finish me off. I feel like I'm climbing El Capitan with raw fingers and toes now.
I am hopeful that you will find a marrow match (you appear to be Caucasian so your chances are better than other races). I encourage you and your loved ones to get on and read the BMT list serve, if you are not already. There's an ALL and AML list serve as well. Good luck to you.