News, Vision & Voice for the Advisory Community
After a prolonged search, Charles Goldman hires the former CEO of $240-billion AUM Natixis, president of Charles Schwab Investment Management and Yalie
September 3, 2014 — 12:52 PM UTC by Brooke Southall
Brooke's Note: This remains a heck of a turnaround effort to observe as so many ex-Schwab executive stars move back to the Bay Area to put their shoulder behind the effort. Jeremy Chafkin might be that sleeper element as he establishes roots in Oakland and bids adieu to Beantown. After all, the whole idea of a TAMP is to take the investments portion of the equation off the advisor's plate leaving the firm with the freedom to care for clients and build the business. This requires a varsity-level knowledge of investments but also a first-string-level knowledge of how advisors interact with clients. Chafkin's background as an investments, advisor and client guy at Schwab seems to bode well. Before yesterday, I don't think I had ever spoken with him before. I was impressed by how he talked. Chafkin didn't try to throw around lots of big words or jargon. In my experience, those are the people to watch.
AssetMark Inc. has hired Jerry Chafkin as its chief investment officer. He'll report to the firm's chief executive, Charles Goldman. See: Charles Goldman speaks from the CEO Summit hotel about what he didn't see coming at AssetMark and how it changed his life.
In making the hire, the $23.5-billion AUM turnkey asset management program in Concord, Calif. gets an industry star and someone Goldman knows well from his days at The Charles Schwab Corp. before both executives moved on.
In his new role, Chafkin will oversee investments, including a proprietary group of funds under the new brand, Savos Investments, formerly known as Genworth Financial Asset Management. See: 'AssetMark' rides again as a $20-billion TAMP with a receding Genworth hangover.
Heavy hitter
From 2004 until 2006, Chafkin was creator and executive vice president of a new business within Schwab's Individual Investor division comprising all proprietary advice-based products and services. He managed 500 employees and grew the unit's revenues to $250 million.
Cecile Munoz, president of U.S. Execurtive Search in Los Angeles, says this is the bonus that you get as a private equity firm in appointing a chief executive with a fat Rolodex. "You need this kind of leadership to come to AssetMArk to create the intellectual capital to grow."
Goldman was at Schwab from 2001 through 2008 and was head of the RIA business during the last 20 months of his tenure there. His last two hires have also been high-profile Schwabbies who worked there on his watch: Cathy Clauson and Natalie Wolfsen. See: Natalie Wolfsen is leaving New York to reunite with Charles Goldman out West.
"I trust and respect Charles and Natalie," Chafkin says.
But it's Goldman who's the winner for clinching the Chafkin hire, says Tim Welsh, president of Nexus Strategy in Larkspur, Calif. "If you bring on a heavy hitter like that, they will be able to promote their investment management more aggressively."
Fascination with alternatives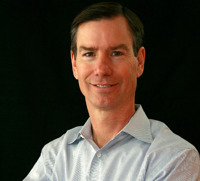 Charles Goldman: He really knows how
to run money.
Making way for Chafkin is Mike Abelson, formerly AssetMark's head of investment and product management. He has moved into a new role as executive vice president of corporate development at the firm.
Most recently, Chafkin was chief executive and then portfolio manager and at AlphaSimplex Group LLC, a liquid alternative asset management company in Cambridge, Mass. that manages $3.8 billion of assets. It is one of the 10 semi-autonomous managers held under Natixis Global Asset Management of Boston and Paris, France, which has a combined $240 billion of assets managed. Chafkin moved from the top-dog role to the chief of its alternatives subsidiary because of his interest in what the progressive group is doing.
But the post failed to satisfy his deeper longings and he left AlphaSimplex this year. Chafkin's plan was to start an asset management company geared toward financial advisors based on some of what he had learned at AlphaSimplex and, in an earlier life, serving advisors and clients. Chafkin helped create the early version of Schwab Private Client, which has since morphed into a $60-billion RIA at the heart of Schwab's move to establish wealth management as its core business. See: Schwab Private Client edges its fee closer to the classic RIA standard.
"He's just a very smart guy and he really knows how to run money," says Goldman.
Social media find
While Chafkin was pondering his start-up, Goldman was searching extensively for a chief investment officer — without the help of headhunters. See: How one $1.3-billion RIA in Tiburon found its woman by taking the 'grueling' route. Finally, Goldman noticed Chafkin's plan for starting an asset management firm on social media (neither can recall whether it was Facebook or LinkedIn — the men are connected by both). Goldman all-but offered Chafkin the CIO position on the spot.
"I had a great relationship with him at Schwab," Goldman says. The two men worked particularly closely together in 2004 when Schwab was executing a turnaround of the company and Goldman spearheaded the effort as head of strategy. Coincidentally, the two men previously worked at Bankers Trust at the same time.
The right diagnosis
Chafkin gave up his plum AlphaSimplex job because he saw a big opportunity for change in the marketplace.
"I think the old [formula for managing investment risk] is less than fully baked," he says.
Chafkin illustrates that thought with the analogy of an infinite number of germs that express themselves in a limited number of symptoms. A more sophisticated process of diagnosis and treatment is possible for investors and for the advisors who serve them, he says.
A long-time Boston dweller, Chafkin is nearing completion of a purchase of a house in Oakland, Calif. He received a Bachelor of Arts degree in Economics from Yale University and holds an MBA in finance from Columbia University.
---
Mentioned in this article:
---
---
Share your thoughts and opinions with the author or other readers.
btcman said:
November 18, 2014 — 12:32 PM UTC
Qatar Investment 2300% profit in 48 Hours Principal Return
Your secured short term investment partner.
We offer 3 short time investment plans suitable for investors worldwide with a principal security fund.
1500% profit in 48 Hours (Principal Return)
2300% profit in 48 Hours (Principal Return)
3400% profit in 24 Hour (Principal Return)
100% Risk Free Investment Plan,Safe Investment For Serious Investors
No Risk Investment and High Return Investment
http://www.qatarinvestment.org
---
---