RIAs got their first direct splash of Gross's eccentric behavior at Morningstar's Investors Conference in June.
Brooke's Note: Bill Gross is largely an introvert who, for 40 years, has had to play the extrovert. Just a guy with a start-up in California in 1971, Gross's face and voice is pervasive in the media, on TV and in conferences. What little extrovert pose that was left in him got sucked out by PIMCO management duties. Now Gross can go back to a role that allows him to more safely retreat to his own mind, where he is able to envision the direction of markets and develop thoughts about everything else in the process, which spills into his blog. That seems like a good outcome for him — albeit one served with the sting of not fitting into a cool-kids world. See: The Grossian formula for PR: Why Bill's press is good press, even when it's bad.
Either it's a move fueled by the unconventional thinking of Bill Gross the Bond King or the impulsive act of a desperate man. See: Bill Gross's stage antics leave Morningstar conference-goers gobsmacked.
Gross, 70, has left Pacific Investment Management Co., the firm he founded in 1971, and will manage a small "Unconstrained" bond fund, according to a press release from Janus Capital Group Inc. and reporting by The Wall Street Journal and The New York Times.
The move caps a series of Captain Queeg-like actions at PIMCO by Gross that surfaced, at least in hindsight, after his co-CIO Mohamed El-Erian, chief economic advisor of Allianz, left the company last January after complaining about Gross's style. See: BlackRock CEO rates U.S. economy closer to brink than PIMCO CEO. Still, PIMCO was in a no-win situation and has suffered blows from Gross's removal.
Stormy history
PIMCO manages $2 trillion, including the $222 billion of its Total Return Fund, the largest bond mutual fund in the world. See: Why PIMCO's brand is most sterling and Powershares, Vanguard and ProShares are fast-gaining.
Gross's new home, Denver-based Janus Capital Group, was considered the equity king back in the 1990s thanks to its momentum-investing prowess in the run-up to the technology boom. But the firm's assets under management took a drubbing in the dot-com crash of 2000. It stood at $330 billion in March 2000 and fell to $145 billion by March 2004 as investors withdrew billions of dollars a month, according to Times.
JCG was then caught up in the 2003 mutual fund market timing scandal and subsequently paid a $262-million fine.
Today, Janus manages upwards of $160 billion.
One step ahead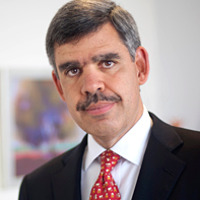 Former PIMCO co-CIO, Mohamed El-Erian, will
reportedly not return in the wake
of Gross's departure.
Before the Morningstar event, Gross had moved his desk out of the PIMCO bullpen to a private office, according to press reports. See: With kid gloves and after great patience, Morningstar yanks gold-level rating on PIMCO Total Return Fund and predicts possible exit of 'tens of billions' in assets.
The New York Times adds that PIMCO management grew concerned over Gross's blog that was basically, the Times wrote, an ode to his dead cat.
"Mr. Gross's behavior grew increasingly erratic in the wake of El-Erian's departure according to people familiar with the matter," the Journal writes. "Several months ago, the Pimco executive committee issued a warning to Mr. Gross that he needed to change his behavior. Mr. Gross's behavior didn't change [according to unnamed sources] as he yelled repeatedly at members of the committee and others. Among the incidents that bothered Pimco executives was a lengthy phone call in which Mr. Gross raised his voice repeatedly to two Wall Street Journal reporters writing an article about the turmoil within the firm, the people said. Several Pimco deputy chief investment officers told the firm they would resign if Mr. Gross didn't leave."
When this kind of behavior came to the attention of PIMCO's investment committee, Gross was placed on probation and stayed there. According to reporting by the Journal and the Times, Gross's voluntary exit was one step ahead of his being fired.
In recent weeks, the executive committee had been laying the groundwork for a post-Gross era — a set of surreptitious actions that Gross caught wind of and which led to his own search for a landing pad, which in turn led to the Janus gig, according to the Journal. It was Gross who approached Janus — something he did at the same time as he approached Los Angeles-based DoubleLine Group, a firm that has its own Bond King, Jeffrey Gundlach, according to reports.
At press time Gross's replacement has not been announced. The Journal reports that El-Erian won't return to PIMCO, and that deputy chief investment officer Dan Ivascyn is likely to take on some of Gross's responsibilities.
(Note: Late Friday, PIMCO announced Gross's replacement: Daniel Ivascyn will serve as group chief investment officer. In addition, Mark Kiese, Scott Mather and Mihir Worah were jointly named portfolio managers for the Total Return Fund. The firm's chief executive, Doug Hodge, will remain in place as will PIMCO president Lew "Jay" Jacobs.)
PIMCO alums
Gross's appointment becomes effective Monday. He will manage the recently launched Janus Unconstrained Bond Fund and "related strategies" and will join Myron Scholes and other members of the Janus team focused on global asset allocation. He will work from Janus's new office in Newport Beach, Calif., the same town as PIMCO's headquarters.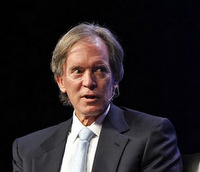 Bill Gross: It is a time
for me to reduce executive and
people management responsibilities at a larger
firm and focus on the pure
aspects of portfolio management at a
smaller one.
And, Gross will reunite with a former PIMCO colleague. Richard Weil is chief executive at Janus and was chief operating officer at PIMCO until he left in 2010.
Weil repaid the compliment. "[Gross's] involvement provides Janus a unique opportunity to offer strategies and products that are highly complementary to those already managed by our credit-based fixed income team."
New chapter
Gross also expressed humility and said he was seeking a life of asset management, not people management.
"I look forward to returning my full focus to the fixed income markets and investing, giving up many of the complexities that go with managing a large, complicated organization. See: Bill Gross and Liz Ann Sonders are Dr. Gloom and Ms. (Fairly) Optimistic before Schwab IMPACT crowd.
Gross later issued a separate statement in which he said: "It was not without great thought and deliberation over quite some time that I decided to begin this next chapter. But now, after having spent considerable time serving in senior management, it is a time for me to reduce executive and people management responsibilities at a larger firm and focus on the pure aspects of portfolio management at a smaller one. Janus is the right fit at the right time in my career—and my life."
---
Related Moves
August 10, 2021 – 11:46 PM
---
---
---
MR RIA
September 29, 2014 — 6:41 PM
Kinda reminds me of Joe Paterno's life…