Bill Dwyer: When I met Nick it reminded me of a similar presence ...(Todd Robinson). Lightning strikes twice.
Brooke's Note: I've seen Bill Dwyer's passion in action. Around 2005 Chip Roame was looking for musicians for his CEO Summit dinner at Servino's in Tiburon. I happened to have a couple. They were my neighbors, Vertical Horizon, and I'd done enough walking of their dog while they were off rock starring that they said they'd be happy to work 90 minutes for free beer. They ended up staying longer and really put themselves into the effort. Bill Dwyer was there and when he caught wind of the fact that they were doing a free concert, he rallied the conference troops to pry open their wallets — not an insignificant task among financial executives — and made sure they got a very, very big tip. It was one small act that made a big impression on me.
When Bill Dwyer left LPL Financial in February 2013 to embark on retirement, the industry consensus was that such a vibrant executive couldn't last long in a quiet pasture.
It turns out, for once, the mob-think was right.
Dwyer, 56, has been named the new chief executive of New York-based Realty Capital Securities LLC, which is RCAP's distributor for alternatives, including non-traded real estate investment trusts. He will remain in Boston, charged with working with 320 broker-dealers and more than 100,000 advisors. See: LPL's Bill Dwyer decides to call it quits and Robert Moore is taking over his duties.
Appetite for alternatives
This time around, Dwyer is pawing turf as a product man developing markets for alternative investments, a term that typically translates to non-traded REITs. RCS currently offers 31 products including real estate investment trusts, business development company funds, liquid alternative mutual funds, real estate income funds, commercial debt funds, private-equity funds and energy funds. See: Step-by-step on finding a platform for alternative investments.
Dwyer likes the idea of re-entering the industry on the manufacturing side on the theory that it's where the action is. He sees the aging bull market, combined with continued rock-bottom interest rates, creating demand for a new generation of products to counter such headwinds.
"Retail investment is going through phases," Dwyer says. "You've seen the bull market for the last 20 years. Retail clients manage more and more financial assets and that's going to continue to grow as well in the foreseeable future. As they're more responsible for more assets, they will start to look for more sophisticated products. They'll do that with the help of financial advisors."
He continues: "I want to be in product side and I wanted to be in alternatives. When you think about alternatives space, you're looking at space with enormous growth for the next decade. If you find a space you really want to be in and you find a player that has breadth of product — and clearly these folks have been incredibly innovative [in making new products and matching them with the right clients]." See: The top 10 alternatives to alternative investments.
Open spot
In 2013, RCAP hired Larry Roth, former head of AIG Advisor Network, to join RCS as chief executive. However, Roth was later named chief executive of Cetera Financial Group.
"When Larry went to Cetera I left the spot open," says Weil. "When Larry joined us I felt he was the perfect person to run RCS for many of the same reasons we're happy that Bill had joined that spot. These are both individuals who have run big organizations and have propelled their growth and stayed true to their core principles and values along the way."
Dwyer's knowledge of advisors will be a huge asset in this role, Weil says. "Bill brings a fresh set of eyes to the business. He understands financial advisors, he understands broker-dealers and he understands financial services. We're asking him to come in and continue to build out a company that serves all three things."
Other side of the table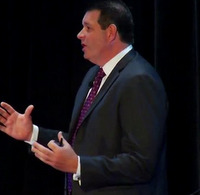 Derek Bruton: He's one of the
most innovative and knowledgeable people going
in this business.
Derek Bruton, chief executive of San Diego-based Lucia Capital Group, which oversees $2.3 billion of fee-based assets, says that his former colleague is indeed a big catch for RCAP. "What jumps out at people is his passion for the industry or anything he puts his mind to," he says. "I also think he's one of the most innovative and knowledgeable people going in this business."
Bruton's and Dwyer's careers overlapped by several years at LPL. Bruton reported to Dwyer before Dwyer's departure.
Boston-, Charlotte, N.C.- and San Diego-based LPL currently does not sell RCS products. See: What Derek Bruton's replacement may say about the departure that still has people shocked.
Dwyer spent 20 years at LPL Financial, during which time it came to be the nation's largest independent broker-dealer and the first pure-play IBD to complete an IPO. When Dwyer left LPL in 2013, he was vice president of national sales and development. He started at LPL in 1992 as a recruiter.
"My experience on the broker-dealer side was one that gave me deep partnerships with manufacturers and I always felt that was the side of business I wanted to do more with and this gave me an opportunity to do that," Dwyer says. "This is the other side of the table."
Executive chemistry
Dwyer met Nicholas Schorsch, chairman of RCS, at a meeting of a charitable foundation (Dwyer is chairman of Invest In Others). But the conversation between the two alpha dogs soon turned to business. See: Nicholas Schorsch invites 500 reps to NYC to kick off a 25-city barnstorming tour aimed at easing fears.
Dwyer saw in Schorsch another Todd Robinson, the founder of LPL who had been such an inspiration for Dwyer's LPL career. Robinson is a former Smith Barney broker who launched the company in 1989 by combining Linsco Financial of Boston, and Private Ledger of San Diego. In late 2005 Robinson and partners sold 60% of LPL Financial to private-equity outfits Hellman & Friedman and TPG Capital, valuing the company at $2.5 billion. Robinson created a place where the stockbroker was king and not an adjunct to more royal investment bankers.
Schorsch may be looking to disrupt other self-anointed Wall Street royalty — hedge fund managers and other makers of non-correlated products. It's an opportunity that Dwyer doesn't take for granted.
"It's interesting. You're fortunate to meet someone you can partner with that is an incredible entrepreneur. When I met Nick and started talking about businesses it reminded me of a similar presence. Lightning strikes twice. I feel Schorsch is just as entrepreneurial as me." What to make of LPL nearing a successful — but scaled back — IPO.
Drawn to scale
After stepping down from LPL, Dwyer cast his eye in the direction of a classical start-up but found he craved the more super-charged platform of capital and existing organizational infrastructure.
"I started to dabble in investing in smaller companies and what really struck me is over the last 20 years I'd built a tremendous amount of general management skill working at a large organization. Quite honestly, in small entities it wasn't being levered enough. This gives me the ability to leverage growth, organization and leverage a large organization."
He adds: "LPL was a lot of fun the first 10 years, but it became a lot more fun the second 10 years when we had more resources. These starts-up are filled with wonderful people but no resources. With RCS, it gave me the opportunity to align with a group that is very aggressive with the ability to put resources in place."
Dwyer allows that he is also excited about working at a winner. RCS is on a growth trajectory and Dwyer says that is what attracted him to the firm.
"It's not a situation where it's a company that's in trouble and I'm coming in to turn things around. This is a leader in the space and I get to enhance things." See: Nicholas Schorsch invites 500 reps to NYC to kick off a 25-city barnstorming tour aimed at easing fears.
---
---
Mentioned in this article:
---
---
---