What FPA's chief sponsor MetLife pays isn't peanuts but Snoopy is.
Brooke's Note: The RIA business itself is so young. Thirty years is a stretch. More like 20. So it is sometimes hard to imagine that it is already in need of reinvention, reinvigoration, new companies, new people and new associations. Reading about those things can be boring. When I see NextGen in a headline, I almost reflexively turn the page. It isn't scintillating reading. But in this review Frank Noto captures some of the energy of what is coming next — along with much of what already is — and it makes for a read that adds to where the RIA business is today.
I admit that when I first entered the exhibit hall of the FPA 2014 BE conference this year, I felt some of the steam go out of me.
Accustomed to that rush that accompanies walking into the extravaganza-like atmosphere of a Schwab or TD Ameritrade national convention — or even Financial Planning Association events in years past — this was an initial letdown. Not lots of critical mass or wow factor. Except for Snoopy hanging out in the MetLife booth, there were no flashy, attention-getting booths. Would this be a long weekend among manic Seattle Seahawk fans? See: An advertiser's-eye view from among the booths of the FPA convention's exhibit hall.
Indeed, many big firms — including virtually all the big Boston mutual fund companies — did not exhibit this year in Seattle. Next year's FPA event is in Boston so perhaps they are keeping some powder dry. But the void of colored cardboard from big names left open a huge opportunity for the smaller players.
A quick look at the scorecard of exhibiting fund companies included T. Rowe Price, Matthews Asia and Lord Abbett. It was home-court advantage for Ranier Funds. The humongous American Funds came up from Los Angeles. Vanguard had two separate booths, one of which represented their funds' group. U.S. Global Investors made the trek from San Antonio. Other than having an unpleasant Sunday afternoon, what with the NFL Denver Broncos loss, Westcore Funds seemed to be enjoying their time with advisors; it was the lone Denver fund company in Seattle.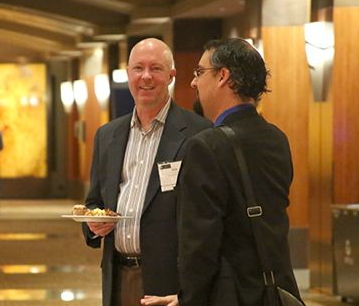 Always a party, and good event,
when Tim Welsh and Mike Kitces
lend their presences.
There were the big stars — Schwab, TD Ameritrade, etc. But again, the key players were at the booths of smaller firms that have been successful (or are trying to be) in carving out their niche within the advisory world. Even Ameriprise, a bit of a rare bird at an RIA-oriented event, had a decent booth. Overall, this year's conference hall represented a big change from any of the previous FPA conferences I've attended since 2000. See: Eavesdropping on FPA Australia: The group is booting big-companies and pushing advisors hard to earn their CFPs.
Modest, but effective
A typical experience was my visit to one seemingly forlorn booth deep in a corner — a place you pray you don't end up when you buy a booth. But the fellow manning it, Will Cho, the regional RIA person and vice president for CNL Securities of Orlando, Fla., was quite sanguine about his experience. He had 25 people stop by and all of the conversations had been of a satisfying depth. He was certain that a number of the prospects would follow up and that the time and money spent on FPA were worth it.
A good example of a 2014 exhibitor was ModestSpark, a local Redmond, Calif. company living in the shadow of Microsoft. It has partnered with many of the known RIA tech players (Advent Software, Orion Advisor Services LLC and Envestnet | Tamarac, among others). Its software gives a firm an app-like program that advisors can utilize for streamline reporting and for an interactive client summary experience between the advisor and his client. See: Top 12 crucial technology happenings affecting RIAs in 2012, Part 2.
From New York's Silicon Alley came first-time exhibitor Hedgeable. Its online strategy targets big RIAs with risk-management strategies. It's being (self-) labeled as a "next generation Vanguard" — for better or worse. Its business was sparked by the financial crisis of 2008-'09 when smart high-net-worth investors hedged on the right side.
One-stop shop booth
The succession-planning niche was well represented. See: Why shock-and-awe over low succession planning rates is unhelpful and distasteful.
FP Transitions of Lake Oswego, Ore. has been the market leader since David Grau started the company back in the mid-1990s and well before advisory firms understood that succession planning is a vital practice management tool. It wasn't surprising, then, to hear that FP Transitions has the largest valuation database in the advisory business.
You could find two of the bigger names in advisory lending exhibiting — Live Oak Bank of Wilmington, N.C. and Banc of California in Irvine. Live Oak shared space with FP Transitions, making for a one-stop shop for any booth visitor interested in buying or purchasing an advisory business. See: Fidelity's M&A program reload looks 'game-changing' after it partners with Live Oak to get Uncle Sam to guarantee RIA deals.
Banc of California is now able to provide advisory firms with commercial conventional loans of up to $40 mil, which makes seller and buyer financing a key component of any advisory firm deal.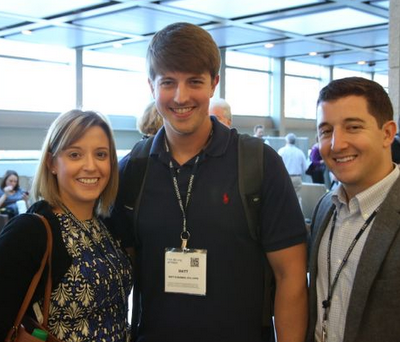 Three more of the young FPA
set.
There were a few companies that came to Seattle to jump-start their rebranding efforts. Formerly known as John Hancock Financial Network, Signator Investors Inc. of Boston is almost a year into their name change. Malcolm Thomas, director of business development and recruiting, says Signator allows advisors to use their own DBA. Signator is about ready to roll out a major marketing effort that will exclude all references to the former Hancock name.
Ten-letter word
After trashing the somewhat confusing name of Index Universe, ETF.com of San Francisco was in Seattle to bring some exposure to its new name. It would not be wrong to call the company — as it wants you to — the "Morningstar of ETFs." It was also promoting its own ETF conference in January, which has become the biggest of its kind. One of its marketers, Lauren Hirschfeld, says that educating the advisor is a huge focus of what ETF.com is all about. Its research — surprise, surprise — continues to shows a steady increase of RIAs investing by use of ETFs.
The least-favorite word an advisor can hear is "marketing," but that didn't stop a lot of small marketing firms from making their presence. Jonny Swift of Impact Communications (Marie Swift's son) spoke of its Lucky 10 program, a 12-month PR/media class for advisors. Kristin Harad is a former RIA who converted her practice into a marketing firm specializing in coaching and training RIAs. Kristin will help RIAs set up marketing and promoted a webinar — "The 30-Day Lead Machine."
Mary Ann Buchanan, principal of RIA Match in Vienna, Va. was exhibiting to promote her website that allows firms to find its M&A or recruiting match. Whether the search involves succession planning, new hires, breakaway brokers or advisors in transition, the RIA Match site has a growing database that encompasses all.
Despite being hung-over from producing its own conference in New York (National Financial Advisor Week), Meridian IQ presented a good showing at a prime booth location. Though it was hard to imagine its conference location outside in Times Square, Ryan Katz and Greg Sauer had the stories and photos to prove that they were able to pull it off amid the craziness of their indoor and outdoor NYC setting.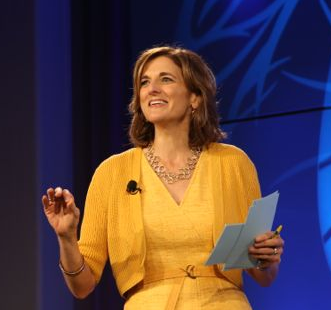 Jill Schlesinger and her yellow dress
contributed energy and smart humor.
School spirit
As with any major conference, there was an ebb and flow to the exhibit hall traffic. The great Seattle weather belied its drizzly reputation drawing people outdoors and the football game didn't help traffic matters on Sunday, but the overall feedback I received from exhibitors was generally on the positive side of the scale.
During the Media Roundtable with reporters, FPA president Janet Stanzak spoke of the Pipeline Initiative for getting new, young people interested and involved. The FPA wants to be in the forefront of introducing college students to the industry, and it has an association with 29 college programs that offer financial planning degrees. The FPA has resources for mentor matching, internships and residencies, and a job board.
These young people couldn't help but make an impression on anyone in attendance. They radiated energy and decency and gave a palpable sense of hope to accompany the usual doom-saying about advisors dying with their boots on and their succession plan unwritten.
While the Texas Tech Red Raiders have one of the most established financial planning programs in the country, the list of colleges making their mark at the FPA conference continues to grow. Virginia Tech, Colorado State, Missouri and Kansas State were some of the larger BCS schools in the hall. But, there were plenty others where academics ruled over ball games — William Patterson, Utah Valley, Utah State, St Joseph's, UT-Pan American, Delaware State and Winthrop.
Luke Dean, the former financial planning director at William Patterson, and now back in his home state at Utah Valley, spoke of the successes he has seen with former students. Many were students majoring in other programs such as accounting, finance, and even education, who had changed their major to financial planning. They graduate with multiple offers within the advisory industry, an anomaly in an economy that has most graduates jobless and in debt with loans. See: FPA chooses president-elect with the seasoning of young advisors in mind.
RIA-bound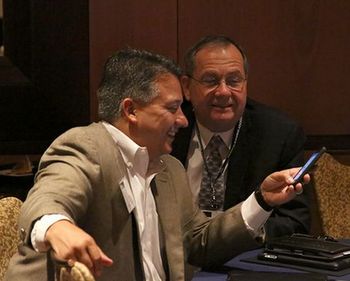 Dapper competence of these unidentified execs
at the major firms symposium.
I spoke with Matt from William Patterson and a few of his fellow students and asked what type of advisory firm would be their ideal post-graduate job. Across the board, it was the RIA model that intrigued them. Alex Darrow of Utah Valley backed it up. Nathan Brockbank is already involved with LJ Cooper, a Utah wealth management firm.
These are students who have completed internships in RIA firms that allowed them to immediately become involved players within the firm's business. From their college programs, for example, they already know how to work with industry software, such as Junxure, Morningstar, Inc., and MoneyGuidePro. This enables them to go into an RIA firm and assist in making these programs streamlined and functional. They are not tech people, but, as millennials they exude tech savvy — refreshing among individuals who want to be CFP-certified advisors. It would seem that a RIA not exploring this young pool of talent may be missing out on an opportunity to make a hire that can make an immediate impact on their business. See: A New York Times article gets real on the topic of marketing to millennials.
In taking a first tour of the Washington Convention Center exhibit hall, and as attendees watched the several big-screen setups showing the Seahawks/Broncos game, I couldn't help seeing the similarities between these 'Hawks and the line-up of firms presenting themselves throughout the rows of booths. The reigning Super Bowl champs have a few stars in the key positions, but the team is really a bunch of lesser-known players who are very good with the role they play in using a West Coast offense.
---
Related Moves
August 2, 2019 – 12:48 AM
---
---
Mentioned in this article:
---
---
---
Dan
September 27, 2014 — 8:17 PM
I know RIA's who have celebrated 75 year anniversary's. Why say the industry is only 30 years young?