Jack Waymire: Our cause for concern was the number of advisors who did not appear to have accessible compliance records.
Brooke's Note: It's a fear we all should have — that we could do our due diligence on our stock broker or financial advisor and still have it go wrong in a Madoff way. The fear is especially acute for Jack Waymire who does his best on behalf of thousands of investors to vet advisors. In his efforts recently he spotted what appeared to be a blind spot in the state and federal system of recording broker misdeeds and wanted to be talked off the ledge by somebody who truly knew what was going on. He chose Brian Hamburger and shares his conversation here. In the end there is no big smoking gun but there is much to be gleaned from this Socratic exchange.
What entity regulates investment advisor representatives who do not have active securities licenses? And is there a blind spot in the viewing of compliance records in regulatory databases that could blindside investors and even lead to another Madoff-sized donnybrook for the RIA industry?
Paladin Registry vets financial advisors for investors and rates the quality of their credentials, ethics and business practices. Part of our research involves looking at advisors' professional and firm data that reside in regulatory databases — primarily at FINRA and the SEC. Our cause for concern was the number of advisors who did not appear to have accessible compliance records. See: 6 reasons why RIAS can't — or don't want to — have track records.
We talked to several people at FINRA and the SEC who gave us the runaround. We asked FINRA what it regulated. The answer was broker-dealers and sales representatives who had active securities licenses. When asked, the SEC said they regulated firms (RIAs), but they did not regulate professionals (Investment advisor representatives). See: Why a reputation of shadiness persists in the financial advisory industry.
So we decided to talk to an industry expert.
Brian Hamburger is the founder and chief executive of MarketCounsel. In addition, Brian is the founder and managing member of the Hamburger Law Firm. An ensemble of elite entrepreneurial, legal and compliance minds, Englewood, NJ.-based MarketCounsel serves the nation's preeminent independent advisors throughout the lifecycle of their careers.
In an interview with Paladin's Jack Waymire, we discussed with Brian whether or not there was indeed a blind spot in the regulation of IARs who do not have active securities licenses.
Firm vs. individual
Jack Waymire: Is a "65" a state licensing requirement for IARs who provide financial advice and services for fees?
Brian Hamburger: The 65 is not a license. It is a qualifying examination that was developed by NASAA and administered by FINRA. Most states require it, but New York, for example, does not even register IARs.
JW: When the SEC refers to a financial advisor, is it referring to a professional or a firm?
BH: The SEC does not regulate professionals, nor do they use the term "financial adviser." So when they are discussing "investment advisers", they are referring to firms, not individuals.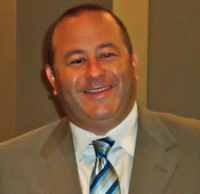 Brian Hamburger: New York is the
only state that results in a
blind spot because they don't require
registrations for representatives.
JW: What is NASAA?
BH It is the North American Securities Administrators Association. It represents state securities commissioners. One of its roles is to create uniform regulations between states. See: What advisors should know about the next sweeping change: the switch from SEC oversight to state regulation.
JW: Does FINRA have any jurisdiction over IARs?
BH: No it does not. States have that jurisdiction. See: RIAs switching to state registration may be examined by a second regulator, too.
JW: Do you know of any instances when a sales representative lost his securities licenses, became an IAR, and investors did not have access to this information?
BH: Sure. There was a stockbroker in New York who lost his securities licenses, filed for bankruptcy, and subsequently became a fee-only financial advisor. There was no easy way for investors to validate this advisor's credentials or ethics. See: Why a reputation of shadiness persists in the financial advisory industry.
JW: Do you believe there is a lot of uniformity in the way the states regulate IARs?
BH: Investment adviser representative regulations have become mostly uniform regarding registration. All states but New York and Wyoming require registration through a U4 and qualifications like a Series 65. There is a disparity, however, with how states oversee investment advisers and representatives. States have wide disparities in funding for this activity. Some states have full-time employees regulating IARs. Some states have part-time employees. See: How to ace the grueling Series 65 exam and keep your wits and your nerves intact in the process.
Gold star states
JW: What is an example of a well-run state regulatory agency?
BH: Illinois and Massachusetts do a nice job, in general, but if we are talking about access to information then it's pretty consistent. Most states follow the definition of IAR provided in the NASAA model rules for state adviser firms and the definition in the Investment Advisers Act for SEC registered firms. That state definition is more encompassing than the federal version. So there will be public information about those representatives available in any state but New York and Wyoming.
JW: Do most of the states have online databases, like FINRA and the SEC that investors can use to check out IARs? See: Review: What the SEC did right and wrong with the redesign of its website.
BH: All adviser reps can be found by searching at www.adviserinfo.sec.gov. It used to be difficult to find rep filings, but they have been integrated in to the IAPD system the same as BrokerCheck for FINRA brokers. See: Should I dump my securities licenses?.
Where to look
JW: What documents should investors ask to see when they research advisors at the state level?
BH: They should ask to see U4s and U5s. The U4 is an application for registration. The U5 is a termination form. They should also receive a brochure supplement for each person providing advice to them.
JW: Do RIAs have to register with the states?
BH: RIAs with less than $100 million of assets register with their state of residence and any other state where they have a place of business or more than five clients. RIAs with more than $100 million of assets are required to provide notice filings typically when they have more than five clients or a place of business in particular states. See: Wondering whether to register with the states or the SEC? It's a moving target..
JW: Do all of the states have the $100 million threshold?
BH: New York is still at $25 million. See: Frustration mounts: Experts, RIAs identify six most important unknowns about the switch to state oversight.
Examined, not reviewed
JW: How often does the SEC audit registered investment advisors? And, is it better or worse for states?
BH: States are not consistent. Some states — such as Maryland, Massachusetts and California — have always examined advisers at a similar pace to the SEC. Others have not done examinations frequently, but have picked up the pace over the past five years. See: Most RIAs prefer to pay money for SEC exams now than pay in blood later under an SRO.
Reporting, however, can be misleading. For example, New Jersey says it has an annual examination program. It sends out a questionnaire and makes a copy of the most recent ADV (filed with the SEC). However, no one appears to review the documents.
JW: Does FINRA have any regulatory authority over RIAs that are owned by broker-dealers?
BH: Technically they do not. In reality the answer is yes, due to the amount of overlap in management, reporting systems, and advisors. See: How RIA forces squashed the Bachus bill by calling the implicit FINRA bluff.
New schemes
JW: In your opinion, is there a blind spot?
BH: Yes, if your definition of a blind spot is advisor data that is hard to find and access. FINRA and the SEC are easy. They maintain online databases. The states are part of the same database. New York is the only state that results in a blind spot because they don't require registrations for representatives (or even qualifications for representatives of SEC firms). Couple that with their lack of examination for state advisor firms and it can be a bit of a blind spot.
JW: Does that mean we could have another Bernie Madoff?
BH: It would be difficult to foresee another Madoff because custody rules have gotten stronger. Bernie Madoff was able to do what he did because he had custody of client assets. And, it is noteworthy that Madoff was in good standing with FINRA and the SEC when the 2008 stock market crash caused a flood of redemptions. He reported whatever he wanted, and nobody questioned him (or if they did, they were laughed off). Custody rules are more protective now, and regulators look for compliance. See: Private foundations: Five steps to keep the next Bernie Madoff away from your assets.
JW: Could there be another fraud at a similar scale though?
BH: It's naïve to say no. There are a lot of smart people with bad intentions and all regulators, including the SEC, FINRA and states, need to anticipate new schemes. Part of that needs to include access to information through the IARD system.
Jack Waymire spent 28 years in the financial services industry. For 21 of those years he was the president of an RIA that provided advice and services to more than 50,000 individual and institutional investors. He is the founder of Paladin Registry, which provides free tools and information to investors who use the services of financial advisors.
---
Mentioned in this article:
---
---
---