A congressman, an engineer, an airline pilot and a court reporter walk into a fiduciary conference...
Brooke's Note: TD Ameritrade has just pulled off an impressive coup of marketing but much more. Its fiduciary summit in Washington traversed all parties involved in the fiduciary conversation from investors abused by a lack of fiduciary control in the system to advisors and Beltway insiders. This event crackled and Sanders Wommack, Washington, D.C.'s newest resident. captures its whole flow brilliantly.
As the curtain-raiser of TD Ameritrade's Institutional 2014 Fiduciary Leadership Summit, four "common men" took the stage to talk about their experiences in the market. The professions of investors William, Ken, Bill and Neal provided a cross section of American white-collar professions: an ex-U.S. congressman, a government engineer, an airline pilot, and a court reporting business owner.
The 50 top industry leaders and academics in the audience had gathered at the Mandarin Oriental Hotel in Washington D.C. to hear the latest on the status of user fees for advisors and, in the larger picture, to gauge the impact of upcoming fiduciary rule changes coming down the pike from the SEC and the Department of Labor.
What they got, at least from the opening session, was a poignant reminder of why stringent fiduciary standards, so often a matter of dry formulations on paper, really matter. See: TD throws its first client-best-interest summit, a micro-event, by 'candlelight' in Palm Beach and ideas rise from the RIA deeps.
"Our intention is to elevate the discussion today," said Tom Nally, president of TD Ameritrade Institutional, in his introductory remarks. He then turned the floor over to Skip Schweiss, TD Ameritrade's managing director of Advisor Advocacy & Industry Affairs, who smoothly moderated the summit for the next eight hours.
Can I interest you in some WorldCom?
Aside from Ken the engineer, who had managed his money independently from the beginning, each investor recalled a bad experience with a broker.
Neal, the court reporter and entrepreneur, decided years ago to diversify his portfolio with U.S. Treasury bonds, and to that end hired a local broker. Over time, this broker encouraged him to buy investments that were radically different from those he'd initially signed up for. Neal suspects he became a prime suspect on whom to foist the brokerage's "product of the day." (He still gets several calls a week from different brokers around the country trying to sell him their latest junk offering.)
How bad did things get? The broker, far from keeping him Treasuries, talked him into buying lots and lots of WorldCom stock — on margin.
Bill the pilot, meanwhile, told the audience that his employer, United Airlines, entrusted his 401(k) plan to a certain Continental Bank of Illinois. Over time, he began to notice that his account was consistently decreasing in value when it should have been increasing. Turns out the bank was using the United 401(k) fund as the "mistake fund" in which they dumped all their unwanted securities. See: RIAs need to become students of financial fraud so scam artists can't rent their credibility.
These well-educated, intelligent, savvy investors were happy to share lessons learned. Today, they are all actively and diligently monitoring their portfolios to ensure they avoid past mistakes.
But when Schweiss got the crux of the issue at hand, and asked each panelist what they thought the difference was between standards of care for brokers and investment advisors, the four were lost.
"I hadn't really thought about it," said one. Another completely begged off from answering. There was vague talk of commissions and fees, but mostly there was confusion.
Speaking on a panel later in the day, Sheryl Garrett, fiduciary advocate and founder of the Garrett Planning Network, said: "I don't think they even understood the question."
Wrong road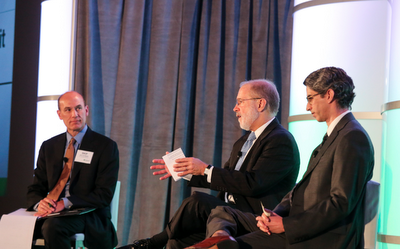 Robert Plaze [center w. Skip Schweiss,
Troy Paredes]: A uniform fiduciary duty
is a terrible idea.
With the collateral damage of the brokerage industry's specious fiduciary standards laid bare before attendees, TD Ameritrade followed the prologue with a panel of regulators and academics to discuss the more theoretical questions of reform.
Before engaging Troy Paredes, SEC commissioner from 2008 to 2013, in a lengthy discussion on the cost/benefit analysis of the SEC's 913 study mandated by Dodd-Frank (you should have been there), Robert Plaze, former deputy director at the SEC's Division of Investment Management, gave his frank opinion about the direction many advisors fear the fiduciary standard is heading.
"A uniform fiduciary duty is a terrible idea," he said. See: Fearful that the SEC has been overworked, lobbied and bullied into a SIFMA stupor, fiduciary crowd launches 16-page missile.
In Plaze's opinion, the SEC should try to keep investment advisor rules and regulations where they've been since 1940. It is broker-dealer fiduciary standards that are evolving, and the SEC should reform these alone. See: RIAs and B-Ds don't mix, says Duane Thompson at MarketCounsel Summit 2011.
Fiduciary status quo: Lousy
This call to keep the two standards separate was the big takeaway for many financial publications covering the conference. It was an encouraging (although largely unsurprising) sign to the advisor community that opposition to harmonization was strong in the upper strata of the SEC and that RIAs had a voice in Washington.
But Ron Rhoades, assistant professor at Alfred State College, fiduciary firebrand and occasional columnist at RIABiz, quickly shattered any complacency and warm and fuzzy feelings about the SEC that previous panelists might have conveyed to the audience.
Who do you trust?
Rhoades says he's seen the consequences first hand. As president of a law practice focusing on transfer taxation, he's had hundreds of client portfolios pass through his hands. These investors invariably say they trusted their last advisor and are shocked when he shows them the hidden fees and costs in their portfolios. See: An X-ray of one affluent, educated and sophisticated investor's portfolio shows how it was chewed up by fees.
The country has had 30 years of bad policy from the SEC, Rhoades said, and the commission doesn't enforce the good standards on their books strongly enough.
Ultimately, he said, it's consumers who pay the price. "Consumers can't tell the difference between someone they can trust and someone they shouldn't." See: A conversation between a wirehouse advisor and a senior citizen who seeks trust.
Arise, ERISA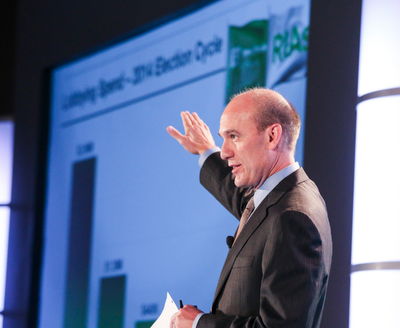 Skip Schweiss: This is the hill
we have to climb.
During his short speech on the academic's panel Prof. Mercer Bullard of the University of Mississippi Law School gave an overview of a less publicized, but no-less important rule-making event taking place at the Department of Labor: their updates to ERISA. See: Erring 401(k) plan advisors seek do-overs from DOL to ward off potentially crippling fines.
With the elimination of one-off exclusions and defined-benefit exclusions, Bullard claimed plan administrators like Boston-based Fidelity Investments are now much more likely to be treated like a fiduciary.
And with a massive influx of around 400,000 registered reps about to be subject to ERISA fiduciary standards, Bullard said the new Department of Labor fiduciary rules will become the de facto standard. It is widely suspected that SEC chairman Mary Jo White will wait for the DOL to make the first move before taking up fiduciary standards questions at her own organization. See: After starring in New Yorker article, Mary Jo White holds SIFMA event spellbound and 'no-admit, no-deny' is still in play.
Best bad option
Heads of major RIA industry advocacy groups David Tittsworth, executive director of Investment Advisor Association; Marilyn Mohrman-Gillis, managing director of public policy and communications at the Certified Financial Planner Board of Standards Inc.; and Karen Nystrom, director of advocacy for the Financial Planning Association, next spent time on stage giving attendees the chance to hear why they have been advocating for user-fee legislation—essentially a tax on RIAs — that would fund more SEC inspections.
Moderator Schweiss raised the question with the three, sharing that he often gets confused — if not sideways — glances from advisors when they hear about the proposal, which appears, superficially at least, to be anti-industry. See: Most RIAs prefer to pay money for SEC exams now than pay in blood later under an SRO.
"It was the best of some potentially bad ideas," explained Tittsworth. The extremely low inspection rate — 9% of advisors were inspected last year and 40% have never been inspected — is shameful, he continued.
"This is a ticking time-bomb for the industry," agreed Marilyn Mohrman-Gillis.
FINRA still lurking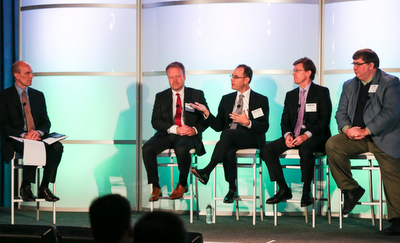 Ron Rhoades [far right. l.-r. Michael
Finke, Arthur Laby, Mercer Bullard]: The
status quo they've created has led
to 80% to 90% of investment
professionals not acting as fiduciaries.
With Congress unlikely to dramatically increase funding for the SEC, and little assurance that any such funding would go to RIA oversight anyway, user fees are the most efficient solution for a serious problem, the panelists agreed. The estimated costs of expanding SEC capability to properly oversee the RIA industry would be around $100 million to $110 million.
Building and running an entirely new self-regulatory organization from scratch would cost over $500 million, and it currently costs the SEC $100 million each year just to perform its oversight duties on FINRA, the three said.
Above all else, these industry leaders want to avoid guardianship by an ever-lurking FINRA. Though they gave themselves a pat on the back for beating back the FINRA-supported SRO legislation in 2012, for flipping that bill's sponsor, former Rep. Spencer Bachus, to the user fee side, and even for causing FINRA itself to back down temporarily, there was no doubt in their minds that FINRA was massing for another assault.
Overmatched and outspent
The three industry group heads also explained the challenges of lobbying for a strong fiduciary standard in Washington.
The FPA held an inaugural "advocacy day" in June and brought 65 advisors to Washington D.C. to lobby staffers for user-fee regulation. They had some discouraging encounters.
"What any of [the lobbying advisors] would tell you was that every staffer said our opposition was there before us," said Nystrom.
They were all in grim agreement. Broker-dealer-oriented groups like SIFMA, NAIFA, and FINRA have enjoyed an enormous head start lobbying against positive fiduciary reform. They've got more money, more experience, and relationships with congressmen and staffers that stretch back decades. See: New York conference: SIFMA wants members to be like RIAs — minus the same rules of accountability.
"Our opponents have been very effective in communicating that the sky will fall if the fiduciary standard is installed," said Mohrman-Gillis. "We need bold, brave regulators to stepping up to the plate and making a decision that's been needed for 20 years."
Grassroots eAdvocacy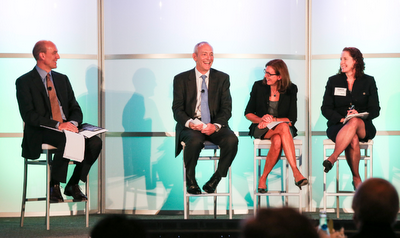 David Tittsworth [2nd from left, with
Schweiss, Karen Nystrom and Marilyn Mohrman-Gillis]:
If you're buying this baloney about
FINRA not wanting to be the
SRO you're kidding yourself.
This panel, though depressing, provided a terrific segue way for an announcement of a new TD Ameritrade initiative. Over lunch, Schweiss teased an upcoming eAdvocacy program. He began by pulling up a bar graph showing the exponential difference between lobbying dollars spent by SIFMA, NAIFA, and FINRA, ($3.96 million, $1.39 million and $440,000, respectively) to the $80,000 spent by IAA and the $40,000 spent by FPA during the 2014 election cycle. "This is the hill we have to climb," he said, holding up his arm to imitate the daunting lobbying resource curve.
But advisors do have some natural advantages. What their opponents don't do well is grassroots advocacy—getting ordinary citizens to explain how legislation will affect them. To this end, TD Ameritrade hopes its new eAdvocacy program will empower advisors who would otherwise be too busy to get involved lobbying Congress, and help to diminish the effectiveness of Wall Street's professional lobbyists.
The new platform will essentially provide a way for advisors to locate their local representative's contact information, identify issues that are relevant to themselves, and then give them a customizable template letter to e-mail to the office of their congressman. The service is open to any advisor, not just TD Ameritrade customers. See: RIAs flood Capitol Hill with protests against a SRO-FINRA future on the day of the Bachus Bill hearing.
TD Ameritrade says it is still building out the platform's capabilities and features and isn't yet ready for its launch, slated for sometime this fall. There was positive initial feedback from the crowd, and several attendees spoke excitedly about the ability to launch major grassroots lobbying campaigns for the industry.
While it's not a new concept (IAA has a very similar lobbying program), Tittsworth and others sounded pleased to be getting more help on the Hill. "Advocacy is cumulative" he said, echoing sentiment raised earlier by FPA's Nystrom.
Access denied

Knut Rostad [on right. l.-r. Schweiss,
Clark Blackman, Sheryl Garrett]: The first
thing we have to recognize is
that we're losing! And we're losing
pretty badly!
The last panel open to the press was the Investment Advisor View. (The press was, "at the request of the panelists," dismissed from the legislative issues session where Capitol Hill staffers dished on their sausage-making operations, and we scribblers were likewise left out of the two-hour open forum for attendees at the end of the summit.)
Clark Blackman, founder of Alpha Wealth Strategies, an RIA operating out of Kingwood, Texas, said he feared the industry was at a critical inflection point and that the fee-only RIA model was in jeopardy, and that the current situation could very well "lead to the break-up of the fiduciary advice-giving industry." See: Why Joe Duran is dead wrong on 2015 marking the end of the Golden Era of the RIA.
His four-point rescue plan involved reaching out to NASAA and getting RIAs regulated by states, getting the SEC to enforce the existing rules of the 1940 Advisors act, educating the public and press on the differences between fiduciary duty and broker's suitability standard, and, finally, stopping the governmental powers that be from trying to get a business model based on marketing and selling products to work under a strong fiduciary standard. See: A Merrill Lynch trainee shares what it's really like to be part of the firm's revamped, more RIA-like training program.
Knut Rostad, regulatory and compliance officer at Rembert Pendleton Jackson, a RIA in Fall Church, Va., followed up later in the same vein, giving the room a full-throated stump speech on the importance of the fiduciary fight.
"This is not a one-day event. This is something much larger," he exhorted. There are a lot of smart, dedicated people working on the fiduciary issue and they've got a responsibility to achieve results.
But truth be told, Rostad said, the struggle to get the best financial care for Americans isn't going to be easy. "The first thing we have to recognize is that we're losing! And we're losing pretty badly!"
---
---
Mentioned in this article:
---
---
---
Stephen Winks
September 21, 2014 — 6:24 PM
This was the most consequential meeting of fiduciary advocates in quite some time. Skip Schweiss, Tom Nally and TD Ameritrade are to be congratulated for their genuine interest in professional standing and for their leadership. The first step in solving a problem is understanding the problem. We now universally understand we can not rely on regulators for a solution, fiduciary advocacy has largely come across to the understanding of Congressional staffers as simply the disparagement brokers, the brokerage lobby has misinformed congressional staffers with factually incorrect information concerning the role and responsibilities of the broker and the advisor and the terrible industry cost of the loss of trust and confidence of the investing public by it acting counter to the best interest of the investing public.
There is much work to be done. The only reliable solution is a free market initiative where the advisor is responsible for their recommendations to include ongoing accountability in support of objective, non-negotiable fiduciary criteria of statute, case law a regulatory opinion letters, not possible in a brokerage format. Such large scale institutionalized support for fiduciary duty and professional standing, which makes advice safe, scalable, easy to execute and manage and restores the trust and confidence of the investing public has yet to emerge. Fiduciary advocates must refocus on bringing expert fiduciary standing within the reach of every advisors. Rather than brokers selling an advice product fiduciary advisors must be supported to manage a broad range of investment and administrative values presently not possible in a brokerage format.
The unresolved question the TDA Fiduciary Summit begs is, How do under resourced advisors develop the expert authenticated prudent processes, technology, work flow management that makes advice safe, scalable, easy to execute and manage? By fostering un unprecedented level of investment and administrative counsel at lower cost to the consumer while better compensating the advisor, the marketplace will immediately respond. This tension with a brokerage business model which affords better advice to the consumer at lower cost is transformative as it modernizes the industry and affords professional standing.
The brokerage industry is mistaken in thinking congressional staffers will be forever duped at the expense of the loss of the trust and confidence of the investing public. Since Adam Smith introduced the " invisible hand" in 1776 the free market has always prevailed in the best interest of the consumer.
It is the right thing to do.
SCW