Greg Friedman: In just the first six weeks of general release, we have over 80 firms and 500 users.
Brooke's Note: The bad news for Greg Friedman is whom he is competing with. The president of Junxure is going head to head with Salesrorce and to a lesser degree Microsoft Corp., for sizable RIAs that seek CRM software. The worse news is that he is just arriving on the cloud to compete with Salesforce, which is considered the poster company for cloud success and has been there for most of a decade. The better news for Friedman is that he is an RIA and that makes him largely immune to intimidation by big brands, big resources or even big head starts. He has created software that speaks RIA and he is sure it will get a hearing. So he invited a big party of RIAs and RIA vendors to a fancy hotel in Las Vegas — and they all came. Friedman is channeling his inner Bugsy Siegal but also following a blueprint of desktop software execs in bringing news of their cloud progress that had played out just the week before a few hundred yards away when Peter Hess did the same for Advent Software. See: Peter Hess delivers Advent Direct specifics at AdventConnect as Dave Welling wows with Black Diamond's cloud advance. Luckily we had the same correspondent, Tim Welsh, who swears he didn't pitch a tent in the desert in the meantime, to tell the story in a way in which it seems we were there.
Fresh off the wide release of its much-anticipated Cloud, Junxure hosted 230 advisors and 25 technology vendors for its second annual Junxure Advisor Conference.
Raleigh, N.C.-based Junxure sold out its annual user conference in Las Vegas despite moving into bigger digs at the Four Seasons and doubling the number of exhibitors. With over 1,400 client firms and 11,000 users, Junxure plays a central role in the RIA industry and the event attracted many technology integration partners and custodians to showcase their own wares in the Junxure ecosystem.
"We've been very pleased with the market's reception to Junxure Cloud," said Junxure president Greg Friedman. "In just the first six weeks of general release, we have over 80 firms and 500 users."
Friedman explains the success of Junxure and Junxure Cloud this way: "Because we focus on the customer experience in all ways —- technology, implementation and ways to truly improve advisor's businesses — we are much more than just a platform. We will continue to invest in integrations with leading technology partners and custodians to serve the specific needs of the wealth management industry." See: Friedman makes his case to Hong for why Junxure Cloud's doubling-plus of fees is worth that much more.
All in one
As part of that approach, Friedman announced a deeper integration between Junxure Cloud and Pershing Advisor Solutions' NetX360. See: Nevin looks under the NetX360 hood after it gets 100,000 new users and some overhauling.
Friedman said that once implemented, the integration will reduce the time advisors spend on data entry, provide firms with a more centralized user experience and offer a more comprehensive client profile, all in one interface. See: Greg Friedman is set to finally bring Junxure to the cloud and beat back the Salesforce-ification of the industry.
In other words, the software was purpose-built for RIAs so that it has none of that look and feel of a Mexican Restaurant converted, say, to a Chinese one — the kind of mixed message that Salesforce occasionally gets accused of. See: How one RIA's faith in Salesforce's sophistication led to cut-and-paste hell and a major rethinking.

Mark Tibergien: His assumptions are correct,
his conclusions are not.
Wrong conclusion
Pershing custody chief Mark Tibergien was on hand to cement the Junxure-Pershing partnership. But in his keynote speech, Tibergien also weighed in on Joe Duran's controversial column in Investment News predicting that RIA industry's decades-old boom is about to wane.
"You can define the future of this business — that is what leaders do," Tibergien said. "While I believe his assumptions are correct, his conclusions are not." See: Why Joe Duran is dead wrong on 2015 marking the end of the Golden Era of the RIA.
Tibergien, in fact, believes that the golden age of RIAs is just beginning and points to the evolution of the industry from practices to thriving businesses; from solo advisors to teams.
"So much has changed in the industry in just a short period of time," he said. "There was a time not too long ago when being a stockbroker was a respectable profession." See: Nine threats to the RIA business and how they can be avoided.
Tibergien did, however, challenge advisors with some issues that could slow down their growth. "Client satisfaction is declining, time pressures are mounting, differentiation is getting muddled, margins are under pressure and the talent shortage is getting more acute," said the former head of the Moss Adams advisor consulting practice. See: Tibergien uses brutal honesty to captivate big Schwab RIAs and others at San Francisco event.
To remedy to these problems, Tibergien referenced some of the best practices of leading firms, which ultimately, he said, boil down to investing in both technology and people.
"To build an enduring business, you need to manage a consistent profitability, create transferable value, cultivate loyal clients, instill both personal and professional growth for your employees and have a multi-generational appeal."
Tibergien ended with a challenge: "You need to create capacity ahead of the opportunity because you don't want to miss the big years."
30 tweeters tweeting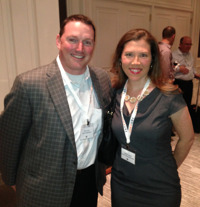 Brian Jack [with Sabrina Lowell of
Mosaic Financial]: If we didn't start
getting seriously involved with these new
communication channels, we would start to
miss out on opportunities.
While the agenda largely focused on core Junxure features and product enhancements, there was also a good chunk of time set aside for practice-management on the first day.
One of the more popular sessions was a panel discussion on RIAs and social media — despite the fact that it is a well-canvassed topic. Still, the lack of adoption by advisors remains surprising. When asked how many advisors are using social media in their businesses, less than a third of the hands went up. See: 5 ways for RIAs to avoid social media and 'holistic' wealth management overreaches in a share-happy e-world.
Brian Jack is director of information technology for Columbus, Ohio-based RIA Budros, Ruhlin & Roe Inc. that has been honored as "best" by Schwab Advisor Services. See: What Schwab's best three RIAs for 2011 say about how they got there, was peppered with questions about how his firm had become a leading adopter of social media.
"We have over 30 tweeters in our firm," he said. "But that didn't happen overnight. We had a deliberate strategy to start small and then gradually increase our activities."
$4 million client wants to Twitter
"This was a real wake-up call for us," Jack said. "If we didn't start getting seriously involved with these new communication channels, we would start to miss out on opportunities."
Punting e-mail complexities
Dan Skiles, president of San Diego-based Shareholders Service Group Inc., advised the crowd to build a technology archiving method first so that there is confidence that advisors can manage the compliance issues.
"Look to your e-mail archiving and document management partners that you are using now and oftentimes, you can find a solution there." See: How I picked technology — from Black Diamond-in-SSG to Dudamobile — to use in my startup RIA.

Dan Skiles of SSG and David
Canter of Fidelity.
In the exhibit hall
In the thriving exhibit hall, attendees were able to learn about new features, systems and opportunities with which to integrate their Junxure CRM. All of the big four custodians were in attendance — Schwab Advisor Services, TD Ameritrade and Fidelity Institutional Wealth Services — with Pershing taking the top sponsorship spot.
Popular portfolio management systems from Advent Software and Black Diamond, Orion Advisor Services LLC and Morningstar Inc. held attendees' attention, as did key offerings from financial planning software leaders Finance Logix, MoneyGuidePro and Money Tree Software Ltd.
Wealth Access, a Nashville-based "high-net-worth version of Mint.com for advisors" showcased its client portal, account aggregation capabilities and multi-generational wealth views, optimized for all mobile devices and hosted an after-hours reception poolside at the Four Seasons. See: BloombergBlack rematerializes as CircleBlack minus Bloomberg.
Laserfiche of Long Beach, Calif. hosted a dinner next door at Mandalay Bay and other tech vendors gathered for networking events throughout the top-end of the Vegas strip.
To learn more about what went on at the Junxure Advisor Conference, check out the #JAC2014 hash tag on Twitter.
Disclosure: Welsh has consulted with several of the companies mentioned in this article.
Timothy D. Welsh, CFP is president and founder of Nexus Strategy LLC, a leading consulting firm to the wealth management industry, and can be reached at tim@nexus-strategy.com or on Twitter @NexusStrategy.
---
---
Mentioned in this article:
Junxure
CRM Software
Top Executive: Greg Friedman
---
---
---