Peter Mallouk: We're laser focused on clients and absolutely not focused on acquisitions and breakaways and trying to merge cultures. I'm not trying to be the most well-known person in the industry.
Brooke's Note: We have written a series of articles advocating various cities around the country as the capitals of the RIA universe. For mutual funds, it's Boston; for insurance, Hartford, Conn.; and maybe for RIAs, it's Leawood, Kan. I still vote for San Francisco. See: Why the San Francisco Bay area is almost certainly the capitol of the RIA business. But Leawood is certainly a candidate, a classic example of how the RIA business is not corporately controlled. But RIAs don't win awards, people do, and Peter Mallouk and Marty Bicknell pulled this one off, claiming spots one and two on the Barron's 45-and-under Top 100 in its Aug, 25 issue. The list itself has criteria open to skepticism because it emphasizes size, but it doesn't diminish what these entrepreneurs have built. One thing that stands out is how deep the seemingly superficial similarities go between Creative Planning and Mariner Wealth and yet how fundamentally different are their business models. By RIA standards, Bicknell has a complex model and is fearless in executing deals. Mallouk has a no-big-deals strategy of organic growth but his growth has been nothing less than scintillating. We also have the testimony of a witness of the highest credibility, Marie Swift, saying what Mallouk is doing right. Swift is a client of his firm who was won over despite initial doubts.
The good news for Marty Bicknell is that Barron's rated him its No. 2 advisor among independents in the United States.
The bad news is that the Dow Jones newsweekly also rates the chief executive of Mariner Wealth Advisors, based in Leawood, Kan., as No. 2 on its list among advisors 45 and under. See: On its march to $50 billion, Mariner finds its groove buying RIAs connected to accounting firms.
The top advisor on the Barron's Top 100 list published Aug. 25 (and on the Leawood list) is Peter Mallouk, 44, president and chief investment officer of Creative Planning Inc., whose firm of more than 100 people manages $11.8 billion in assets, according to Barron's, and whose average account is $1.49 million and whose average household has a net worth of $4.75 million.
Leawood is a 15-square-mile city with 11,781 households and its fair share of cornfields. The city's estimated median household income in 2012 was $130,826.
Parallel ascents
But Mallouk, despite gaining top honors on the Barron's list for a second straight year, is neither known widely in the RIA business nor within his own community — unlike Bicknell, 45, who has consistently made headlines with his derring-do in making deals and making them stick in his blossoming organization. Most recently, he acquired an investment bank. See: TD Ameritrade poaches Mike Watson back from LPL to head new unit targeting 100 mega-RIAs.
There are uncanny similarities between the two men that could suggest a separated-at-birth scenario, for instance their ages, offices all but next-door and the parallel ascents of their AUM over the past decade. The two men don't know each other particularly well but they both have family in Pittsburgh and Mallouk's in-laws are great friends with Bicknell's parents.
Same church, different aisles
Of course, familiarity can breed a familial feeling — or contempt.
For his part, Mallouk appreciates the parallels.
But that's where the similarities end. They have followed very different philosophies in building their practices.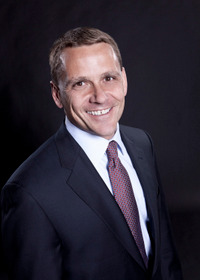 Marty Bicknell: Peter and I are
acquaintances and we talk about this
every once in a while, but
we very rarely run into each
other from a client perspective.
Bicknell, founder of Mariner Wealth Advisors, has made a name for himself by grabbing other practices to create a roll-up-like firm. See: Housen deal shows Marty Bicknell can make it in Jersey — by word of mouth. Mallouk has followed a much more organic growth strategy and prefers to stay out of the limelight.
"There's nothing wrong with Marty's philosophy — it's just a different philosophy, Mallouk says. "I have tremendous respect for him. Our way of growing is not the same way. We have a lot of similar backgrounds, but our roots in the industry are very different. Marty started in a brokerage world, and I started as an estate attorney. There are a lot of different paths you can take," "A lot of people are trying to do what Marty's doing and a lot of people are trying to do what we're doing – one client at a time — and not everyone has done it. It's a testament to what he's done. I have a great deal of respect for him, but we're just on the opposite ends of the philosophical aisle." See: How a Kansas wealth manager ate New York — or at least one of its big advisory firms — owned by an Arthur Andersen orphan.
Bicknell came in second on the Barron's list in total assets, with $35 billion, but that includes his asset management firm. His RIA has about $10.4 billion and the average account size is $4 million. Bicknell houses his assets at Fidelity Institutional Wealth Services. Mallouk uses T.D. Ameritrade as his main custodian.
Another Orange County?
Leawood, a suburb of Kansas City, is part of Johnson County, which is considered one of the most affluent counties in the country, according to Wikipedia. The county has the highest median household income in Kansas and it had the nation's 19th-highest median household income in 2000 and the 46th-highest per-capita income in 2005.
The city could be akin to Orange County in California, says longtime Leawood resident Marie Swift, president and chief executive of Impact Communications Inc. The town is known for its affluent residents but boasts a low cost of living, she says. Swift's money is managed by Mallouk's firm. See: TD Ameritrade's 2012 Elite Advisor Summit gathers $89 billion of RIA assets under one Laguna Beach umbrella.
Both Mallouk and Bicknell built their businesses without much marketing at all, Swift notes.
"We're very close to Overland Park [a much larger Kansas City suburb]. People know of both firms, but I don't see much marketing from either firm locally. It's all word of mouth."
Moving to Mallouk
Swift became a client of Mallouk's firm around 2009 when her advisor, Randall Hallier, decided to join Mallouk's office. Hallier was president and founder of Retirement Plus Inc., a Leawood-based wealth management firm.
Swift admits she was worried about joining the much larger firm, but has been pleasantly surprised with its range of offerings.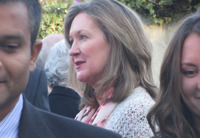 Marie Swift: I don't see much
marketing from either firm locally. It's
all word of mouth.
"As a consumer, my husband and I had a conversation because we didn't know what it would be like at a larger firm. But it gives us a sense of stability. We have an estate attorney here and can get help with insurance and all sorts of elements that a big firm can help you with," she says.
Bicknell was also No. 2. on the list behind Mallouk a year ago. Also on the list were well-known RIA advisors such as Ron Carson, of Omaha, Neb.-based Carson Wealth Management, who came in at No. 11; Richard Saperstein with HighTower Advisors LLC of Chicago, who came in at No. 16; and Lori Van Dusen of Rochester, NY-based LVW Advisors at No. 29. See: Dynasty Financial wins the account of Lori Van Dusen's new RIA through Focus Financial.
Room for both
Bicknell says it is striking that the two firms rarely go after the same clients, despite their geographical proximity.
"We both approach our practices from a planning perspective. Peter and I are acquaintances and we talk about this every once in a while, but we very rarely run into each other from a client perspective."
Bicknell's firm also has different niches. For instance, Mariner is going after clients with $10 million or more, and he has clients with as much as $700 million in assets.
"For us, we're up and down the spectrum. We've got one firm dedicated to the mass affluent and then we've got the investment bank. All of ours are branded differently for segmented service."
Recently, Mariner Holdings acquired an investment bank so that its clients with businesses worth tens of millions or hundreds of millions can get advice from the same company that manages their liquid holdings. See: Marty Bicknell adds an investment bank to his $10-billion RIA and $26-billion asset manager.
Who is Peter Mallouk?
Of the two Leawood advisors, Mallouk has a mysterious air. One reason is his reticence toward the press. When Mallouk does give a rare interview, like this one, he steers away from questions pertaining to the growth of his practice.
Still, Mallouk outlined a philosophy and approach that sounds more devoted to organic growth than Whole Foods.
"There's a lot of different ways to grow a business — no one holds the secret," Mallouk says. "We have grown organically. The advisors we hire — almost all of them bring no assets with them. I'm not trying to attract breakaway brokers. I'm not trying to do that. Part of our success is cultural. We're laser-focused on clients and absolutely not focused on acquisitions and breakaways and trying to merge cultures. I'm not trying to be the most well known person in the industry. I don't care about that." See: Best advice for 2012: Risk being a bit boring and focus on the organic growth of your practice.
What Mallouk does care about is the channeling of knowledge. He graduated from the University of Kansas in 1993 with four majors: business administration, economics, political science and psychology. Mallouk went on to earn a law degree and master of business administration in 1996 — also at the University of Kansas — that lay the groundwork for his first career as an estate attorney.
He bought Creative Planning in 2004 when it had $30 million in assets. By 2008, Creative Planning had grown nearly 20-fold to $500 million. But that proved to be a very humble run-up to the explosion of growth in the past five years that rocketed assets another 2,000% to $11.8 billion, according to the firm's ADV. Those assets are listed as non-discretionary.
Mallouk's TD Ameritrade alliance
Sources say that one thing that has supercharged Mallouk's growth has been an productive relationship with TD Ameritrade whereby his firm receives its referrals from branches. TD Spokeswoman Kristin Petrick confirmed that Mallouk is among 165 TD advisors who use the referral program. but declined to say more. See: Tom Bradley pollinates TD Ameritrade branches and RIAs get sweet referrals in return.
Sterling Shea, managing director and head of advisory programs for Barron's, says that both Bicknell and Mallouk are notable entries on the Barron's list for building giant practices hundreds of miles from the financial centers of New York or San Francisco.
"I would say a majority in the upper third of our list are headquartered and focused on major metropolitan areas. The majority on the list are also focused on high net worth," Shea says. See: Why the slow-evolving metro New York area is still on course to be the capital of the RIA business.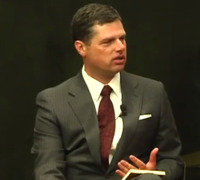 Sterling Shea: They're in Kansas but
they've both really taken a national
focus with business and they're taking
clients from all over the country.
Beyond Kansas
Bicknell and Mallouk also stand out because they both focus more on mass-affluent clients (although Bicknell points out that his firm does have some high-net-worth clients as well.)
"[High-net-worth clients are in the] minority because the [firms] have a large client base with a much broader focus and they're not centered in a major metropolitan area," Shea says. "They're in Kansas but they've both really taken a national focus with business and they're taking clients from all over the country."
Barron's puts out several lists each year, including its overall list, which tends to be more dominated by wirehouse advisors. But Shea says the lists are growing more similar.
"I'd say that the success of the advisors and the consistent growth of new assets under administration is being concentrated in a group of smaller, better and more savvy advisors. I think the growth in the industry and wealth management is being concentrated in better and fewer advisors," says Shea. See: Mark Hurley drops a new wealth management prognosis on the industry with a zero-sum flavor.
Barron's scrutinizes 102 points of data to compile its lists. This year's list included 15 new advisors. See: Barron's offers insight but declines interview about Top 100 study.
---
---
Mentioned in this article:
Mariner Wealth Advisors
RIA Welcoming Breakaways, RIA Serving Endowments/Foundations, Advisory Firm
Top Executive: Marty Bicknell
---
---
---
Marie Swift
August 31, 2014 — 6:06 PM
Leawood, Kansas, is a great place to live and work. I am glad to call it "home." Nice work on this article, Lisa. Love the headline.
Concerned
November 6, 2014 — 7:29 PM
I'd like to know how he accepted an award for the top fee only firm when he owns and insurance brokerage and law firm that both receive referrals from his firm?
http://video.cnbc.com/gallery/?video=3000274255
See item 7 part 1A of his ADV:
http://www.adviserinfo.sec.gov/iapd/content/viewform/adv/Sections/iapd_AdvFinancialAffiliationsSection.aspx?ORG_PK=105348&RGLTR_PK=50000&STATE_CD=&FLNG_PK=05949DC800080177011F049005150655056C8CC0