Elliot Weissbluth will play moderator with a strong robo viewpoint -- by Hamburger design.
Brooke's Note: First the bad news: The MarketCounsel Summit, happening in Las Vegas this December, will not stay in Vegas. The event has outgrown the Las Vegas Four Seasons Hotel and its management has asked Brian Hamburger to take his show to a more industrial-strength locale in 2015. "We are no longer welcome as of next year," says the MarketCounsel chief executive with pride and regret in equal measure. It's unclear whether the Four Seasons is simply overwhelmed by the 550 Vegas-bound RIA types or by the heat thrown off by the average participant. The event will be sold out "months" in advance this year and the hotel is already 80% booked, Hamburger says. Moreover, the nature of the average RIA has jumped from less than $100 million to now making up a good chunk of the Barron's 100 and, instead of local staffers, custodians are sending top-end execs. See: By outing a reluctant star in Peter Mallouk, Barron's Top 100 advisors list yields a surprise winner — Leawood, Kansas. While all of this activity might prompt an average conference organizer to take his foot off the gas, Hamburger does not think that way. He is pouring serious gasoline on the fire by throwing in a hybrid roll-up and robo panel and a futurist panel as add-ons.
From his bully pulpit as the head of HighTower Advisors LLC, Elliot Weissbluth impresses on his audience that robo-advisors are no match for real advisors.
With that in mind, the chief executive of the Chicago company will take on a moderator's role of what is likely to be a sizzling "Revenge of the Nerds"-like session of subject matter and personalities. New York-based Betterment LLC's Jon Stein; Newport Beach, Calif.-based United Capital Financial Advisers' Joe Duran; and John Michel of CircleBlack Inc. (formerly Bloomberg Black) of New York will give TED-style talks about how to best assess the robo-advisor threat and opportunity. See: Bloomberg warns that BloombergBlack is shutting down.
Duran will apparently take the contrarian side of the question at the MarketCounsel Summit, to be held Dec. 8 to 11, by saying that a little RIA paranoia about automated advice is justified — a message that he is uniquely qualified to deliver. Duran, whose RIA has $10 billion, and Weissbluth, whose RIA has $15 billion, have shown a recent ability to rib each other (see photo below) as they enter each other's territories. See: In calculated gamble, United Capital begins to build, not buy, growth in major cities.
Artful judger
"He has an artful way of telling advisors things they don't want to hear and having them enjoy hearing it," Hamburger says. Indeed, Duran has made the coming "extinction" of classic RIAs a theme of his talks at MarketCounsel events over the years — to big smiles. See: Why Joe Duran believes that classic RIA firms face extinction.
Michel and Stein — both of whom are high-profile principals in the so-called robo realm — are expected to say that all boats will rise on the robo tide.
In an interview, Michel explained his perspective by saying that in the 1980s you would call your stockbroker to get stock quotes, which is almost unthinkable today. The fact that such a transaction no longer occurs is actually good for both the financial advisor and the client. Michel sees a similar shift coming as attempts to automate aspects of the advisory process continue. See: Financial advisors need to look at client onboarding in a whole new light.
As a more contemporary tongue-in-cheek example of new technology becoming the norm, Michel asks: "What did people do in Starbucks lines before smart phones?" (As I recall, they annoyed you by talking on their cell phones.)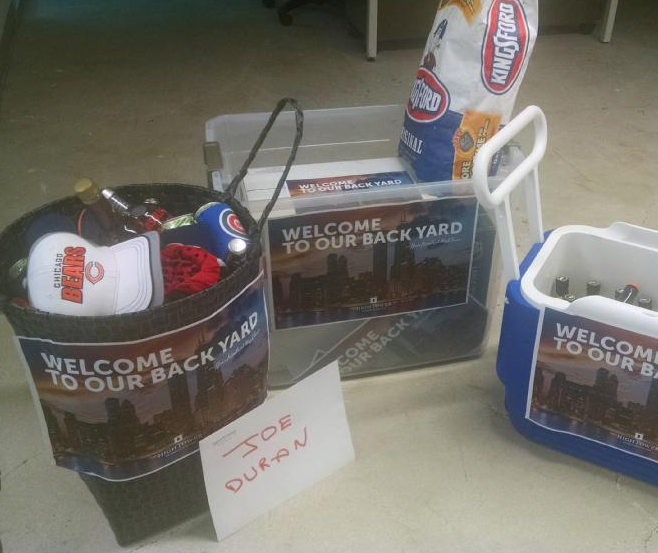 When Joe Duran made his plans
public for invading Chicago, Elliot Weissbluth
played the Welcome Wagon role as
if to say, 'Knock yourself out.'
Fireworks damper averted
Hamburger laments that some robo-advisor principals, whose names he kept off the record, declined his invitation to be on the panel. Those that demurred all have pure business-to-consumer models, he says. See: Tiburon CEO Summit extrudes big news: Betterment Institutional is born.
When Hamburger told Weissbluth that the pure robos had declined, the HighTower executive suggested Duran as the surrogate robo voice. Obviously, Duran's model is based on human advisors, but he has always been more willing than most to imagine that clever technology, branding and processes can bridge competitive gaps.
Revenge of the Nerds (with Weissbluth, Duran, Michel and Stein) is scheduled for Dec. 10 at 9:50 a.m. A second opportunity for drama will follow at 11 a.m. as another set of "nerds" takes center stage. "The Technology Disruption" will feature Jamie McIntyre from Rockville, Md.-based Fortigent, LLC as referee with Chicago-based Envestnet Inc. chief executive Jud Bergman; San Diego-based LPL Financial technology chief Victor Fetter; and Plymouth, Minn.-based ActiFi, Inc. principal Spencer Segal serving as his (hopefully) contentious subjects.
Big data, big deal
That panel will concentrate on how technology will be used to support advisors rather than advice per se. As a leaping off place, McIntyre will apparently take an RIAs-eye view of how Netflix Inc. went from being a Blockbuster-beater to a company discussed in the same rarefied breath as Google, Amazon and Apple.
Netflix has creatively used what is known generically as 'big data'. Hamburger hints that the panels will delve into that topic and how big data can aid advisors in customizing, hence improving, the client experience. See: The 6 biggest trends affecting the RIA business.
Center of lumping gravity
As previously announced, the Summit already has won commitments from Mark Cuban; Sallie Krawcheck, former head of Smith Barney and Merrill Lynch; former SEC chairmen Christopher Cox and Harvey Pitt; former New York Attorney General and Gov. Eliot Spitzer; and CNBC's Ron Insana. See: How Brian Hamburger won speaking commitments from Mark Cuban, Sallie Krawcheck and Eliot Spitzer without throwing money at the challenge.
The Summit agenda, that also includes the heads of the biggest RIA custodians, is being stacked to create the confab equivalent of retail's category killer. Hamburger says he is motivated by self-interest and missionary interest. He knows that those in the industry don't have time for traveling to lots of conferences so he is determined to make his one that can't be missed.
One example Hamburger gave was of Fortigent founder — and former No. 1 on Barron's Top 100 — Steve Lockshin, piggybacking his study group onto the Summit. The study group will include Carson Wealth Management's Ron Carson and Fortigent chairman emeritus and founder of Bethesda, Md.-based 1812 Park LLC, Andy Putterman. See: Why Ron Carson brought Steve Lockshin onto his team and how Betterment fits into their plans.
---
---
Mentioned in this article:
---
---
---
Stephen Winks
September 2, 2014 — 2:20 PM
Robo Advisors will never replace human advisors if human advisors take advantage of technological innovations which take the human capacity to reason beyond its limited three dimensional limitation to reason. Who would argue to the contrary? Machines have no such limitation and humans can interpret data and have judgment not possible with machines.
Robo Advice as a treat is a myth unless the level of routine counsel provided neither is continuous and comprehensive nor adds value, both of which are advanced by robo advice.
SCW