Kayla Flaten: Boomers assume that millennials want to work from home so that they can sit in their pajamas all day.
Brooke's Note: I know reverse mentoring. When RIABiz got going, I practically handed the reins over to a 20-year-old, Nevin Freeman. Ours was a web venture and I didn't know from web. I thought a tag was the irritant in my collar and that Twitter was for Lance Armstrong and other Martians whose compositional skills limited them to one sentence. I recall the first time I had Nevin take the lead in a review of a portfolio management system for an article about one of the lead providers in our RIA space. After about five minutes of a breathless "demo" during which Nevin's soul appeared to depart his body, he pushed me a note that said: "This is so ghetto." I didn't even know what ''ghetto'' meant in that context but I imagined it wasn't good. Keeping Nevin from falling off his chair in boredom was generally difficult in our business given the stiff and fatuous way financial types speak so often. By millennial standards, the whole thing is a little ghetto, it turns out. So I was pleased to see that Mark Tibergien and his extended team of colleagues at BNY Pershing have subjected themselves to those who shall not be impressed —- people in their 20s. April Rudin was first to learn of this odd coupling of the Pershing RIA chief and Kayla Flaten, 25, and Rudin made tracks to embed herself in the situation and to write about it for us. Nobody knows better how hidebound the wealth management business is about sensitivity to the market than April Rudin, a marketer who specializes in this area who can hardly believe what she sees on a daily basis. The problem, of course, is a schizophrenia born of an industry that got obscenely wealthy by hardly lifting a marketing finger while at the same time being smart enough to see that the market is undergoing gut-wrenching change. Creating a reverse-mentoring program has a feel of forced desegregation (busing from steerage to suite). But it's the Hail Mary you throw if you're stuck in a situation where two sides desperately need to lay groundwork for harmony because not only do they need each other, they are each other.
There I was at another financial services conference, sitting not so quietly as usual, fidgeting with my phone and tweeting. It was a women's financial services conference so most of the panels and topics were focused on issues that a female constituency would respond to: mentoring, leadership, diversity.
It was after lunch, and I was nodding a bit, when I heard a man's voice. I looked up to see an otherwise all-female panel with one middle-aged white guy on the end. This caught my attention. He looked familiar (but don't "they" all?) so I glanced in my program to read it was Mark Tibergien, chief executive of Jersey City, NJ-based Pershing Advisor Solutions LLC, with his "millennial mentor," Kayla Flaten. In a reversal of roles, Kayla mentors Mark, the program noted. She is 25 and he is 62. What the hell could she teach him, I wondered? See: 5 questions for Mark Tibergien on his 5th anniversary as CEO of Pershing RIA unit.
Welch-ing
As I listened, Tibergien explained that there is an equal sharing of knowledge and wisdom between mentor and mentee. I was intrigued. The term 'reverse mentor' was coined and first implemented by General Electric Co.'s Jack Welch in 1999.
But Tibergien says he sees it as much as a statement about where vital intelligence comes from in business. He always has tackled the issue by surrounding himself with people who were, on paper, smarter and better qualified than himself. In the past, they were older guys, with more degrees and more experience, not younger individuals with fewer degrees and less experience. So the reverse mentoring is an expression of how the idea of what is "smart" has changed for him. See: Eavesdropping on the Moss Adams workshop: How big and broadly owned your firm should be.
"She challenges me in a non-threatening way," Tibergien says of Flaten.
The following week I sat down to lunch with the two of them. The first thing I noticed when I arrived was that Flaten was not going to indulge my superficial sense of how 25-year-old women present themselves.
In fact, she was the most buttoned-up of the three of us, in her formal navy blue suit. I was wearing a leopard-print dress and Mark was wearing a casual dress shirt and slacks. Flaten is an account manager with Pershing Prime Services and the day-to-day contact for hedge fund and 40-act fund clients in prime brokerage. Flaten was devoid of piercings, tattoos or an asymmetrical haircut and there were no jeans, sneakers and hoodies to be seen. (Of course, this is a caricature, and the financial services industry is always at least three times more conservative than the rest of the business world, but you get the picture.) See: A New York Times article gets real on the topic of marketing to millennials.
Getting past children
As I was to discover, this is one of the points of the reverse-mentorship program. Flaten and the other mentors help instruct Pershing executives about real flesh-and-blood millennials so that they don't have to fall back on the cartoon version depicted by Hollywood or to rely on their own children for insights.
Flaten says that the relationship has also helped her understand that what appears to be stiffness in her superiors may actually just be an expression of business discipline.
"Meetings with Mark have helped me to dismantle the various stereotypes of baby boomers and millennials. We are really not that different and we need to stop thinking about it as an 'us versus them' conversation. It's a two-way street," she said.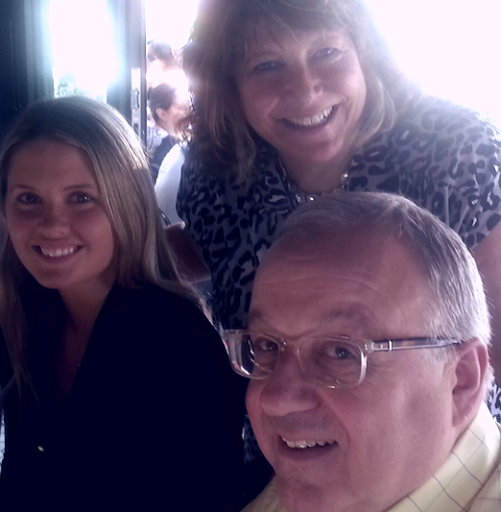 Kayla Flaten, April Rudin and Mark
Tibergien represent the sort of mixed-use
development of symbiosis that could get
millennials on board and understood.
One example she offered revolved around work-life balance and working from home (a popular preference of millennials — those born between 1980 and roughly 2000). Flaten told Tibergien that boomers assume that millennials want to work from home so that they can sit in their pajamas all day.
Tibergien's response, she said, was: "That's great, but how do you measure productivity?" Which is a question that I had not necessarily thought about. This is a small example of how the program has begun to bridge the generations at Pershing.
Tibergien, in turn, says Flaten has coached him on his approach to social media.
Egg head
As I listened to Tibergien and Flaten describe their roles in the mentorship, it jogged a memory from my own experience: When I first started working at Kelly Services, the temporary help company, in 1986, the senior level executives didn't know how to operate the newest of new technology that was then becoming ubiquitous, the WANG word processor. The WANG was replacing the typewriter. "We used to have the typing test and now we don't know what to do!" they would cry to me. And so I had to coach them in this newfangled computer. "I was that girl!" I said to Kayla. "I was you."
Just like everything else these days, old ideas come around full-circle. Gerry Tamburro, managing director of Pershing Prime Services and creator of the firm's reverse-mentorship program, had his light bulb moment when he was sitting in an executive committee meeting and suddenly noticed that almost every single person around the conference table was white, male and of baby boomer age. He had read repeatedly that an estimated three-quarters of the workforce will be millennials within 10 years, by Deloitte Consulting's reckoning. Tamburro felt Pershing needed to figure out ways to bridge generations at the firm, attract and retain talent, and promote innovation.
Tamburro chose Flaten and another Millennial, JamiLynn Cimino, to help him think about ways to do this, and after months of brainstorming they came up with the reverse-mentorship program as a solution. Together they chose nine in-house millennials as a beta group to mentor nine executive committee members. The first nine were chosen based on their open-mindedness, honesty, interest in participating in the program, their ability to articulate opinions and thoughts about the millennial generation, and their passion for contributing to the company. See: How one boomer put faith in stockbrokers, trusted more in himself and retired rich enough.
Junior league
Six months later, the chief executive and chief operating officer of Pershing agreed to expand the program to the entire executive committee of 20-plus members, an expansion that launched in July.
The mentors make up a Millennial Advisory Board that meets once a week to try to answer questions that the mentees have given them — How do millennials invest? How do they feel about the robo-advisor model? Why is there a shortage of millennial advisors?—and discuss productive topics for their weekly meetings with the mentees. Those meetings—also weekly, also an hour long—are supposed to be like "safe zones," and to ensure that each side feels totally free to be honest with the other. The mentors do not report to their mentees, they cross business lines.
The reverse-mentorship program's mixed cocktail of old and established with contemporary and pioneering fits Pershing perfectly. Parent company BNY Mellon has a storied history in financial services: its shares were the first to trade on the New York Stock Exchange. See: BNY Mellon is arming Pershing's RIA unit to the teeth with banking products for ultra high net worth clients.
But the company's culture — as a big bank with a business-to-business focus — has always been directed at innovation in function and not form. Tibergien says Pershing, which has no retail arm, sometimes has to battle the Mercedes Benz mentality. The German automaker makes engineering marvels but stoutly refused to include cup holders for the driver. Audi and BMW happily obliged executives who want to drive and drink coffee en route to work — to the detriment of Mercedes' market share.
At the urging of reverse mentors. Pershing is communicating differently with the consumer by being more succinct and using more human, less syllabic words. "MIllennials say: 'This is how I feel.' It's a more visceral expression," Tibergien says.
Fonts, sizes, colors
In its roll-out of NetXInvestor (how a consumer sees its account through NetX360), Pershing has gone so far as to create a button that allows a translation into baby boomer or millennial — with fonts, sizes and colors among the variables. Flaten also zeroed in on features on the screen and emphasized that millennials would be receiving information by tablets and smart phones. See: Advisor Tested: iPad proves ideal for advisors on-the-go; the surprise is the effect on clients.
Though the program is new, Pershing says it already is realizing performance gains. Employee engagement, as measured by annual surveys, is improving substantially after falling off right after 2008. Mentors have beta-tested new technology launches and their feedback was acted upon. The only real hitches, so far, have been scheduling problems, but those were resolved.
"The most significant impact this program has on Pershing is that it has reinvigorated our approach to product development, the client service experience, our attitude towards colleagues at all levels and our interactions with people not of our generation," says Tibergien. "It has resulted in an unusual camaraderie for a company of this size and a way to tap into other perspectives without being formal or constrained. That is hard to measure except in the energy it has seemed to generate." See: Suresh Kumar moves on to BNY Mellon and Pershing and NetX360 adjust to life without the maestro.
At the end of the nine-month beta, all of the executive committee member participants agreed that they saw the value and wanted to continue the relationships.
Sustained effort
Tibergien wants his legacy to be a sustainable workforce at Pershing, the ability to cultivate next-generation talent from within—and to bring this culture to the advisors on Pershing's platform.
Ironically, one area where Flaten has had little impact on Tibergien is in social media. BNY doesn't allow Tibergien to have a corporate Twitter account, so he basically tweets to personal contacts. Facebook, too, is a way he keeps up with friends.
But he doesn't need social media to learn to speak hip. We are Facebook friends and follow each other on Twitter. Tibergien has Kayla as his mentor in what, at least for now, is called real life. See: Social media can turn regulatory exam into fiery wreck.
---
---
Mentioned in this article:
---
---
---
Mark Tibergien
August 26, 2014 — 6:39 PM
As April mentioned in her column, this idea has been around for a while so it's not novel but it is new to us in application. I've heard others say before they get all the input they can use from their kids, which is a great way to stay current. In our case, We found that this structured approach allowed for good give and take, plus the mentees don't supervise their reverse mentors so there isn't the parent/child or boss/subordinate dynamic to deal with as a potential distraction. It's a good perspective that supplements what we get elsewhere including from our families. The biggest impact beyond contributing to our client experience and innovation is around employee engagement. In other words, this is not just about the principals but the rest of the team who have a real seat at the table and an opportunity to influence how we do what we do. We hope and expect this will continue to make us relevant to next generations of employees and clients.
Cathy Gibson
August 25, 2014 — 5:56 PM
Great example of the practical implementation of reverse mentoring in a corporate setting. Equally impactful in smaller organizations where succession readiness & talent development are priorities.
April Rudin
August 25, 2014 — 9:19 PM
Thanks, Jeff and Cathy. JD, I have kids myself who are ages 19 and 21. While they may offer "insight" that is sometimes helpful, it is not given in the same spirit as what Pershing has set-up formally. However, I do agree that "kids say the darndest things" and that we should pay more attention to them…
JD
August 25, 2014 — 7:50 PM
I'm all for reverse mentor for anyone who might want the insight. But is this a radically new concept? I get the same results from my children whether I seek it or not.
Jeff Spears
August 25, 2014 — 5:31 PM
Our firm receives our best ideas from my reverse mentor Beverly.
Try it you will like it and benefit from it immediately.