Jason Del Col: Our vision of the next-generation of an RIA office is they can service $200 million to $300 million with a support team in Dallas and not a lot of infrastructure.
Brooke's Note: It seems like everywhere you look, deals aren't happening. Yes, you read that right, not happening. But when supply of RIA practices and breakaways doesn't meet demand, there is another option — create more supply. That is exactly what Joe Duran is up to as he prepares to create six offices each with $5 million of revenue, and do so in short order. Were he to buy $30 million in revenue, it'd cost north of $100 million, right? So while he gambles a few million on unproven advisors and unproven retail concept, the payoff could be stellar and it could reshape the destiny of United Capital, Joe Duran and maybe even the RIA business. Jason Lahita joked in a LinkedIn post that it is United Capital week at RIABiz. Indeed, we have a surfeit, not by design. Another piece, plenty intriguing, in fact is in editing right now.
United Capital Financial Advisers is relaxing its roll-up strategy and revving up a new plan to open de novo offices recruiting advisors with little or no experience in the RIA arena.
For the first time, the Newport Beach, Calif.-based firm in June opened a start-up office in Chicago rather than acquiring a firm. It intends to open six such offices in major markets like New York, San Francisco and the Boston area within the next 12 to 24 months.
These offices are leaner than the traditional United Capital office because they have no back-office support on site. Instead, four staff members based in Dallas, the home of the firm's training center, will provide support to these numerous offices.
The company, known for its inorganic growth by roll-up, intends to grow more organically by rolling in advisors who may have no book of business. The goal is for these offices to have as many as 10 advisors and for the office to grow to $5 million in annual revenue.
Though the setting up of branches is common in banking and brokerage, it has been rarely tried in the RIA arena. The two notable exceptions are Edelman Financial Services LLC and The Mutual Fund Store. Both companies have enjoyed good success with the approach, though the former's CEO, Ric Edelman, recently said in an interview that he was scaling back on his growth by branch office in favor of other modes — including online. See: How Ric Edelman manages to bring on 4,500 new clients each year by force of personality while diminishing key-man risk at the same time. United Capital has $10 billion in managed assets under its ADV.
United Capital chief executive Joe Duran has been, in retrospect, signaling that such a pivot was in the works by his continued insistence that his firm was more of a national RIA than a roll-up — a term he associates with rough carpentry featuring the financial equivalent of what can be built with hammers, nails and pieces of wood.
Graham-Bogan
He has also gone through a process of making strategic hires, including Gail Graham and Stephanie Bogan. See: Joe Duran inks deals with two top RIA executive talents after United Capital hits a 'roadblock'. Those hires were intended to systematize the planning process and centralize the training of financial advisors — two key aspects of any retail expansion.
The first United Capital de novo office, the firm's 48th location, officially launched in June at 200 North LaSalle St. in Chicago. The project is headed by Chris Battreall, a managing director based out of the firm's Modesto, Calif., office who has worked to recruit advisors for this office.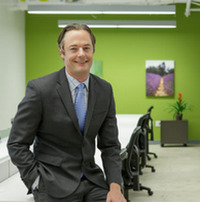 Chris Battreall left California for Chicago
in quest of an RIA retail
formula.
Part of its Chicago office is an "Honest Conversations Lounge". The swanky living room-office hybrid is a bright, airy space with comfortable furniture, computers, tablets and big screens that clients can use to go over their financial plans and investments with their adviser. It has some of the atmosphere of Fidelity's pilot office in Rhode Island. See: Fidelity now has an Office of the Future for RIAs, pre-RIAs and their clients.
New problems
Yet while it sounds good to hire some rookies, lease some sweet space, fill it with La-Z-boy chairs and let 'er rip, well, that's the easy part, according to Philip Palaveev, chief executive of The Ensemble Practice LLC, based in Seattle
Pointing out that research shows it takes 12 years on average to build a book of business, he reminds that any company faces startup challenges associated with opening markets and bringing employees up to speed.
"It's very difficult to create critical mass from scratch," says the management consultant. "The fact that they're trying to start offices from scratch will just create new challenges … You've got to work with people who don't have any clients and don't have any experience. How do you get the right advisors?"
The short answer from United Capital is that it will get the right advisors by developing them.
The company has spent the last couple years creating an RIA version of Hamburger U that it built in Texas. And it plans to build a replicable process around its Honest Conversations planning module. See: Joe Duran tries out novel financial planning strategy on himself and his wife.
$100 million or bust — then soar
"We've got advisors joining us because they want to access our materials such as Honest Conversations," says Jason Del Col, United Capital's senior vice president of advisor services. "We're growing more organically and we are doing less acquisitions and we want advisors to join us. For an advisor who joins us, once they hit $100 million they won't be constrained to grow because we'll have the support in place for them in Dallas. Our vision of the next generation of an RIA office is they can service $200 million to $300 million with a support team in Dallas and not a lot of infrastructure."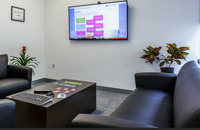 The new office is supposed to
impress but not intimidate, so as
to encourage walk-in traffic.
While clients may have some interaction with staff members in Dallas, their main contact will be with their local advisor, Del Col says. The advisors, on the other hand, will indeed rely on the Dallas team to help them with support.
"These advisors are local and will be talking to clients," Del Col says. "Look at it like the doctor model. When you're sick, you see your doctor. But if you have a small issue, you could be talking to the virtual team. We've got advisors who have built their business to $750,000 in annual revenue production, and they're working with the support team and they love it," Del Col says.
Fortune 500 leads by Texas pipeline
United Capital will feed leads to incoming advisors who don't bring along books of business. In many cases, Dallas-based staff members will be generating leads by reaching out to major corporations to get permission for an advisor to conduct a seminar at that office. By doing this, the advisors will be able to create new clients, building a niche of serving same-company personnel.
Del Col feels that United Capital is able to achieve attractive leads for advisors so that when they join the staff they're not starting from scratch and cold-calling.
"We've got people joining us because they want to take advantage of a national brand and they want to take advantage of our growth plans. It's phenomenal. We don't want to position these folks with the old advisory model. We want to replicate the new model of the future," Del Col says.
Farewell, Modesto
Battreall, 37, will be building up the Chicago advisory team — he currently has two advisors on staff. Battreall was part of United Capital's fourth acquisition in 2005. He was working in Washington D.C., and moved to Modesto in 2008 to build the office there. He and his partner now have 400 clients and about $140 million in assets under management. He is still a managing director of that office and spends about seven to 10 days there each month.
Battreall has built his own niche working with Marriott executives. He will still work with his 50 biggest clients.
"The advisors will go in and talk about retirement planning at local firms for an hour and afterwards schedule a lot of first meetings and that will help them build a market with a niche focus," he says. "We're training them and giving them the keys to the program. That's how I built my clientele in Marriott. The corporate headquarters was right across the street. You shake a lot of hands and get a lot of introductions. Pretty soon, I was the Marriott guy."
Battreall declined to say which corporations United Capital will try to woo but pointed out there are many large ones in Chicago.
He and his wife were seeking to move back to the Midwest. She has family in Columbus, Ohio, and he is an Indiana native.
Battreall moved to Chicago in March 2013 to start building this effort. He hired Chicago native Aleks Modestas away from MetLife Inc. that September. In January, he hired Mark Wimmer from UBS
"When I came here, we had nothing and we had no prospects," Battreall says. "It took a few months to get people."
Walk-in traffic
But by taking great pains to get the right people, infrastructure and program under one roof, United Capital executives believe that they can draw a virgin pool of financial advisory prospects — walk-in traffic. The office is supposed to be pleasing and create a browsing atmosphere.
"It's fun and interactive and it's a setting they want to walk into," Del Col says. "They don't want to come to the wood-paneled office. Multiple advisors in the space can use the office for client meetings. We're taking things from the yellow pad to the iPad."
While United Capital is biting off a wide range of new challenges, it is also eliminating a host of issues that plague firms that grow by acquisition, according to Palaveev.
"When you're buying firms and trying to change them, you have lots of issues — cultural, operations and changing the business plan can be difficult. You want to maintain relationships with advisors and relationships with the advisors you acquire, and it's really a delicate process."
But Palaveev says that barriers to entry have a silver lining.
"If it was easy, everyone would be doing it."
---
Related Moves
January 15, 2020 – 2:42 AM
---
November 8, 2019 – 4:52 AM
---
---
---
Mentioned in this article:
---
---
---