Ryan Marcus: I said, I don't care what it takes.
Brooke's Note: This hire involves the interesting pairing of Ryan Marcus with Joe Duran. Both men are known to have few limits to their internal drive and suffer poorly the experience of taking "no" for an answer. That there are 3,000 miles separating the stomping grounds of the two workmates at United Capital is probably a good thing.
Ryan Marcus is a nervous flier to begin with but at 30,000 feet and a few hours into a journey from his home in New York's Westchester County to an interview in Orange County, Calif., his restlessness was profound.
Part of the RIA business executive wondered what he was doing subjecting himself to claustrophobia, airline food and a presumed upcoming culture shock of a West Coast company determined to do things in an un-New York kind of way. See: Ryan Marcus leaves RBC Advisor Services as clients and recruiters openly speculate that his drive was mismatched with his giant employer's bankerly ways.
Food tray calculus
In a fit of constructive behavior, Marcus, 34, pulled out the acceptance letters he had received from other firms that he had interviewed with and which had already agreed to hire him. He concocted lists of pluses and minuses as he put his seat in its locked upright position.

Matt Brinker: A plane flight every
30 days doesn't do it. It
requires a high level of interaction.

But any sense of a list and chart flew out the window as Marcus found his way to Newport Beach, Calif., and got enveloped in the world of United Capital Financial Advisers LLC, which would soon make him an offer to become its director of new-partner development for the Northeast United States.
"I said: I don't care what it takes. I want to be part of this organization," Marcus says. "You can't pay for this kind of education and mentoring."
Two cents, noted
Having just come from being employed by one of the world's biggest banks, Toronto-based Royal Bank of Canada, he was taken by the spirit at United Capital. Marcus was impressed that its chief executive Joe Duran was happy to run out to Staples for supplies and that the sense of purpose was palpable, too, with assistants and receptionists. He attributes that to Duran's receptivity to ideas. "It's exciting to have your two cents considered."
United Capital is a private equity capital-backed company with about $10 billion of assets under management pushing to become the first national RIA with a retail brand name that doesn't share its identity with brokerage and mutual funds like a Schwab or Vanguard. It is known as a roll-up because a key growth strategy is rolling in existing firms and breakaway brokers by acquisition. See: Joe Duran explains United Capital's 100% revenue growth to $100 million since 2012 and the firm's complex plan to grow faster.
Marcus was hired by Matt Brinker, Duran's right-hand man and senior vice president of mergers and acquisitions, who had been looking to fill the Northeast position for at least a year.
Painfully deliberate
"There's plenty of talented people out there but how we grow is painfully deliberate," Brinker says. "There's plenty of people that can peg the numbers. We're looking to build a business around the right type of advisors."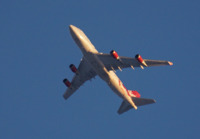 The mind of Ryan Marcus was
spinning above the flyover states.
United Capital has to date deliberately bypassed the Northeast and its teeming wealth and advisory community because it stretches the supply lines from Los Angeles too far.
"A plane flight every 30 days doesn't do it. It requires a high level of interaction."
Marcus became an early disciple of Duran's after the CEO spoke at an event put on by Marcus' former employer, Edgewater, NJ-based MarketCounsel, a talk that was captured in this article: Joe Duran lays out his latest case for why wirehouses — and classic RIAs — risk losing out to a coming oligopoly of new-model holistic firms.
"It blew everyone's socks off and it made a huge impression on me." See: Why Joe Duran believes that classic RIA firms face extinction.
---
Related Moves
January 15, 2020 – 2:42 AM
---
---
November 8, 2019 – 4:52 AM
---
---
Mentioned in this article:
---
---
---