Ed Beggs: This past year, we had over 45 million downloads of 32,000 forms in our library processed by 115,000 users from 15 custodians and clearing firms, and 350 broker-dealers.
Brooke's Note: Again, I'd ask you to thank Tim Welsh for writing this conference summary as he has done with scores of others. Think of how much jet fuel and jet lag he saves so many people. But while you're expressing gratitude, you can also congratulate Tim. He just took his first vacation in eight years, a tour of England and Ireland with wife and daughters. It is a testament to how much heart he has put into the start-up of his firm, Nexus Strategy, and what he has foregone in attending more RIA conferences than anybody — and sharing it with all with us.
"Robo advisors entering wealth management is a great thing — it will force the industry to evolve," said Deborah Fox, chief executive of the Fox Financial Planning Network.
"Can a prospect open an account on your website?" challenged Eric Clarke, president of Orion Advisor Services LLC of Omaha, Neb. "Why not? Robo advisors can."
Defiant statements like these intended to convince independent RIA and broker-dealer players that all technology advancements are good ones was a recurring theme at the 8th annual Laser App Financial Services conference, held in sunny and warm San Diego. See: After a year under wraps, Laser App unveils a new anywhere product.
The downtown Marriott Marquis resort was ground zero for the advisor industry this past week as LPL Financial wrapped up its gathering of more than 3,500 just as Laser App was getting started. Attendees of both conferences and the usual gaggle of summer tourists clogged up the many hotels and resorts in the Gas Lamp area of San Diego, adding to the vibrancy.
Laser App may seem like an unlikely host for a mark-your-calendar industry event until you realize how pervasive it is as the leading forms-filling technology platform. Nobody likes paper blobs and Laser App plays a central role in the processing of business for virtually every custodian, clearing firm and broker-dealer. As such, it is in a unique position to gather the industry's technology elite, including 27 software vendors and over 150 RIA and independent broker-dealer executives for two-plus days of networking, technology demonstrations and industry presentations. See: Laser App is showing the prosaic business form's sexy side at its San Diego conference.
45 million and not counting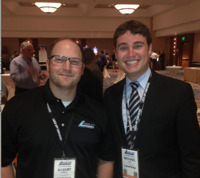 Robert Powell of Laser App and
Michael Laks of Laserfiche
"This past year, we had over 45 million downloads of 32,000 forms in our library processed by 115,000 users from 15 custodians and clearing firms, and 350 broker dealers," said Laser App chief executive Ed Beggs in his opening remarks. "Now that is usage."
Fresh off the launch of its "Anywhere" cloud-based platform, Laser App continues to grow, reeling in an additional 40 broker dealers this past year. "Our goal is to make software that people will actually use, [and that] is stable and secure," Beggs noted.
The process of opening new accounts, transferring money, enrolling in investment programs, determining suitability and just about every aspect of the highly regulated wealth management industry begins and ends with a form. Because of this, a huge aspect of generating efficiencies and automating the many manual steps involved is a prime focus area for dozens of CRM platforms, document management systems, e-signature companies and the custodians and broker-dealers that produce and process them.
Using technology to streamline the bulky forms process comprised a large portion of the conference agenda, with multiple sessions and demonstrations on ways to achieve the operational nirvana of completing a process without hands or paper. This so called "straight through process," or STP as it is known in tech industry lingo, has recently been made a reality through the much wider acceptance of e-signatures by custodians and broker-dealers. The integration of e-signatures or "digital transaction management" (DTM) has actually been one of the bigger innovations for advisors in the last several years in the historically conservative financial services industry. See: RIAs in the catbird seat to leverage straight through processing in 2012.
TD's endorsement
As evidence of the much wider adoption rate by consumers, DTM leader DocuSign showed a compelling evolution of how the majority of online signatures are now happening on mobile devices, smart phones and tablets. According to some estimates, DTM will be a $30 billion industry by 2020. "We have over 3,000 firms using our e-signature integration," said Jon Patullo of Jersey City, NJ-based TD Ameritrade. "It is definitely a huge favorite of advisors."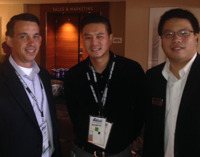 Jon Patullo [with Marcel Tsai and
Andy Wang]: We have over 3,000
firms using our e-signature integration. It's
a huge favorite of advisors.
Michael Laks, financial program strategist for Long Beach, Calif.-based Laserfiche, introduced a methodology called Enterprise Content Management to enable STP and DTM.
"By integrating workflow technology, business process management and document management, ECM can create an end-to-end process that is completely automated and no paper involved in the conversation."
Robo as cattle prod
Of course, these days you can't go to any industry conference without receiving a healthy dose of content focused on the impact that the robo-advisors — based on real or imagined threats — are having on the industry. However, at Laser App, this was one of the first conferences to have content designed to actually help advisors respond to the entrance of the automated RIAs. See: Online RIAs will mostly fail — and here are 10 reasons why.
Fresh off the authoring of a detailed white paper on how to create a "Robo Shield," Deborah Fox offered up 20 practice management tactics on ways to embrace technology, systematize business and focus on communicating the higher-value services that only humans can provide.
"Robo advisors are definitely a wake up call for advisors to enhance their service offering," she says.
Along these same lines, Eric Clarke challenged attendees to think about the online experience that robos offer and ways they can adapt to meet the challenge. Clarke and his team at Orion have developed an application integrated with Laser App to enable advisors to open accounts directly from their websites. See: Thoughts on 'robo-advisors' served cold, compliments of Kitces and Waymire.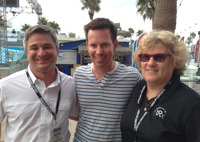 Kevin Knull of MoneyGuidePro, Dan Skiles
of SSG, Sheryl Rowling of TRX

"Robos have a distinct advantage in being able to make it simple and easy for prospects to do business with them. Why aren't advisors doing the same thing?"
Franco's backfield mate
The Laser App conference is known for finding motivational and inspirational speakers that typically don't grace the agendas of the many other industry events. This year, conference organizers brought in former Pittsburgh Steelers running back, Rocky Bleier.
Bleier delivered a superlative performance earning multiple standing ovations. Rocky told the inspirational tale of his experience as a rookie in the NFL and being drafted and then sent to Vietnam. While serving in the war, he sustained a severe leg injury from a grenade explosion that threatened his ability to walk again. Despite doctors' predictions that he would be lucky to just live a normal life, Rocky worked diligently for four years to regain his strength to again make the Steelers roster and go on to win four Super Bowls in the 1970's.
"We live in a culture of opportunity, not entitlement," Bleier summarized. "Everyone has a choice — choose to be the best you can be."
Bleier specializes in speaking on retirement and financial management. He co-wrote the book "Don't Fumble Your Retirement: New Money Lessons Learned By Four-Time Super Bowl Champion Rocky Bleier" (with Matt Zagula; Advantage Media Group 2011) and co-hosts a weekly radio show "The Rock on Retirement" on Pittsburgh radio station 104.7 FM WPGB.
Redtail takes a bow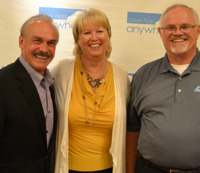 Rocky Bleier [see here with unidentified
woman and Ed Beggs] earned multiple
standing ovations.
Beggs and his right-hand man, vice president Robert Powell, definitely bring the fun element to their event. Networking opportunities were prevalent at the conference, with multiple receptions, vendor hosted dine-arounds and parties.
Taking advantage of its southern California venue, conference organizers held a widely popular evening event at the Wave House on the beach at Belmont Park. Top surfing experts displayed aerial skills on the Flow Barrel, an automated surfing platform that powers 100,000 gallons of water per minute to create a continuous 10-foot wave.
Sponsored by Redtail Technology of Gold River, Calif. (fresh off winning a big contract with LPL), attendees tried their skills on the wave, sucked down tropical drinks and dined on beach fare late into the evening. After-hour gatherings centered on the many nightspots of the Gas Lamp district, with even a conference-generated libation named the Fluffy Nashville the feature of the final night.
To learn more about what went on at the Laser App conference, check out the many tweets via the #LaserApp2014 hash tag on Twitter.
Disclosure: Welsh has consulted with several of the companies mentioned in this article.
Timothy D. Welsh, CFP® is President and founder of Nexus Strategy, LLC , a leading consulting firm to the wealth management industry, and can be reached at tim@nexus-strategy.com or on Twitter @NexusStrategy.
---
---
Mentioned in this article:
---
---
---