Ron Cordes: My advisor said, no, that's beyond the fiduciary role of my portfolio, so we really can't pursue it.
Ron Cordes understands niches and riches.
First, he saw that IBD reps needed a way to do respectable fee-based business in a trouble-free way and in the mid-1990s, Cordes, along with two partners, turned his successful advisory practice into one of the first turnkey asset management programs, AssetMark Inc. See: Genworth's TAMP is bought up by two private-equity firms for $412 million.
Cordes, now 54, gained his own financial independence when he sold AssetMark to insurer Genworth Financial in 2006. But like virtually anyone who wins a big payday, the novelty wears off and the niggling need to take on new challenges and give back takes hold. The dream scenario is to bring the best of what we know in a nakedly capitalistic enterprise and bring it to a realm where people are more directly and clearly served. See: Ron Cordes tells about his Next Big Thing after selling AssetMark.
For Cordes, it started when he and his wife founded a family foundation. Now that drift has morphed into ImpactAssets, a nonprofit that knows about profits. Cordes is a board member of Bethesda, Md.-based concern, which has a team of 18 working out of a Bethesda, Md.-based office.
Impact investing a is a term that gets thrown around a lot and we all know of somebody who lent $200 for a man in a developing country to buy an extra coop of chickens and saw a good return. And we know about mega-loans made by the World Bank. But Cordes had a vision of helping at a mezzanine level of $500 to $1 million in countries where such investments are unheard of.
"Impact investing" is a means by which investors can help achieve social, environmental or economic goals. Impact investing actively directs capital to companies or projects that are working to achieve specific, measurable goals. If you're an impact investor, you might direct your money toward sustainable agriculture, say, or affordable housing or financial services for underserved populations.
Cordes is trying to achieve maximal impact by getting beyond sustenance businesses and not throwing money at mega-projects where it's all about trickle down. He's found an SBA-like niche — in some of the unlikeliest places. But in that niche he's discovered an essential ingredient — people willing to work hard to put the money to good use building real enterprises and get an ample return on investment.
After the crash
RIABiz: What got you interested in impact investing?
Ron Cordes: Over the course of a couple years [after the AssetMark sale] I started to look at what was out there for family foundations like ours; how we could have an outsized impact, how we could kind of punch above our weight, if you will. And I really just kind of landed in this brand new emerging space of impact investing. It started out of the frustration that all the advice we were getting as a foundation was how we could have impact with our 5%-a-year grants budget. And I kept saying, "Well, what about the other 95%?"
By late 2007 we convinced our board to allocate 20% of our corpus to impact investing and we began over the course of 2008 to start making investments globally in things like microfinance and small business and sustainable agriculture, both debt and equity.
And by September 2008, we were proud of the fact that we had fully deployed that 20%. And then the world explodes. And we ended up being quite pleased with the fact at the end of the year that our impact investments not only were not the worst performing in our portfolio, but they were actually amongst the best performing.
RIABiz: Why did you help start ImpactAssets?
There's really no organization out there that's promoting [impact investments] or helping advisors understand how to work with them. So that led to the work that I started to do in 2009 around, you know, is there an industry here? And if there is an industry here, what does that industry need by way of infrastructure in order to grow and be successful?
And really, it was kind of hearkening back to our early days in the fee-based space. My partners and I, as retail advisors in the San Francisco Bay area in the '80s, recognized the opportunity in our own practice to move from commissions to fees. But as we started to try to make that move, we recognized that there was absolutely no infrastructure. Everybody was trying to do these one-offs. The whole concept of something like a TAMP at the time didn't exist and so we had some real success creating one of the first infrastructures for advisors to move into a new area and do it with a full support system around them.
Fifteen years later, here I was in 2009 looking at this impact investing space and trying to figure out whether that same potential opportunity existed.
Too close to zero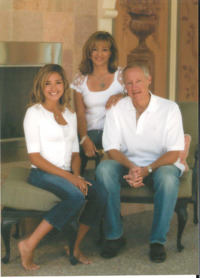 Ron and Marty Cordes, co-chairs of
the Cordes Foundation, with daughter Stephanie.

RIABiz: So you, along with the Calvert Foundation, commissioned a survey of affluent investors—and found what?
RC: Nearly nine in 10 had some level of interest. And almost half were interested or very interested. And when we looked at how many of them were actually doing it in their portfolios, the number was, as I joked, so statistically close to zero that it was basically none.
RIABiz: What was the reason for that?
RC: The revelation for me was that most of the answers revolved around a financial advisor as an intermediary. And these affluent investors were saying, "Hey, that looks really interesting. I'd be interested in exploring something like that but I've never had a conversation with my advisor about it. They've never brought it up." Or in some cases, they said, "Yeah, I asked my advisor. My advisor said, no, that's beyond the fiduciary role of my portfolio, so we really can't pursue it."
And I realized the reason there wasn't more uptake in this impact investing field was that the advisors as the gatekeepers were effectively keeping the gates closed. See: Fidelity Charitable courts advisor business — and competes with Schwab — by making alternative assets OK in its donor-advised fund.
Three big things
RIABiz: So you decided to open them?
RC: AssetMark was actually acquired back out of Genworth by two private-equity firms along with management at the end of 2013. I'm back as executive co-chairman of AssetMark. See: 'AssetMark' rides again as a $20-billion TAMP with a receding Genworth hangover. So I had the opportunity, because of hundreds of advisors that I knew well, to go out and start talking to financial advisors. I met with hundreds and what I got was a pretty consistent response. The advisors were missing three things.
They were missing a voice. They told me, "I'd love to have a conversation with my clients about this but, boy, I don't know enough about it to be credible." See: Advisors: Help protect precious nonprofits by avoiding these four mistakes.
And then they were missing products and they were missing infrastructure, meaning a whole system whereby whatever products were available out there could actually be on the approved list at the company or custodian that they worked with. See: Ron Carson launches roll-up/TAMP-like venture with Envestnet, TD Ameritrade and Advizent as puzzle pieces.
So in 2010 I partnered with the Calvert Foundation and we got great financial support from the Rockefeller Foundation and we started a nonprofit financial services company called ImpactAssets, with the goal of trying to solve those three issues and creating an opportunity for financial advisors to engage with their clients around impact investing.
Taking on giants
RIABiz: What are your main accomplishments so far?
RC: Our biggest product on the street right now is a donor-advised fund that competes with Schwab, Fidelity, Vanguard, everybody else out there. It's got about $150 million of assets. With ours, like everybody else's, you can put money in and give it away to whomever you'd like—but we actually provide an opportunity to not only give it away but to invest it. So if you put $100,000 in a donor-advised fund, we can help you invest that for impact across a whole variety of different products that we have available. See: Strategic philanthropy: Exactly how to bequeath your values — not taxes — to the next generation.
In addition to making grants, we have a menu of investment options available which includes things like microfinance and small business, and community development and other areas where you can invest for impact. That differentiates us right now from pretty much every other donor-advised funds in the space, and I think that's unfortunate.
Then from a research side, we hired a research team and we've written a whole series of research reports—we call them issue briefs— that are available on our website. They're designed for both investors and financial advisors to understand better what this whole impact investing field is.
Free database
We also launched, in 2011, the ImpactAssets 50 Manager Database, which includes the 50 largest and most relevant managers who are building and managing private debt and equity funds for impact investments. That's an area where, when I started investing, there was no data out there.
We've updated it now over the last couple of years and it's been a resource for wealth managers who want to understand what products are out there. We do the research on the impact side to try to assure them that these firms are actually doing the right thing, but we don't research the funds financially because advisors have told us that's kind of their job.
RIABiz: Is that a subscription-based database?
RC: Because we're a nonprofit, we've made the database available as a free service. The objective is that the revenue that we earn from administering the donor-advised funds covers our role as a field builder. See: In big surprise, Fidelity and Schwab rake in charitable assets — early, often and unremittingly in 2012.
Like a GE note
And then, the final step—it's taken us two-and-a-half years—is this fall, we're introducing our first investment products. They're called Impact Notes. They're just now in registration with the various states. They're professionally managed, five-year notes investments with a minimum investment of $25,000. One is focused on microfinance, and one is focused on sustainable agriculture; they're designed to deliver kind of a quasi-market return over a course of five years.
They're really, as far as we know, one of the first products that can be available to a retail client. And the goal will be to be able to introduce these to advisors. The client does not need to be accredited. They will vary by state, but we expect them to be no more than a million dollars of investable net worth and in some cases we expect them to be less.
One thing that we're particularly excited about is that we expect it to be DTCC traded; each one will have a CUSIP number and will be able to be bought and sold electronically on all the brokerage platforms literally in the same way that one would buy a five-year GE Note.
RIABiz: Why the relatively low minimums?
RC: As I look at a product like these Impact Notes, that's where we're kind of looking at that first toe in the water for people. That's why we work so hard to bring the minimum investment size down, because we recognize that even a client with a million dollars of assets to invest may want to only step into this space with a very modest percentage of their assets. See: A Microsoft alum stomps into the RIA business with $26 million in VC money, Sallie Krawcheck and a 'new' approach that looks old to skeptics.
On UBS platform
RIABiz: What are your asset-gathering goals?
RC: Well, we have big aspirations at ImpactAssets. Our goal over the next three to five years would be to be a billion-dollar-plus organization, with part of that growth coming from the donor-advised fund, and part coming from launching these series of Impact Notes each year.
RIABiz: So how many advisors are using your services right now?
RC: Our donor-advised fund is now an approved product on the UBS platform. So, I would say we have north of a hundred advisors today who are engaged with us at some level or another with clients in the donor-advised fund. And we expect that number to grow considerably as we offer the notes. See: RIAs don't get rich clients' surprising altruism says Fidelity Charitable study — and it's costing them.
RIABiz: And at this point, the only fees that you're extracting are the typical donor-advised fees for administration and asset management?
RC: Yes.
No friction, so far
RIABiz: Which sort of advisor is your target?
RC: Our objective in setting up ImpactAssets was to cast a wide net. Right now we have a number of relationships with multifamily offices, wealth managers, you know, the high-end RIA, if you will, who typically would clear through a Schwab or Pershing or Fidelity, and who has clients who may have established some type if charitable vehicle already or maybe may look at ImpactAssets as an opportunity to establish a donor-advised fund. See: Look before you leap: Six questions you must consider before becoming a multifamily office.
RIABiz: If I'm an advisor and Schwab Advisor Services or Fidelity Institutional Wealth Advisors, let's say, is my custodian, can I expect any friction given that they and you offer competing donor-advised-funds products?
RC: The answer to date has been no. We have accounts at Schwab and Fidelity today and, there's been no "friction" because there's really no approval that's required at the custodian for the advisor to set this up. It's just another account registration.
I guess I'd be honest and say that, yeah, Schwab and Fidelity, if one of their advisors says: "I'm interested in setting up a donor-advised fund," they obviously, for good reason, try to move them toward setting one up on their own internal platforms, but that said, when the advisor contacts us and we're working with them, we probably work today with about a dozen different custodians and we don't have friction across those relationships.
How risky?
RIABiz: Where should advisors position these impact investments along the risk spectrum?
RC: When we started in 2007, I took the position that these investments were just going to be somehow inherently more risky. It was based on the old adage that that which is unfamiliar is inherently more risky. What I realized is that it's possible to invest for impact completely across the spectrum of risk. From well-secured debt to emerging, kind of venture-capital investments in small companies. Impact investing, I would argue, is not an asset class as much as it's an investment category because you can invest for impact across all of the asset classes.
RIABiz: So can a retail investor access a full spectrum of impact investing opportunities from least risky to most risky?
RC: I hope that over the next three to five years—as more products come out like our Impact Notes and we're supportive of others that are looking to do the same thing—a retail investor who wanted to invest $50,000 could do it across six different vehicles and really build a portfolio that might be from one end of the risk spectrum to another. Today, I'll be honest, that's not yet possible because we're trying to kind of blaze this new trail by putting out one of the first products for the space.
Searching for the 'missing middle'
RIABiz: Ron, on the ground, what does the lending scenario look like? What size is a typical loan to an end borrower?
RC: There are two areas. One is traditional microfinance, which in most countries of the developing world, is between about $200 and $2,000 per loan.
With a product like our Impact Notes, we're not making direct microfinance loans to the borrowers. The loans that we're making are going to be closer to, call it a half million to $1 million each. They're made to the microfinance institution, carried on their books supported by their own capital, and then obviously they use those funds to on loan to the individual borrowers.
One of the parts of the market that we're finding is actually much larger even than microfinance is the concept of the "missing middle." In most countries in the developing world, if you're not a large business with some political connections, it's very difficult to get financed from a conventional bank. There's a great deal of investible capacity out there but that capacity just hasn't been addressed by the local banks, and the loan sizes—$10,000, $20,000, $30,000—are too large for most micro banks.
RIABIZ: What is the repayment rate for impact lending? My understanding is that, at least for microloans, it's been very good.
RC: Yes, so, microloans absolutely. The concept was popularized by the Nobel Peace Prize winner professor Muhammad Yunus, and his Grameen Bank in Bangladesh has been doing it since the early '70s. Their repayment rate is in excess of 95% and in all the studies that have been done across the industry, major microfinance institutions have been at that level of 95% or higher.
As far as that next level of the missing middle, I would say there's not as much data out there on it. But there are a number of institutions that have been loaning in this space, and from what I have been seeing, their experience has been similar.
Realistic returns
RIABiz: With impact investing, where is the dividing line between charity and self-interest?
RC: Well, the spectrum of impact investments really goes from a zero return, something that would just get your capital back, to a full-market return. So there's a raging debate in the impact space about full-market returns versus below-market. And there's some that say, well, gosh, an investor, if they're investing for impact, should be consciously giving up financial return to do that. And there are others that say, no, if we're really going to scale this space and bring significant capital in, we have to demonstrate it's possible to achieve a full-market return. I kind of fall in the middle because I believe in both. See: Can the behavior of RIA clients be changed? Yes … but
And here's the way I look at it. If I'm investing in microfinance and I'm investing in a fully developed market—most of Latin America, Peru and Ecuador and Columbia are very developed—I'm expecting a market-rate return on my capital, both debt and equity. But at the same time, there's microfinance markets like the Democratic Republic of the Congo, one of the most difficult places in the world to do anything; I'm invested in a microbank there. And in countries like Uganda and Liberia I'm willing to take a below-market return because I see my capital as being catalytic to help build the markets. Hopefully, three to five years down the road, investors behind me will be able to achieve a full-market return because my capital and others will have helped develop [the market]. So, I think there is no right answer.
What I do believe is that there has to be the intentionality. I don't look at impact investing as an investor saying: "I love the investment because I think I can knock the cover off the ball, make a bunch of money and, oh, by the way, I think I can have some impact as well."
I really look at the intentionality of an investor saying, "I'd like to take a part of my portfolio and consciously invest 100% of that piece in things that are important to me. At the same time, it's my portfolio. So it's trying to solve a problem for me down the road. Whether that's retirement or kids' education or, from our foundation's perspective, making sure that we have money available 10, 20, 30 years from now to continue to have a grants budget." See: RIAs don't get rich clients' surprising altruism says Fidelity Charitable study — and it's costing them.
Life goals tie-in
RIABiz: To what extent do you coach advisors in presenting impact investing to clients? I'd imagine not every client is crazy about the idea.
RC: We do. We just held a seminar this week in New York where we had about a hundred advisors. A couple of wealth managers and I were on a panel and we talked about how you bring this topic up with a client. See: Family Office Exchange is betting that RIAs and the ultra-affluent can't get enough of each other.
First of all, there's enough in the media now about impact investing that one of my first comments to advisors is, recognize the fact that more of your clients are going to be raising this issue with you. You need first to be able to react appropriately to it, and to begin to arm yourself with the type of research and information that enables you to just have a follow-up conversation if they ask.
Secondly, there is more of a purpose-based approach happening in the industry. In addition to managing a client's money, [advisors] are starting to have deeper conversations with them about their life goals, aspirations, etc., and I find that impact investing fits perfectly into that. See: A crucial question for HNW clients: What is money for – and what should advisors do in response to the answer?.
'Strong point of contention'
RIABiz: Do you encourage advisors to present things like five-year notes as an alternative investment?
RC: I'm laughing only because this has been a very strong point of contention back and forth internally. How do we present this thing? And particularly, how do we present it to organizations like Schwab, LPL, Merrill Lynch and others, right? Our Impact Notes are technically a bond and they're also technically, I guess, an alternative investment. See: Step-by-step on finding a platform for alternative investments.
Because that's where private debt kind of fits in at most of these firms. So, in our perfect world, we would present them as a bond that's CUSIP-traded. But what we're finding is that because these are private and illiquid, most firms are looking at them as an alternative investment and it's probably the most appropriate way to do it today.
Credibility boosters
RIABiz: Big firms like Morgan Stanley and UBS are getting into this area as well. Can you compete with them?
RC: We have worked with many of the large firms as a non-profit provider, helping them think through how they build impact investing platforms. And we completely recognize that all the large firms are going to build platforms on their own.
We're in discussions with dozens of firms today about including our Impact Notes on their platform. So the fact that someone's created a platform doesn't mean that the only products on that platform are going to be their own proprietary products. Most of these firms have developed more of an open-architecture approach.
And, frankly, even if the wirehouses were all to create their own products, we wouldn't look at that as competition as much as we would look at it as an important part of building the ecosystem. There's great validity that comes to the space when a firm like Morgan Stanley gets in.
In the early 1990s, the independent advisors originally built the fee-based space. We owned it before the wirehouses had even moved in that direction. The wirehouses resisted it for years, and then in the mid-'90s they all announced that not only were they going towards fee-based, but they actually announced to the industry that they'd invented it, right? Go figure.
I actually see even if ImpactAssets were to not work with any of these firms on any type of a formal basis and they were to put out only their own products, I still see that as actually being very positive for us because it just starts that rising tide that lifts all the boats in the space.
---
---
Beth Stelluto
Ron and Steve,
Thank you for the introduction to ImpactAssets. As a new member of the ImpactAssets team, it's a thrill to see us featured in well regarded publications. As Ron mentioned a recent event with about a hundred advisors, I just saw a statistic that ImpactAssets has engaged with over 6,000 advisors last year – evidence that the trend of impact investing is growing.