News, Vision & Voice for the Advisory Community
The ex-LPL exec saw no issue at all joining the eponymous son of the radio host barred by the SEC
July 31, 2014 — 2:08 PM UTC by Brooke Southall
Brooke's Note: No matter how many times we see it, a car accident at the side of the highway is riveting. Rubber-necking stops traffic. There's a vicarious shock at the idea that at one moment that person was breezing down the road with car, wallet, body and life intact and in the next — square zero, or so it seems. I see a similar effect when people are separated from their job. The morbid fascination knows no bounds, but especially when it happens to an expert driver of a job like Derek Bruton. Ironically, it's less fascinating when people land on their feet. But this is a pretty interesting story and seems to be yet another case of the insatiable hunger of the RIA business for good talent. And it's now a ho-hum news day when Dan Sontag and Derek Bruton join RIAs in tandem.
After a departure that jarred the advisory community, Derek Bruton is back as chief executive of a San Diego-based advisory company with $2.3 billion of advised assets owned by the other Ray Lucia, Ray Lucia Jr.
The former managing director of independent advisor services at Boston-, Charlotte, N.C.- and San Diego-based broker-dealer LPL Financial, and overseer of 13,600 advisors, took the top management spot at San Diego-based Lucia Capital Group, a holding company for an RIA, RJL Wealth Management LLC, with $201,404,083 in discretionary accounts and $189,786,886 in non-discretionary accounts. It has two dozen W-2 employee advisors.
In addition, Lucia Capital holds an independent broker-dealer, Lucia Securities LLC, with registered representatives in 16 branch offices advising $1,667,922,582 of assets in non-discretionary, traditional commission-based accounts. Those reps also oversee an additional $193,874,441 in fixed-annuity products. Most of the assets are from mass affluent investors.
Both the Lucia RIA custody and broker-dealer clearing are placed with RBC Correspondent Services. See: What ever became of RBC's RIA custody unit after it showed such promise.
Father and son
Lucia also runs the Bucket Strategy Advisor Network, which supports 50 unaffiliated advisors across the country. It uses Lucia's processes in sales and portfolio management and its proprietary licensed software and training.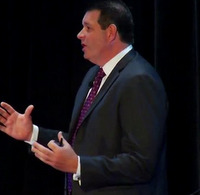 Derek Bruton: I thought this was
a jewel of an opportunity.
In 2013, Ray Lucia's father, who built fame and practice with a big boost from a popular investments radio show, was banned from the financial advice business for alleged improper claims involving back-testing of investment methods. See: With SEC coming down hard, TV and radio star RIA principal in San Diego makes his case to listeners.
Unblemished
When a reporter asked whether the potential blot on the Lucia name — fair or unfair — flowing from the father's regulatory troubles, Bruton brushed them aside.
"There is a not a blot on the name of the company," he says. "That didn't come into consideration for me. It's a well-positioned company of bright ambitious people and a place that leverages my expertise and skills."
Lucia Jr. explains the company's connection to his father this way: "We have a profound respect for my father…his regulatory challenges are his and his alone."
He adds that there are a number of clients at the firm that formerly used his father's company. Though Lucia Sr. still has a radio show, Lucia Capital does not receive referrals from it.
Growth
Bruton's job will be to execute a plan of "exponential" growth including attracting new W-2 employee advisors to Lucia's RIA and engaging in strategic "roll-up" acquisitions of advisor teams that can be added to the RIA through succession planning-sparked purchases of independent advisor teams, "pursuing client focused product origination opportunities" and bringing more advisors to the "Bucket" training program. See: Derek Bruton brings aboard two advisors seeking big back office after founder of their RIA, UHNW Kinko's founder, moves on.
He declined to comment on whether his compensation will come close to matching the $1.45 million that LPL reported that he earned in 2013 other than to say that spending more time with family entered into his decision about what job to take and how much he needs to be paid. The LPL job involved lots of plane flights and long hours.
The hire of Bruton appears to be a good move for the ex-LPL exec and his new firm, according to Cecile V. Munoz, president of U.S. Executive Search & Consulting of Los Angeles.
"His exit did not diminish the 20 years that came before it," she says.
From her perspective, Lucia Capital benefits by bringing in a big new presence to show its investors, customers and staff that it is going in the right direction.
Bruton tamps down any concerns arising from his departure that occurred under somewhat murky circumstances. LPL explained his departure by saying its "allowed" him to resign, suggesting that he was facing a less pleasant alternative. See: What is the story with Derek Bruton's sudden LPL departure?.
Road to 'super RIA'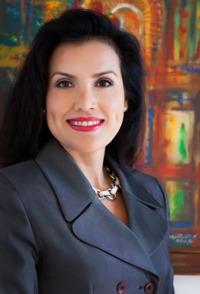 Cecile Munoz: His exit did not
diminish the 20 years that came
before it.
Munoz adds that Bruton is also savvy to jump on a hot opportunity with a "super RIA." She says this is beginning to look like a tried and true path with Scott Dell'Orfano, former sales chief for RIAs at Fidelity Institutional Wealth Services who went to a $4.3-billion, Palm Beach Gardens, Fla.-based RIA, Banyan Partners LLC and already had a big liquidity event. See: As Boston Private and Banyan Partners merge, the Big Three roll-ups become the Big Four.
Other cases include two Fidelity RIA execs leaving Fidelity for Mariner Wealth Advisors and David Welling leaving Schwab Advisor Services and joining Black Diamond, which was taken out for a big price by Advent Software. See: Advent to buy Black Diamond for $73 million.
"Derek represents a bold new generation of leadership for this company, which has always been about providing advisors and the clients they serve with an innovative, creative, and seamless set of strategies, says Lucia Jr. in a statement. "He has a proven track record of growing companies of all sizes in our industry, and he possesses a vast array of knowledge across a number of areas crucial to our future plans, including acquisitions, business integration, and advisor relations. There's no question that Derek will be a pivotal asset to our firm."
Bruton liked the lifestyle as well as the opportunity afforded by Lucia Capital.
"I looked at opportunities nationally but it was certainly part of the decision-making process to be closer to home and the family. [But geography] wasn't the biggest component. I thought this was a jewel of an opportunity."
---
---
Share your thoughts and opinions with the author or other readers.
Mike Byrnes said:
July 31, 2014 — 7:36 PM UTC
Congrats Derek! — Mike Byrnes, President of Byrnes Consulting, LLC, www.byrnesconsulting.com
---
---