News, Vision & Voice for the Advisory Community
Unaided recognition of CFP certification jumps about 90% in three years ...assets stemming from that, not so much
July 24, 2014 — 9:55 PM UTC by Lisa Shidler
Brooke's Note: The financial advisory industry continues its all-out assault [minus a universal fiduciary standard] on becoming a profession in the same sense as accounting and financial analysis with their relatively unimpeachable CPA and CFA credentials. One expert in this article frames the credential-establishing challenge as a chicken and egg thing. This commitment by the CFP Board to blast the CFP credential across the media waves may reduce the number of investors who are chicken about investing under the trusted guidance of a financial advisor.
By the end of this year, the Certified Financial Planner Board of Standards Inc. will have plunked down $40 million toward one of the largest public-facing advertising campaigns by a financial planning organization and the group feels pretty good about its results.
But whether those good feelings are merited is another question.
The Washington-based standard-setter for financial planners, launched the campaign in April 2011. It was funded by a major fee increase that originally peeved some certificant holders. See: What's behind the CFP Board's big fee increase.
The ads have been placed in media outlets such as Kiplingers, Fox News, CNN, Barron's AOL, Smart Money and Forbes. They have been aimed at consumers with $100,000 to $1 million of assets to invest.
The unaided awareness of the CFP certification among the CFP Board's target audience rose from 17% in 2011 to 30% in 2014, a hike of 13 percentage points — a near doubling. Unaided awareness measures a person's knowledge about the CFP designation without prompting.
The campaign is not over and CFP Board will continue spending about $10 million annually and review that budgeting on an annual basis.
The group likes the gain but it does not look at its gains in awareness on a purely linear basis of x amount of dollars buying y amount of brand recognition.
Awareness before change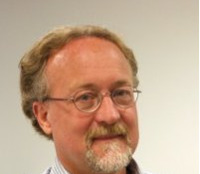 James Cerruti: It has some gravitas
but in terms of the training
required, it's not nearly the amount
of the CFA or CPA; it's
just not that demanding.
"The numbers are looking good but that doesn't mean we've accomplished our mission," says Marilyn Mohrman-Gillis, managing director for public policy and communications for the CFP Board. "You have to look at the very top and right now we're just trying to gain awareness. We have to increase awareness of the CFP and this entire ad campaign is designed to create awareness." See: CFP Board makes a raft of changes — including plans to send out press releases about CFP members who declare bankruptcy.
In the long run, Mohrman-Gillis says the group would ultimately like to see the ad campaign prompt prospective clients to change their behavior and begin seeking a financial advisor who is a CFP. But right now, her group is content to have the CFP letters establish a presence on the cerebellum of affluent investors. See: In a world of Schwab and Merrill, can the CFP Board use $36 million of ads to make planning sexy?.
Big bang for the buck
"This is a long term game and we're exceeding our goals. We're absolutely on track. We feel very good. Quite frankly, what we're spending is less than half a percent of all financial services' [advertising] expenditures. We have a very small budget and we're breaking through the clutter of all of the other financial services advertising."
But the question is: What does this increased recognition mean for the CFP Board members? While the CFP Board execs are satisfied the campaign has been a success, they do note that the awareness campaign won't necessarily translate into more CFP members — just yet.
"I would say this campaign is very important to CFP professionals. They see that we're driving awareness of the profession. We're also going to make it very easy going forward for CFP professionals to use the campaign materials in their own markets. We really think the CFP professional is head and shoulders above other financial services designations," Mohrman-Gillis says.
Currently, there are more than 70,000 CFP professionals and the organization has a 97% retention rate. See: CFP Board makes a raft of changes — including plans to send out press releases about CFP members who declare bankruptcy.
Search for status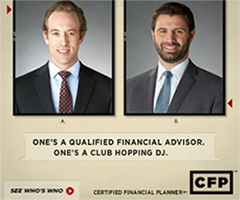 An consumer-oriented advertisement from the CFP
Board
Organizations such as the CFP board do need to spend money for awareness, says James Cerruti, a senior partners with Brandlogic Corp. a New York-based marketing and brand consultancy firm.
"The dilemma with these professional organization is you've got the chicken and egg problem. You've got to drive the perceived value up in the marketplace of the designation to help drive demand up over the long term for the general public. You want to attract people to want this title. If you can't show that the credential has value long-term than you won't be able to get young people into this profession long-term."
The CFP designation is facing similar problems as the Certified Public Accountant, or CPA, designation faced in the late 1990s, Cerruti says. See: The AICPA gets down with advisors in Vegas — well, as much as accountants can.
"I completely understand why they're making this investment because they need to do it. The CPA had to revitalize the credential and that means revitalizing the brand," Cerruti says. "CFP is caught in the middle. It has some gravitas but in terms of the training required, it's not nearly the amount off the CFA [Chartered Financial Analyst] or CPA, it's just not that demanding. It is right in the middle. They're desperately trying to separate themselves from that pack of others credentials because they want to be seen as more valuable and more serious."
(Too?) young at heart
Every aspect of the campaign has been carefully crafted based on reaction form the intended audience, Mohrman-Gillis says.
But perhaps the ad campaign could have been a bit more serious, Cerruti says.
"The ads are very playful and they may drive up awareness, which is a good thing. But I think they got caught in a marketing bind. I think they see their opportunity with younger demographics but they might have lost some of the seriousness and gravitas associated with the profession." See: The once under respected CFP gets a lift after Merrill Lynch and now NAPFA make it central for newbies.
For example, one television spot shows a gyrating, dreadlocked disc jockey who fools clients into thinking he is a CFP by shaving his head and wearing a suit.
Success … to a point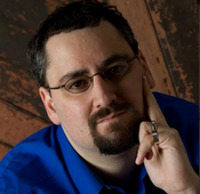 Michael Kitces: I think the
CPA is the only thing that's
higher, and they have almost a
century of a head start.
A longtime supporter of the campaign has been Michael Kitces, publisher of the Kitces Report and a partner and director of research with Pinnacle Advisor Solutions in Columbia, Md. He thinks the CFP Board has increased its awareness to even higher levels than the organization had originally hoped.
"As memory serves and I can't find an exact notation for it though, I think the CFP Board's original goal was something like a 4% increase in unaided awareness, and at this point they've basically 'crushed' the goal jumping 13% from 2011 to 2014. As I recall, the announcement after the first year of the campaign was that they had already beaten their multi-year goal, which was a driver in why they continued the program under the original terms. It was a temporary two year program with an option to renew for more, which they did given success." See: In a world of Schwab and Merrill, can the CFP Board use $36 million of ads to make planning sexy?.
Yet even though the campaign has been successful, Kitces thinks most advisors may not see much of an impact.
"I think in practice it's still difficult for the average advisor to really judge personal impact of even a 13% jump in unaided awareness, but if you compare that to other designations and certifications in the industry, I believe it's quite material. I think the CPA is the only thing that's higher, and they have almost a century of a head start. In the spirit of trying to build a recognized profession, this is certainly moving the needle to me and material in value for CFP certificants. Again, doing a hard dollars calculation of the value is difficult," Kitces adds.
---
Mentioned in this article:
Kitces.com
Consulting Firm
Top Executive: Michael Kitces
---
---
Share your thoughts and opinions with the author or other readers.
Jack Waymire said:
July 29, 2014 — 4:51 PM UTC
We deal with thousands of investors per month. We also survey investors several times per year. We do not see an appreciable increase in the recognition of the CFP designation. There is still a lot of confusion. Anyone can claim to be a financial planner – the range is an insurance agent with six months of experience to a CFP with 20 years of experience. There are also competing designations. The planning industry still needs full transparency, fiduciary standards for everyone, and fee-only compensation. Until that happens, investors will continue to be confused by the 250 designations that are used in the financial service industry.
---
---