BloombergBlack rematerializes as CircleBlack minus Bloomberg
John Michel salvaged the lessons learned and momentum of a venture that was on a roll when its plug got pulled
John Michel: We started all over again. We're not building the same product.
---
Related Moves
---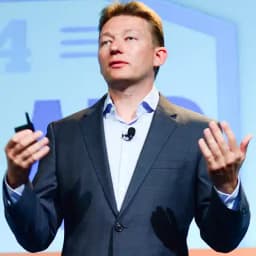 September 10, 2019 at 10:52 PM
---
---
Mentioned in this article:
---
---
---
Stephen Winks
The horse is out of the barn.
Can the brokerage industry catch up? Does it care about the consumer or the professional standing of the broker?
Circle Black is an important part of the missing link that triggers extraordinary industry redefining innovation as it (a) affords modernity in portfolio construction in the context of all a client's holdings—presently not possible in a brokerage format (to avoid fiduciary liability)—a sure way to win almost universally underperforming brokerage portfolios, (b) clearly establishes brokers are neither accountable nor responsible for their recommendations (legacy systems do not allow the broker to know whether they add value, even if they did), (c) allows advisors to utilize an expert authenticated prudent investment process to trump (i) the highly successful Robo Advisor aggregation players (Personal Capita) with a superior authenticated prudent process (not existent in Robo Advisors) and (ii) expert professional standing of highly incented human advisors, (d) favorably lowers the cost of advice relative to very expensive brokerage advice products (e) increases advisor compensation (f) juxtaposes high cost low, value added advice products where the broker is not accountable or responsible with high value added, lower cost, high value added expert counsel of the advisor who is accountable and responsible.
John Michael has introduced modernity in portfolio construction. drawing on the extraordinary portfolio construction acumen of Bull Run, tied to state of the art account aggregation technology, tied to expert authenticated prudent investment process based on objective, non-negotiable expert fiduciary criteria of statute,case law, regulatory opinion letters, which is easily tied to the cloud facilitating an universal global advisory application which exposes the inability of the brokerage industry to advance the best interest of the investing public.
Through prudent process, scale is achieved, cost is streamlined and the professional standing of the advisor is established thanks to the free market, without regulatory imperative.
John Michael is just a few tweaks away from delivering a scalable, lower cost, expert prudent process, enhanced by the cloud, work flow and conflict management which requires the larger financial services industry to reconsider its institutionalized inefficiencies in advisory services as well as its cost structure and advisor compensation.
The free market is a powerful force. There has never been an instance since Adam Smith introduced the "invisible hand" in 1776, the best interest of the consumer has not prevailed in a free market. Process trumps product every time.
SCW