David Bach: The No. 1 question I get asked: 'Who's a good financial advisor that I can hire?' I have not had anywhere to send these people.
Brooke's Note: Yes, we recently wrote an in-depth article about Ric Edelman's plans to ramp-up growth and reduce key-man risk. The problem was that Ric wasn't able to tell us about a big "deal" he was going to consummate over the summer. How Ric Edelman manages to bring on 4,500 new clients each year by force of personality while diminishing key-man risk at the same time. As luck would have it, that deal went down right after we published our article. So was it worth a whole new look now that we knew the deal? Actually, yes. There is so much to grasp in how all of this came together.
David Bach was facing an existential crisis of sorts, one that he pondered heavily during a recent sabbatical.
After jumping from the safe nest of his father's now nearly $1-billion assets-under-advisement practice at Morgan Stanley in 2001, Bach landed in the tempting-but-treacherous world of providing investing expertise. It worked. He sold hundreds of thousands of books, tickets to seminars galore and became a regular on national television by way of CNBC.
The problem was that by the time 2013 rolled around, Bach was feeling a nagging sense that he wasn't doing all he could to deliver one-on-one financial advice. There is only so much impact you can have on people's lives through books and performances on the television machine.
"I grew up in the investment business, so while I consider myself a financial educator at heart and that's my core passion, I am born and bred a financial advisor," Bach says.
Meanwhile, in a parallel universe, there was Ric Edelman, who was facing his own moments of truth. Barron's top independent advisor with $12.5 billion-plus of assets was not so much worried about was having a direct impact on people's investing lives. In a sense, he was already doing more of that than anyone on the planet. See: Barron's top advisor shares the secrets to his success with rapt RIAs at TD event.
'Unprecedented' opportunity
Still, Edelman had hit a considerable wall — how not to succumb to the law of big numbers. He wanted to keep growing his firm at its accustomed nosebleed pace and all the while get past himself so that his organization could survive his existence. Edelman realized he needed more advising boots on the ground.
"The key to our plan is going to be adding a couple hundred advisors to our firm," he says. "We are generating tens of thousands of leads annually already and we expect to double that and more. This means we need many more advisors to help us handle the demand for services that we already enjoy, and which we expect will sharply increase. So we are looking in earnest for advisors, including those with current books to bring over to us as well as those with $30 million to $100 million in AUM. The opportunity we offer is unprecedented and unique in the history of the industry." See: One woman's journey from Whole Foods to Edelman Financial.
Edelman was particularly looking for one advisor that would be a clone of himself in all ways except chronologically. Ideally, his alter ego would be younger version of himself who has the energy and passion to become a super-recruiter and talent trainer.
Anything I can do…
Edelman now has that man in Bach.
Edelman Financial Services LLC announced last Thursday that the Fairfax, Va.-based firm has executed a big deal to integrate the TV personality into a grander business vision. Bach will serve as the RIA's vice-chairman and will perform many of the same financial education and publicity work that founder, chairman and chief executive Edelman currently does.
"David decided many years ago to leave Morgan Stanley to focus exclusively on financial education and advice," Edelman says. "But by doing so he has not been able to answer the one question that he gets repeatedly from his audiences: What advisor does he recommend that people hire? His inability to provide an answer led him to conclude he needs to get back into the advisory business — and instead of starting his own firm, he chose to join mine. David is a highly experienced and knowledgeable financial advisor — although in his role with us, he won't be meeting one-on-one with clients. Like me, he will be focusing on financial education activities, referring people to our firm's advisors."
Even with five hundred seminars a year, eight books, and popular television and radio shows to his name, Edelman thinks he partnered with his equal, if not his superior, when it comes to marketing panache. See: Top 5 most influential RIA figures of 2012 going into 2013.
"For all of the successes we have had in producing content and distributing it in a variety of media, David has had far greater success than mine."
To illustrate the point, Edelman notes that Bach has sold seven times the numbers of books he has, hosted many more seminars, and has been a frequent guest on prominent television programs, including over 100 appearances on NBC's Today Show alone.
Edelman says the company hasn't completely developed its media strategy now that Bach is onboard but that Bach "will occasionally be on my radio show." See: Edelman joins ranks of TV RIAs with PBS show that will reach 20 million.
But acquiring a radio show co-host is not the main purpose of the Bach deal. Edelman stresses that he has already taken some steps to assure that the firm and its radio show would roll on without him.
"My getting hit by a bus would not interfere much with the firm's ability to continue doing what it does." he says. "In addition to David, we have a number of advisors in the firm who are experienced radio and television broadcasters. Many also have done lots of seminars, and we have a complete team of 10 professionals who are full-time seminar presenters (who will do more than 1,000 seminars over the next 12 months). We also have a full writing, editing and digital team in addition to many of my 100-plus advisors who can, have and will write for our newsletter and website. So my getting hit by a bus would not interfere much with the firm's ability to continue doing what it does."
Edelman will continue to work out of his Fairfax headquarters and Bach will be based in the nation's media hub, New York. See: Why the slow-evolving metro New York area is still on course to be the capital of the RIA business.
Aside from performing his official duties as vice-chairman, Bach will spend his first summer at the company working alongside Edelman to create a road show aimed at teaching financial advisors the business side of advising.
Heir apparent?
But bringing on Bach to buttress the firm's traditional financial education work is only part of a more distant, but vital, end game: to stamp out remnants of key-man risk. Bach, 47, helps to "provide the firm with greater continuity so it's not dependent solely on me for financial education and serving as the public face of the firm. David helps to assure continuity for the organization."
With that continuity link in place, another phase of that end game plays out.
"We want to bring to the table a turnkey succession plan for retiring advisors," Edelman says. See: Encouraged by early success in New York, Edelman ramps up office openings.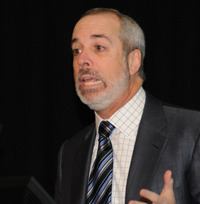 Ric Edelman: Bach needed to get
back into the advisory business —
and instead of starting his own
firm, he chose to join mine.

When asked specifically whether this deal is the foundation of a succession plan, Edelman was candid but not definitive.
"Potentially," he says. "David is eight years younger than me, so there's that possibility, which we acknowledge."
Second-generation educator
Bach's father, Martin, was an investment advisor and stockbroker who taught retirement planning classes on the side. Bach took an early interest in his dad's work and began attending those classes regularly at age nine. Three years later he was explaining to his friend's parents how to buy municipal bonds. Bach began teaching classes at Morgan Stanley on practically his first day of work there in 1993. Until 2001, he was partner at the Bach Group, a Morgan Stanley subsidiary that serves as an investment advisor for high-net-worth clients. The Bach Group is now led by David's sister Emily Bach and has $870 million under management.
"He was particularly a great choice because, unlike all the other people who write in the personal finance space, he has a background as a financial advisor," says Edelman. "He's not just a pundit writing or speaking to the masses; he has actually managed money and worked with individual consumers. And that gives him the perspective that is necessary to be able to provide effective practical advice that consumers can use and benefit from."
One million women served
Bach began his mass-market financial education career at in 1999 when he launched a "crusade" to teach personal finance to women. He published his first book, "Smart Women Finish Rich" (Crown Business) in 2002, and trained thousands of advisors over the next three years to reach his goal of providing personal financial education to one million women. See: The top 10 financial mistakes women make.
Bach left his senior vice-president position at Morgan Stanley in 2001 to focus on his growing company, FinishRich Media LLC (see his blog on the website here) and over the next 12 years he published 10 more national best-selling books, produced two television specials, hosted national radio shows, and became a frequent television guest.
In 2013, Bach took a sabbatical to spend time with his wife and kids, relax, and figure out the next stage of his life. He knew he wanted to return to advising to continue his mission of reaching hundreds of thousands, if not millions of consumers. "The most frustrating part of the last 10 years has been the number one question I get asked: 'who's a good financial advisor that I can hire?'" he said. "I have not had anywhere to send these people." See: In their own words: Five top advisors' secrets for creating stronger alliances to gain more referrals.
An e-mail, a lunch, a handshake
But as he scouted the marketplace last year, Bach realized that the national advising firm he wanted to build already existed.
Bach had been following Edelman since 1997 when they were featured in the same issue of Registered Rep magazine. When Edelman heard Bach was thinking of getting back into the advising business, he immediately shot him an e-mail. David called him back, and they agreed to meet over lunch in New York City two days later. When they met, it took only thirty minutes to realize how similar their goals were and to shake hands on a deal to join forces.
"There might be 15,000 personal finance authors out there" Edelman says. "I've read an awful lot of these books, and I hate almost all of them. They're either poorly written or the advice is horrible." Bach, on the other hand, is "a terrific writer and I agree with everything he says." See: Dan Goldie tells how his NY Times bestselling book has changed his practice, and how his co-author affected his life.
Or almost everything: Before the deal was announced, Edelman's staff combed through Bach's corpus to find any inconsistencies between their two philosophies. Across his 12 books they found just one sentence that jarred with Edelman's teachings, and the dissonance was so minor they happily dismissed it as irrelevant. (In one of his books Bach advocated the use of a bi-weekly mortgage; he has since changed his stance as interest rates have come down.)
Retirees, woman and late starters
For his part, Bach is almost giddy when he talks about his new colleague's similar philosophies. "It's almost like we were separated at birth," he says. "The stories we have are almost identical."
For now, the new partners are dividing up the financial education work to play to their respective strengths. Edelman will build on the momentum of his most recent book, "The Truth About Retirement Plans and IRAs" (Simon & Schuster 2014) to focus on the personal finances of retirees. Bach will focus on personal finance for women and expects to spend much of this summer revising some of his books for re-launch. "Smart Women Finish Rich" and "Smart Couples Finish Rich" (Crown Business 2002) will certainly be republished, he says. Bach is also pondering updates to "The Automatic Millionaire" (Crown Business 2008) and "Start Late, Finish Rich" (Crown Business 2007).
With Bach and Edelman finding each other as business soul mates, their key-man strategy has become less about risk aversion and more about seeking green pastures together.
"Reduction of key-man risk is not the primary purpose of our teaming up together," Edelman says. "Our primary purpose is to dramatically increase the growth of our firm by radically increasing the number of Americans we reach with our financial education and advice. Working together, we can reach far more people than we have been able to reach on our own. That said, there is no question that my firm has been reliant on me for generating new clients. Adding David to the firm reduces the firm's dependency on me."
---
---
---