Joan Khoury will help to transition the people taking her duties.
Brooke's Note: This article was written from a release and past articles in RIABiz. We will add more depth if and when we gain further insights through reporting.
The needs of LPL Financial's financial advisors have evolved to the point where the company is taking a number of new personnel moves that deemphasize sales and focus on service and process.
Driving home the point is that Joan Khoury, hired only in 2012, is moving on and LPL is creating and filling two new positions in her wake. LPL's chief marketing officer position held by Joan Khoury has been eliminated, and Ms. Khoury will be leaving the company at the end of August and will help transition the new team. Khoury, a former Merrill exec, replaced Ruth Papazian, who left the Boston- and San Diego-based B-D in May to spend more time with her family. See: LPL's chief marketing officer departs.
Mimi Bock was named managing director for the newly created of Client Experience and Training group. Ryan Parker was named managing director for Investment and Planning Solutions. Bock became LPL's new executive vice president of independent-advisor services in 2012 and reported to Derek Burton, managing director and national sales manager of independent-advisor services. Prior to that, managing director in the global wealth management division of Morgan Stanley Smith Barney LLC. See: What is the story with Derek Bruton's sudden LPL departure?.
Khoury was instrumental in hiring a dark horse Kansas-based marketing firm to reset brand strategy at the company. See: LPL's marketing destiny got reshaped by a dark horse in a dark room.
In-house moves
No heads were hunted in the decapitation of the marketing function. As a result of this strategic shift, most of the company's existing marketing functions and all of its training teams will transition to the new CET group. See: LPL lures top execs away from Merrill Lynch, MSSB.
LPL's release describes the moves "as part of a strategic shift in the support provided by the company's Advisor & Institution Solutions business. The promotions will enhance LPL Financial's approach to meeting evolving client needs.
"We recognize the importance of always evolving to ensure the right people and positions are in place to meet the expanding opportunities within the marketplace and enhance the client experience," said Robert Moore, president of LPL Financial, in the release. "I'm pleased that the depth of our talent allows us to fill these important roles within our new structure with leaders who already possess a personal connection to our clients and their business."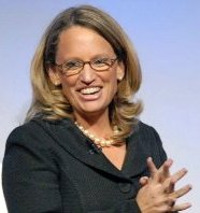 Mimi Bock is now managing director
for the newly created of Client
Experience and Training group.
The thinking behind the move is that the company needs to get its personal touch back — something that has proven challenging as the firm has grown to its giant size and asset management.
The Client Experience and Training group will include client communications and marketing support services for both independent advisors and institutions. Previously, Bock was executive vice president of Independent Advisor Services business consulting at LPL.
Ryan Parker, who previously served as executive vice president at LPL, is being promoted to managing director for Investment & Planning Solutions, which has been expanded to form a unified team comprised of advisory, investment, insurance and financial planning offerings.
Both executives will report Moore. See: What five things LPL president Robert Moore told investors that stood out for me.
"These dedicated groups will strengthen the company's ability to deliver an exceptional client experience that is smarter, simpler and more personal," said Moore in the release.
First priority
Bock spent 20 years at Morgan Stanley Smith Barney before coming to LPL. There she held a series of leadership roles in equity sales, financial advisor development, client marketing, and field management, ultimately culminating in the role of managing director of the global wealth management southeast division.
Commenting on the transition, Bock said: "In our fast changing industry, nothing is more important than making sure that LPL Financial is delivering the best possible tools, support and insights when, where and how our clients need them. I'm honored to lead a team of exceptional professionals who are 100% dedicated to delivering on that promise."
Parker joined LPL Financial last year following a career in the financial services industry, in which he held leadership positions in sales and distribution, marketing, product management, and corporate strategy. Prior to LPL Financial, he served as a managing director at Russell Investments, where he most recently led the national accounts and business development functions across the bank, broker-dealer, insurance, and RIA channels in the U.S. advisory market.
Parker also has worked at Franklin Templeton Investments and Putnam Investments.
Warm words
Moore said in the statement, "We believe that LPL Financial is poised to deliver ever greater value for our advisors and extend our leadership in the industry."
He had had a warm parting words for Khoury: "I want to recognize Joan Khoury for all her contributions to LPL Financial during the past two years, and thank her for staying on to assist in the transition, including leading us into focus14, our premier advisor conference. We wish her well in her future endeavors,"
Bruton's departure sequence did not include the same well wishes.
---
---
Mentioned in this article:
---
---
---
Stephen Winks
If LPL sticks to its new focus on client service and process it will be an absolute home run as the major firms on Wall Street have bet the farm on selling advice "PRODUCTS" and not developing the processes (asset/liabiity study, investment policy, portfolio construction, monitoring and management authenticated by statute), technology, work flow management which would make advice safe, scalable, easy to execute and manage as a high margin business at the advisor level. If LPL gives the advisor control over their value proposition, cost structure, margins and professional standing at lower cost to the consumer and higher compensation than brokers selling inferior advice products under a suitability standard, they will transform the entire industry.
This is not a marketing issue but an issue of substance requiring technical competency and advanced technology.
The biggest inhibitor to innovation in broker/dealers has been a sales culture which largely does not understand that products don't add value, it is what you do with products, or process, that adds value.
If LPL can pull this off, so that it is clear that it is clear it is not possible to add value through a series of disjointed unrelated (expensive packaged products) transactions—the consumer will finally discover advisors are the route to lower cost, better performance, accountability and responsibility for recommendations—presently not acknowledged or supported by the conventional brokerage format.
Is it possible that we actually have a firm in LPL that will support expert authenticated professional standing ?
SCW