Bill Gross: I'll say, repeat after me: Bill Gross is the kindest, bravest, warmest and most wonderful human being you've ever met in your life. Hopefully that will work. [photo credit: Jim Tweedie]
Brooke's Note: Investors are incredibly forgiving of investment performance. Consider the very existence of Wall Street and how it forever thrives. So investment managers that keep their self-esteem about them when all else are losing theirs tend to fare just fine. Bill Gross' performance on stage in Chicago today seems to call into question whether he has forgotten that he doesn't need to be perfect for people to love him — even his company slumps a bit.
Nobody is likely to forget this speech for a long time — and based on the shaking heads in the audience that may not be good.
In the face of the blinding glare of the most criticism, doubt and bad press he's experienced during his distinguished career, Bill Gross literally and figuratively donned shades as he took the podium for a 45-minute keynote speech at the Morningstar Investor's Conference in Chicago today.
In the performance before 1,900 advisors at the McCormick Place convention space, the founder and chief investment officer of Newport, Calif.-based Pacific Investment Management Co. LLC seemed, at least initially, to play into the concerns of an industry whose members had come to get a read on how he is bearing up under a torrent of reverses. See: The Grossian formula for PR: Why Bill's press is good press, even when it's bad.
'Cool-looking dude'
The legendary bond manager, still in command of more than $230 billion of fixed income assets, lost his heir apparent, Mohamed El-Erian, when the co-CIO departed PIMCO in January. That leaves Gross, 70, searching for someone of his former sidekick's stature to succeed him. See: Escaping the content bubble: How RIAs can break out of a PR slump.
And today, Gross seemed intent on calling attention to his advancing age. See: Just what damage was done — or not — by Bill Gross in his Morningstar rant
"When you're 70-years old, you need things. I put these [sunglasses] on and I thought, that's a pretty cool-looking dude. I need at least one moment to see myself on the big screen."
After a few moments, Gross dispensed with the shades, citing self-consciousness and challenged eyesight.
"I can't see my notes. I'm not really Hollywood."
The concerns about his stage behavior were tweeted heavily and earned him some unflattering headlines, including Business Insider's 'Something is weird with Bill Gross'. See: The RIABiz top 10 industry blogs — and which bloggers they recommend.
Hypnotic suggestion
Weighing on Gross was the need to answer for rare net outflows from his funds, particularly PIMCO's famed Total Return Fund, which has lost $50 billion in the past year. It all comes against the backdrop of a bond market in which investors keep a seemingly endless vigil for what many believe will be an inevitable spike in interest rates. The prospect of a spike in bonds, known as the safe asset class, puts them in the doubly detestable category of being simultaneously moribund and scary. See: Bill Gross' commentary should be taken with a bigger grain of salt in this market.
In his talk, Gross compared himself to a character in "The Manchurian Candidate," a 1959 Cold War thriller in which a Korean War POW is brainwashed by Communists. Gross jokingly said he'd like to invite reporters from The Wall Street Journal, Financial Times and Reuters to a game of Texas hold 'em. He could then hypnotize them by using the Queen of Diamonds as a trigger (in the movie, the Communists used the Queen of Diamonds to hypnotize the unfortunate prisoner).
"I'll say, repeat after me. Bill Gross is the kindest, bravest, warmest and most wonderful human being you've ever met in your life. Hopefully that will work," Gross said.
The Wall Street Journal responded to the invitation with this headline: 'Bill Gross dons shades, attempts to brainwash media'.
From Patton to Kardashian
Riding out the 20th century martial-metaphor theme, Gross then compared himself to Gen. George Patton when he was vilified for slapping a wounded soldier.
To complete the diversified portfolio of images of beleaguered characters he identifies with, Gross called himself a Wall Street version of Justin Bieber and a Kim Kardashian impersonator.
Gross expressed approval of Chicago-based Morningstar, Inc. managing director Don Phillips's complimentary introduction of him in which the fund tracker executive said no one in the industry has made as much money for investors as Gross. See: Bill Gross and Liz Ann Sonders are Dr. Gloom and Ms. (Fairly) Optimistic before Schwab IMPACT crowd.
Gross said his firm is a happy place to be. "If there's a happier kingdom to work, it may be Disneyland, but that's a fantasy. We're having a very good time and it's a very happy kingdom at Newport Beach," Gross says.
Essentially sound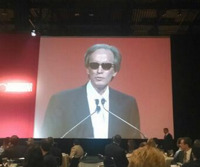 Bill Gross: We're having a very
good time and it's a very
happy kingdom at Newport Beach. [From
a Michael Kitces tweet]
While the speech may have seemed out of character for Gross, a media veteran who has been characterized as having the same gravitas as a Federal Reserve chairman, the bond investor reveals another side to his character in his lengthy blog-posts, which are intellectually stimulating and verbose.
Indeed, after Gross got the audience's attention he seemed to flip a switch and revert back to his serious investment-manager persona as he delved into facts and figures that support the prognosis that PIMCO will regain its swagger after a bad case of hiccups.
PIMCO, Gross said, is like a well-engineered Mercedes that will produce what investors are seeking. He acknowledged that the Total Return Fund has lost $50 billion in assets from a year ago, dropping from $280 billion to $230 billion, but he gave in-depth and detailed analysis about why he's confident in his firm's long-term strategy.
"It is not a compact car," he said of his fund family. "It does what a customer wants it to do — outperform with less risk on a consistent basis." See: Bill Gross wows advisors at Morningstar conference, but not with good news.
The new neutral
Gross also compared his funds to those of a PIMCO's competitor, Los Angeles-based DoubleLine Capital, saying the two firms just have different philosophies.
"[DoubleLine founder, CEO and CIO] Jeffrey Gundlach has a template. But it's a different template than us. Warren Buffet has a template too."
"The secret is patience, You [can't] over-emphasize it. A five-year vs. 30-year is a great structural template," Gross said.
Gross also said he is adding "the new neutral" (as opposed to the "new normal") to his lexicon of phrases that he believes signify the economy's state of being.
"The new neutral is the biggest and most significant element in asset pricing today or in the past," he said.
The new abnormal of Bill Gross was the chief concern of people who traveled to Chicago to hear him speak.
---
Related Moves
August 10, 2021 – 11:46 PM
---
February 28, 2020 – 11:09 PM
---
---
---
Mentioned in this article:
---
---
---
Anthonypr
Худой выездной мастер по морозильникам за день прокачает и проведет [url=http://www.xolodremont.ru]золотой ремонт холодильников[/url] стрелой в подмосковье с договором на все материалы.Прочитать и распечатать все цены вы можете у нас на сайте.
————————————
сьемный [url=http://protectline.do.am/index/8-7478]холодный ремонт холодильников[/url]
[url=http://www.ag0ny.com/user/AndrewSa/]холодный ремонт холодильников Речной Вокзал[/url]
[url=http://vsevklucheno.net/user/AndrewNada/]холодный ремонт холодильников Коломенская[/url] инструментами
вязанный [url=http://www.medprof.ru/user/2306042-michaeler/]плавкий ремонт холодильников[/url] с дарами
Dan S
Mr. Gross's behavior is not unusual at all, considering the tone and content of his blog at Pimco. Reading is beneficial after all.