Mark Casady: We are standing on the threshold of a new era.
Brooke's Note: This is RIA business done at the graduate level. Not that it was a fair fight. You have a politician known for a loose wallet (don't they all?) negotiating with a CEO known for his tight discipline. Guess which one came out with the sweet deal? Even Charlotte, which lost out here, might not come out too badly. I would imagine most Charlotte employees can make the short drive over the border no problem.
LPL Financial is taking 1,200 employees and its future growth plans out of North Carolina and conferring its resources on the prettier girl next door — South Carolina.
The Boston-, Charlotte, N.C.- and San Diego-based broker-dealer announced today that it is investing about $150 million to build a new regional headquarters in Fort Mill, S.C. and otherwise invest in the region, adding up to 2,000 employees to the area by 2022. The new LPL Financial regional headquarters will be located in Kingsley Park, immediately off Interstate 77 at exit 85 (South Carolina state highway 160).
In return for defecting to South Carolina turf, LPL gets $2 million from the state plus a program that rebates employees' state income tax to LPL, according to the Charlotte Observer. In addition, York County will cut property taxes by 50% over the next 30 years.
"We are standing on the threshold of a new era for our Charlotte-area employees," said Mark Cassidy, chairman and chief executive of LPL Financial, in today's statement.
Software hub
LPL Financial currently employs more than 1,200 Charlotte-based employees in three buildings dispersed across West Charlotte, N.C. The company planted a flag in Charlotte in 2006 when it bought UVEST Financial Services. See: LPL sees bright spots amid sideways 4Q earnings report.
Since then, the company has made it a software hub, installing ex-Dell exec Victor Fetter there. See: LPL poaches top Dell exec to rewire outsourcing and head hundreds in new technology 'town'.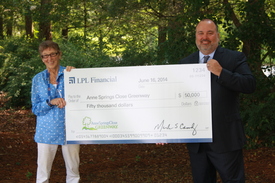 Mark Casady presents a $50,000 to
Anne Springs Close, chairwoman of the
nature preserve that will be adjacent
to LPL's new home.
LPL has 3,185 employees currently with 1,600 in the San Diego area and about 385 in Boston. None of the employees in Boston and San Diego will be moved to Charlotte, which is a hub for LPL's technology and institutional services. See: LPL Financial gets beyond the halfway-house model to compete with Schwab, Fidelity for advisors that are wholly RIAs.
Construction will begin in 2015 with completion expected in the fall of 2016, demonstrating "LPL Financial's commitment to sustainability by leveraging site features, technology and materials to minimize the impact on the environment." Planned amenities include a fitness and health center, ergonomically designed furnishings, an onsite eatery and access to commerce and outdoor spaces, including the adjacent nature preserve, the Anne Springs Close Greenway. See: What Derek Bruton's replacement may say about the departure that still has people shocked.
North vs. South
LPL's announcement was liberally sprinkled with quotes from South Carolina Gov. Nikki Haley, suggesting that the deal is the culmination of fierce cross-border business development negotiations in which LPL was able to pit the two Carolina's against each other in order to obtain the most favorable tax treatment and other economic development perks.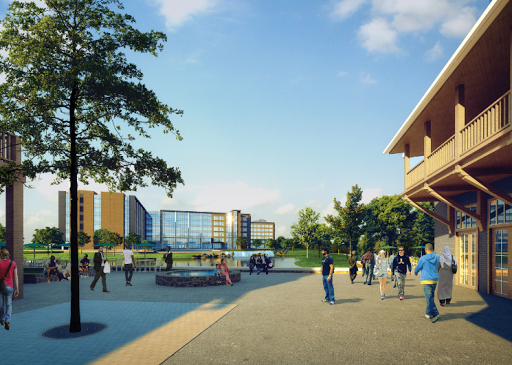 LPL campus as Silicon Valley knock-off
in artist rendering.
"LPL Financial is one of the nation's premier financial advisory firms, and we couldn't be more excited that they are choosing to grow and succeed here in South Carolina," Haley said in the release.
Fort Mill appears to be in the process of eating Charlotte's lunch. Just yesterday, The Lash Group, a healthcare consulting firm, also announced that it will move its headquarters from Charlotte for a net gain of 2,400 jobs for South Carolina. That company plans to build a 250,000-square-foot office building in Kingsley Park North, a 530-acre office park at the intersection of SC 160 and Interstate 77. The park has not been developed.
ROI in question
The irony here is that Charlotte has long served as overflow receptacle for financial services development decamping from more expensive financial centers. Fidelity Investments is in the process of a massive move out of Boston and into Charlotte real estate. See: What LPL's pick of a new CFO says about how strategic — and RIA oriented — the company plans to be.
Haley has been accused in press reports based on Pew research of throwing business development dollars around without effectively evaluating how South Carolina will get a return on its investment
Advent Software
Advent Software hits the local news in Jacksonville
---
Related Moves
August 19, 2020 – 2:18 AM
---
October 5, 2018 – 7:40 PM
---
---
Mentioned in this article:
---
---
---
Stephen Winks
Andrew Jackson would be honored with the notoriety that LPL again brings to Fort Hill where he was orphaned at 14 (and as a captured colonial courier was lashed by Sword for refusing to clean a officer's British boots.) upon the death of his parents and brothers as casualties of the revolution. Very rich history of mountain pioneers who ultimately turned the revolution at Cow Pens and Guilford Courthouse in America's favor leading to Yorktown.
The southeast is the most consumer centric, fiduciary friendly culture in the advisory services industry, a wonderful spot to build a big and successful advisory footprint of national importance.
SCW
sanjay
September 27, 2014 — 4:37 PM
Deear sir pleeej my new product CHILLY MAKKAs.
Lonchig a india pleeej finence my new
Product