Dan Arnold: Their strategy is they're a product manufacturer that is amassing distribution to complement that product manufacturing.
Brooke's Note: For years it's been LPL and then everyone else as also-ran when it comes to IBD rank as measured by a combination of assets and reps. But in a whirlwind of acquisitions, Nicholas Schorsch has taken a huge stride to close that gap. Now that Schorsch has proved that he is within spitting distance in absolute terms, the next question becomes whether his firm can also close the gap in a more important category — performance. He says yes. His doubters say no. But until now we didn't know what the party line was at LPL itself. Now we know. We are just disappointed that Schorsch himself declined to respond to this dissing of his efforts by a member of LPL upper management.
It's the kind of question that corporate executives make careers out of ducking: What do you make of the new rival firm bearing down on your rear end?
How often these C-suiters, faced with such an elemental query, make some pseudo-genteel comment about how they can't possibly speak for their competitors but that, to be sure, their company is making all the right moves.
But when that question was tossed at LPL Financial's chief financial officer Dan Arnold last Tuesday at Morgan Stanley Financial's conference, he did not demure. See: LPL gets the question from Wall Street analyst: How much more can you squeeze from your financial advisors?.
The soft-spoken Georgian who cut his teeth as an entrepreneur was ready with an answer to a Wall Street analyst who wanted to know how LPL executives viewed the fast-rising RCAP Holdings LLC, Nicholas Schorsch agglomeration of real estate investment trust maker RCS and a roll-up of independent broker-dealer. The latter consolidation of broker-dealers including what were formerly the Cetera family of IBDs, First Allied and Metlife has parked itself in second place behind LPL on the IBD list, seemingly overnight. See: Why exactly Lovell Minnick sold First Allied about five years ahead of plan.
Model throwback
Arnold characterized the New York City-based RCAP roll-up of Cetera Financial Group, MetLife Inc. and other broker-dealers as a throwback to what Wall Street regards as a largely failed business model of pushing product by purchasing the pushers. See: What the Cetera takeover means and why the non-RIA, product-through-the-pipe direction in the hands of a hard-hitter is an eyebrow raiser.
"Their strategy is they're a product manufacturer that is amassing distribution to complement that product manufacturing," Arnold said at the conference. "We've seen that many times. AIG has done that. Jackson National has done that. There are many who are no longer in that business — Pacific Life, Sun Life — who have been insurance companies that have amassed independent distribution and then sold them ultimately. Certainly, we've seen that model and construct before." See: Is Hartford Financial's market exit a death knell for the annuity crowd or just more Hartford haplessness?.
Intent to distribute
Arnold went on to say that while RCAP has been successful acquiring advisors and assets, it may yet face its day of reckoning.
"I think making the acquisitions is one step. The much harder and just as expensive part is ultimately integrating those together because distribution is not easy and is complex. And if you are really going to pull through synergies, you've got to invest to pull those platforms together which can be disruptive on the advisors and the end investors etc."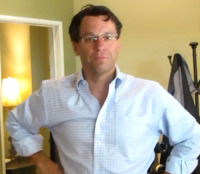 Chip Roame: They still have small
shares of the entire FA market
so both can win.
Allowing that "they've certainly have amassed some broker-dealers," Arnold added: "I think there's a lot of work in front of them as well to finish that strategy." See: Nicholas Schorsch invites 500 reps to NYC to kick off a 25-city barnstorming tour aimed at easing fears.
RIABiz reached out to Schorsch on Wednesday and was told he would respond. We will add those comments as we receive them.
Smart strategy
The strategy of buying acquiring and assembling multiple IBDs, which other insurance companies have done, seems to be a valid strategy, says Charles "Chip" Roame, managing partner of Tiburon Strategic Advisors in Tiburon, Calif.
He adds that LPL itself has acquired a number of IBDs in its path to greatness, including MSW Financial Partners of Boston, Associated Financial Group based in Minnetonka, Minn., and others. See: What LPL's recruitment of a $2-billion beehive of NPC advisors says about its new sweet spot in the industry.
It seems that RCAP is downplaying its product distribution strategy, Roame adds. "And, a firm in one's general business market with substantial resources must be a threat in some ways to LPL here. I think how much of a threat depends on one's lens."
Stacking the two companies side by side, Boston-, Charlotte, N.C.-, and San Diego-based LPL has more than 12,000 advisors and RCAP is now at 9,000 making these two companies with huge groups of financial advisors.
"Some financial advisors will move back and forth between the firms. But they still have small shares of the entire FA market so both can win," says Roame.
He also predicts more big news from both companies. "I don't think RCAP is done yet. My guess is more announcements to come. LPL is a great firm. Its strategy has been successful. Its really evolving to more to look like a custodian."
REIT stuff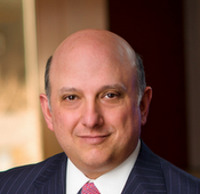 Nicholas Schorsch doesn't want to put
all his eggs in one REIT
basket.
As a maker of REITs, RCAP is all the more determined to build its IBD network as an open architecture distribution network, Schorsch has said. He doesn't want to put all his eggs in the REIT basket. See: One-Man Think Tank: Inside the due diligence that uncovered serious questions about a REIT.
Technology integration
Before the fateful question was posed by the Morgan Stanley analyst at Tuesday's event, Arnold carefully laid out LPL's advantages in the marketplace, many of which revolved around scale and positioning.
LPL has about 13,500 affiliated advisors and Cetera has about 9,000. He said the average wirehouse broker makes a payout of 40% to 45% whereas an LPL rep makes as much as an 87% payout, which nets out as high as 65% after expenses.
But Arnold also portrayed his company's ability to integrate technologies is a major advantage. For example, it's self-clearing has enabled a melding of technologies. See: LPL to Wall Street types: We're in phase three.
Additionally Arnold mentioned LPL's hybrid RIA platform where, Arnold said, nearly $70 billion of fee and brokerage assets live together. "That's a our fastest-growing business line." See: 5 Reasons why the hybrid RIA model may be a bigger deal than ever.
Turnover clues
If the pace of hirings and firings are any measure, LPL and RCAP are competing with each other with a sense of urgency. See: Why exactly Valerie Brown is out of a job at Cetera — and Larry Roth is in..
Most recently at RCAP, Schorsch parted ways with Valerie Brown and promoted Erinn Ford as president. Schorsch said that Cetera now has 9,000 advisors, up from some 6,000 a year ago, thanks to his buying spree. See: How Erinn Ford feels about life under Nicolas Schorsch as she takes the helm at Cetera's most RIA custody-like arm.
Brown's departure was preceded by that of Derek Bruton. See: What Derek Bruton's replacement may say about the departure that still has people shocked.
---
Related Moves
August 19, 2020 – 2:18 AM
---
September 10, 2019 – 10:52 PM
---
October 5, 2018 – 7:40 PM
---
---
Mentioned in this article:
---
---
---
Stephen Winks
The independent b/d model has no control over their brokers each of which is a free agent, thus the competitive market stature of each IB/D is determined by how enticing its service offering is structured. Giving brokers control over their value proposition, cost structure, margins and professional standing at lower cost to the consumer but higher compensation to the advisor than brokers selling expensive advice products (inconsistent with ongoing fiduciary duty) is the holy grail. This requires a degree of technical competency not present in any existent brokerage format as it requires accountability and ongoing responsibility not recognized by FINRA.
Thus LPL as a custodian may actually have a broader platform than any IB/D as it can deal with all a client's assets as required for continuous comprehensive counsel.. The challenge to LPL will not be IB/Ds but from Advice Products emerging as Custodians like EnvestNet that are close to being in the advice business. B/ds actually have to be in the advice business and be accountable for all broker recommendations and fulfill their ongoing fiduciary duties to each and every client—something broker/dealers have never acknowledged or supported. Envestnet will have channel conflict between broker/dealers who use their advice products and brokers of those broker/dealers who actually want to fulfill their duty through EnvestNet as a custodian which is not possible with their broker/dealer.
Thus, custodians like Pershing have an edge over any b/d or advice product that cannot provide the advisor control over their value proposition, cost structure, margins and professional standing? By making advice safe (through an expert authenticated prudent investment process), scalable, easy to execute and manage as a high margin business at the advisor level, Pershing and other like-minded custodians can literally outdate the old commission brokerage model delivering an unprecedented level of counsel at a lower cost to the consumer while better compensating the advisor than brokers selling inferior advice products.
January 15th 2015, the entire industry will be operating under entirely new rules. Accountability and responsibility are required as a condition of doing business and the old brokerage business model and expensive packaged products will have to be reconciled with the best interest of the investing public. Everything changes, and nothing will be the same. The industry has had five years to prepare, much of which has been wasted in delaying tactics with little effort to actually support the trust of the investing public. Leadership has been meek or non-existent. Advice product vendors, IB/Ds and custodians need to get busy, trade associations must be prepared to raise their standards, and regulators must accept their duty to protect public trust.
SCW