News, Vision & Voice for the Advisory Community
Paul Tramontano and Ric Edelman topped a bill that offered a barn-burning tax talk from Kitces
May 9, 2014 — 4:19 AM UTC by Sanders Wommack
Brooke's Note: A national conference does not depend on how two or three days of programming goes. There can be a takeaway moment — just the right person handing you their card or a 90-minute session that emblazons itself onto your muscle memory as a financial advisor. For my money, this RIA session at IMCA this week with Edelman, Tramontano (and Madoff) was the one that delivered on that tattooing for many people and Sanders Wommack captures it more than a little artfully. But read on, too, because he found much more to like and report on in Boston.
"I probably shouldn't tell this story…" began a sincerely reluctant Paul Tramontano.
But it was too late.
Goaded by the moderator, and feeling pressure from a curious audience, the chief executive of Constellation Wealth Advisors LLC, which manages $5 billion of assets, related his only professional interaction with Bernie Madoff's firm. See: Constellation Wealth Advisors nabs a major rainmaker.
Long before Madoff turned himself in, Tramontano was advising a client who happened to hold some money with the notorious financier. As part of a strategic review, the client brought him statements from all his accounts. While looking at a few of the index trades Madoff had claimed to make, Tramontano noticed that the prices quoted for the trades weren't even in the index's historical price range. He had a conversation about this with the client, and they ended up closing the account with Madoff. See: What Bernie Madoff might have been thinking.
In this light, Tramontano said, it isn't hard to see why the SEC felt humiliated by missing the Ponzi scheme. "I found it and I wasn't even looking for it!" he exclaimed.
In an interview subsequent to his talk, Tramontono added that the effect of Madoff's transgressions have "definitely changed" the way the SEC looks at small firms, and that the net effect is positive for the industry. "This will help the agency conduct their audits in different ways and while this may be more difficult for small firms like ours, it actually helps the entire industry. In the long run this is good for all of us."
Still, Tramontono allowed during the IMCA talk that the cost and stress that advisors experience in the intensified SEC process can be "shocking."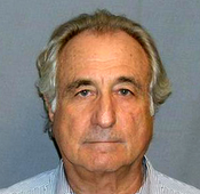 Paul Tramontano described how he warned
a client away from Ponzi king
Bernie Madoff.
Barron's approved
Tramontano made these remarks while speaking at last week's Investment Management Consultants Association conference in Boston along with Ric Edelman as part of a super-session called "Turning Points and Breakthroughs: A Conversation with Two Barron's-Ranked Advisors."
Moderator Matt Barthel of Barron's began the conversation by noting the contrast in styles each advisor exhibited, and, indeed, you'd be hard pressed to find a larger difference between any two financial advising firms in the country. The New York- and Menlo Park-based multifamily office of Constellation has a $10 million dollar account minimum and just fewer than 200 clients, while the mass-affluent oriented Edelman Financial Services advises 24,000 clients and has an industry low $5,000 account minimum. See: Ric Edelman tells how he succeeds in advice's Death Valley — online investing.
No eyebrows were raised, therefore, when Edelman had a different slant about the biggest change he had seen since 2008.
"The tenor of the conversation has changed" he said. "Never before was there such an overlay of public policy on discussions of personal finance."
Meaning, Edelman explained, that a lot of anger created by the recession has been channeled through politics.
"Investing is now all about public policy — whether you're red or you're blue."
Bends in the road
Aside from the conspicuous successes of their respective firms (Edelman manages $12 billion), a few other similarities between the two founders emerged during the session.
There's the evident passion for the business and a desire to obtain the best results for their clients. And both can point to transformative moments where they realized that the financial advising industry was broken, and that they could do better.
While working at Citi in 2004, Tramontano discovered an interesting and lucrative investment opportunity in Japan. After submitting the proposal to Citi for approval, it took 19 months get the green light.
"By that time, I realized that the goals of my clients and my firm had diverged," he said. See: In their own words: Five top advisors' secrets for creating stronger alliances to gain more referrals.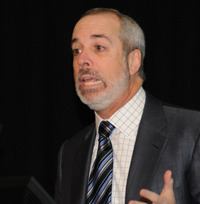 Ric Edelman: What got us here
isn't going to get us there.

In 1987, Edelman, then a young financial reporter, decided to get into the advising business after being advised to lie on his mortgage application.
"I thought if people were making a lot of money giving bad advice, how much money could I make giving good advice?"
Eternal disruption
And it seems neither is content to run a passive, conservative business. Both are constantly changing and evolving their organizations.
"Whenever we have a process or a system going exactly the way we want it, I tell my staff to break it and rebuild it," said Tramontano. This, he said, was the key to consistently keep ahead of the curve.
Edelman, for his part, has taken his business from humble beginnings at local PTA meetings, to a radio show, a PBS television show, an online advice service, and 35 offices with 400 employees and 100 advisors. He's not slowing down either. He plans on adding another 75 to 100 staff this year including another 20 to 30 advisors. See: Radio-star RIAs drive giant growth at national chains one $400,000 investor at a time.
And nothing got Edelman talking more than the subject of innovation the future will bring. He held the floor for five minutes straight talking about what fantastic things we'd see in the century to come, and how the advising business would have to adapt.
"What got us here isn't going to get us there," he summed up. See: The 6 biggest trends affecting the RIA business.
Extreme motivation
David Richman, national director of the Eaton Vance Advisor Institute, led a true classic of the conference seminar genre in ballroom C during the mid-morning sessions. He guided the audience through the 10 attributes of top advisors in a high-energy, be-all-you-can-be sermon. There was call and response, multiple role-playing scenarios with your nearest seat mate and a martial arts demonstration with an audience member—all before Richman had even gotten to his second point.
It was an impressive, powerful "come to Jesus" (and, while you're at it, Eaton Vance) talk from a seasoned professional, and it was perfectly pitched to contrast with the rest of IMCA program.
On the other side of the wall, the global strategist of BlackRock's multi-asset group was breaking down the world economy and describing some of the best opportunities (the Japanese equity market with a currency hedge, in case you were interested). But hardly a word about economics made it into Richman's talk.
The general theme that emerged was that the best advisors have a superlative sense of empathy. They understand their clients on a more fundamental level than dollars and cents. See: Fidelity's new research unlocks women by fixating on — men — but elicits an 'ahem' from a big RIA client.
Kitces stops the show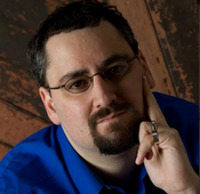 Michael Kitces wowed the audiences on
the usually dry-as-dust topic of
tax planning.
Anyone attending the session "Cutting-Edge Tax Planning Developments and Opportunities" hoping for a post-lunch snooze didn't know the speaker. Michael Kitces gave an overview of the tax code after the American Taxpayer Relief Act of 2012 and blew away the crowd.
Kitces explained that while the tax code is preposterously complex and arbitrary, if an advisor can get a handle on it and manage investments as tax-efficiently as possible, they can bring real value to their clients. Fortunately, this depends solely on understanding the rules of the tax system, something that is far easier to master than understanding where the market is headed. To this end, he brought up on screen a chart he had created representing the U.S. tax code in as simplified a format as possible. See: Talking taxes: Why advisors need two approaches to shatter two counterproductive client attitudes.
"Print this off and bring this to your meetings with clients," he said. "Tell them 'this is why you need me.'" (Ed. note: You can find the chart here)
Kitces was practically mobbed at the end of his talk. Conference organizers had to step in and pull him back for his next presentation, an analysis of equity allocation for retirees.
Beware regulators bearing PowerPoints
"The New Normal in Regulatory Reform" may have been billed as a "hot topic" on the schedule, but conference-goers seemed happy to pass by. Those that did attend acted like they were at Roald Dahl's witches convention — all of the seats in the back of the hall filled up first. They were apparently eager to keep their distance from the three FINRA, SIFMA, and ex-SEC lawyers on the panel. See: Testy words pass between advisors and regulatory panelists at MarketCounsel conference.
It was a cordial atmosphere. Rather than duking it out right there on the panel, the lawyers were more interested in giving an academic outline of regulation history. This account is probably familiar to advisors by now: Section 9.13 of Dodd-Frank authorizes the SEC to create a uniform fiduciary standard, and a study by that department in January 2011 recommended it do so. See: How Barney Frank and Chris Dodd surprised me after I got them aside for one-on-one chats.
But four years into the law nothing has happened, and nothing more is expected to happen at least until the Department of Labor finalizes its own fiduciary reforms for ERISA later this year.
A few reforms short of a rule
Would such rule-making finally come in 2014?
"If you had asked me six months ago I would have said 'no,'" argued Ira Hammerman of SIFMA. Lately, however, it sounds to him like SIFMA chairwoman Mary Jo White is trying to call the question. At the same time, Hammerman has the impression that she's asking SEC staff for suggestions of fiduciary reforms that fall short of rule-making. See: After starring in New Yorker article, Mary Jo White holds SIFMA event spellbound and 'no-admit, no-deny' is still in play.
Former SEC associate director of the Division of Investment Management Robert Plaze had a slightly more pessimistic impression. He said the two sides are too far apart for a major action. The last thing Commissioner White wants, Hammerman observed, is a 3-to-2 split-committee vote with two very angry dissenters.
---
---
Share your thoughts and opinions with the author or other readers.
Tyler said:
May 9, 2014 — 7:05 AM UTC
How might one obtain this Kitces one-sheet tax arbitrage stunner?
Bill Winterberg said:
May 9, 2014 — 1:42 PM UTC
I believe this slide on Michael's website is the one that lists all the tax code brackets and phaseouts:
http://www.kitces.com/marginal-tax-rates-chart-for-2014/
Dina Hampton said:
May 9, 2014 — 1:51 PM UTC
Thanks, Bill! I've added the link in the body of the text as well.
Jeff Spears said:
May 9, 2014 — 7:55 PM UTC
Have you noticed how many advisors make the claim that they avoided Madoff?
Maybe the 4,800 Madoff clients should have hired an advisor….
---
---