Eric Clarke rolls the API dice by posting Orion software's code online
By putting 50,000 lines of code all on GitHub, the Orion exec risks giant intellectual capital giveaway -- but the upside is tremendous, observers say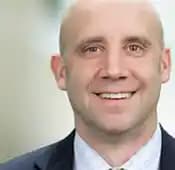 Eric Clarke: It's an open source thought process that will have some calling us crazy.
---
---
Mentioned in this article:
MoneyGuidePro
Financial Planning Software
Top Executive: Bob Curtis
Riskalyze
Tech: Other
Top Executive: Aaron Klein
---
---
---
Terence Hong
As an engineer, I've always admired Eric's open-mindedness when it comes to focussing on core competencies. He's taken this to another level by creating a public API. I think that software providers in this industry should embrace this attitude, which has proven to be tremendously beneficial for web-related technologies.
This essentially means saying, "I am not as good as you at doing X, but we are the best at doing Y. Therefore, if you do X, and I do Y, we will all be better for it."
Non-technical, business types should take this as meaning, "We can focus on what we do best, and spend less R&D money on trying to do what someone else has already perfected."
As you can imagine, recreating your own version of Facebook or LinkedIn merely to provide social capabilities would be utterly pointless.