News, Vision & Voice for the Advisory Community
The RIA custodians combined had at least 35 people there in the booths
May 8, 2014 — 2:42 PM UTC by Kelly Newsome
Can the old ING tiger change its orange stripes with a trip to IMCA?
Technically no, considering it is still very tiger orange in hue. But the New York-based company that manages $500 billion of assets got its first big test the past few days at the Investment Management Consultants Association conference in Boston as it launched under its new name, Voya. It sounds like Goya but does not sell canned Spanish food. See: One-on-one with Ian MacKenzie: How IMCA makes hay by letting the RIA and wirehouse channels fall where they may.
It's supposed to be shorthand for "voyage" — something that connotes forward momentum — and a big upgrade from ING, which is an acronym for who knows what. See: Cetera raises its strategic profile to 'baby LPL' status with MetLife deal.
How did "voyage" chopped in half go over among this sophisticated and fiercely independent crowd of potential RIA clients?
"As with any change, it has generated conversations," deadpans John Aguilar head of intermediary marketing for Voya in a follow-up e-mail. "From our perspective [it's] a great opportunity to reinforce our brand promise: To be a reliable partner, committed to reliable investing."
Get if for you wholesale
Voya investment management, formerly ING U.S. Investment management, launched May 1. Voya has strong ties to IMCA and is in its third year as a platinum sponsor. One reason to be platinum sponsor, says Aguilar, is that its wholesaling force has members with CIMA designation one of the top five of wholesalers with CIMA. See: 10 fund wholesalers and executives offer views about how they seek to add value for RIAs.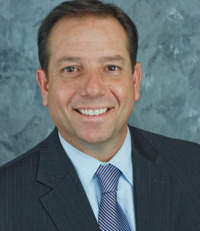 John Aguilar: As with any change,
it has generated conversations.
"Through August of this year we are focused on introducing our Voya to the market," Aguilar continues in the e-mail. "Beginning in the fall our advertising will focus on the ways in which Voya Financial can help Financial Intermediaries meet the needs of their clients."
Voya execs like Aguilar likes the IMCA members and event audience because it is comprised higher caliber advisors (both wirehouse and independent) portion of sales force is dedicated to private wealth and it seemed to be getting strong booth presence. A lot of Voya CIMA designees are getting their CE credits in Boston. See: Financial service companies serve up big sponsorships at the US Open.
In search of IAs
But though asset managers were clearly pressing their case throughout the event to financial advisors, I also had my RIA radar up for signs of big players marketing directly to them.
One gold sponsor is a fast-arriving presence on the RIA side. Raymond James sent none other than Michael Di Girolamo, managing director up from St, Petersburg. RayJay has sponsored IMCA's event for 10 years and has four people at the conference from corporate headquarters who are regionally located and are all business development associates, including Glenn Flego, regional director for the Northeast for investment advisors division which is the RIA custodial channel for Raymond James. See: Raymond James launches a separate RIA unit and appoints a former Merrill Lynch breakaway to head it.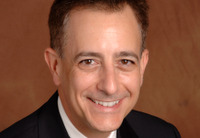 Michael Di Girolamo: All the advisors
here are some of the best
in the business.
"We have a fantastic relationship because of their educational content," Di Girolamo says from a striking wide double booth- across the back of the exhibit hall, strategically, placed just behind the IMCA booth.
Vow of silence
Bigger still was TD Ameritrade, a platinum sponsor occupying a large open square space along the left wall attended by eight people at their booth. Unfortunately, these people were not allowed to comment with media. TD recently ended a big sponsorship relationship with the FPA. See: The FPA is now brought to you by MetLife, for better or worse.
Fidelity Investments went biggest among custodians with large acreage on the floor and a veritable army of staff.
"IMCA is a fantastic organization with a growing membership base," said Ross Ozer, chief marketing officer at Fidelity Institutional Wealth Services. "We've been a sponsor for several years and we're happy to have a presence here. The conference is in Boston this year – our backyard – so we have over 20 people from different groups across the firm attending."
All the rage
There were also notable but little-known first-time IMCA booth-renters like 10 year-old RAGE Frameworks with a double booth and four people attending. They apply the technology to investment performance reporting particular emphasis on assets held away— a lot of variability in that process in the way custodians report and deliver data the way advisors, says Jim DeWaele, RAGE senior vice president, business development.
RAGE is used by all the major wirehouses. Supporting all the markets and all the clients in the market. RAGE will allow RIAS to consult with them through all the complexity. RAGE provides, DeWaele adds, the ability to extract data from a piece of paper (a statement) if they can't get the information from an electronic feed.
Tech hub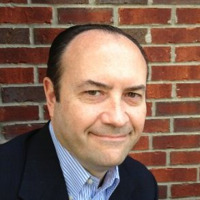 Randy Mitterling is compliance officer at
FNEX, which is targeting RIAs and
family offices by partnering with alternatives
custodians.
There were also some veritable start-ups sponsoring the event, including Indianapolis-based FNEX, represented by Carissa Newton, chief marketing officer and Randy Mitterling, chief compliance officer.
FNEX is targeting RIAs and family offices by partnering with alternative asset custodians to sell hedge funds, managed futures, private placements and private funds. Membership is free. They are specializing more in emerging managers and the middle market.
A familiar technology name was MoneyGuidePro repped by Neil Wert, account executive, and his company is a bronze sponsor at the event. It have sponsored this IMCA conference the last three years and has noticed several of its current clients attending the events. With IMCAs reach to RIAs, it is a great way to reach RIAs, Wert adds.
"We've seen our current users introducing us to their peers at the event."
Russell spreads out
Clients are talking about their upcoming integration with Yodlee, which was originally the data aggregation for Mint. This Yodlee deal is huge for their client portal initiatives. It gives the advisor more complete picture to offer advise and manage those assets. Also coming out with more tools for their clients' hands—retirement calculator and a college calculator. See: How one 'robo-advisor' got $25 billion on its platform with a Mint.com mindset, 401(k) friendliness, a merger and 16 years of work.
A newer sponsor with an old name Russell Indexes by Russell Investments put three people at the booth including Elizabeth Zeller Montgomery, intermediary marketing manager Indexes and David Koenig, investment strategist indexes.
In its second year sponsoring IMCA and one of the newer conferences for index business within Russell. — it is sponsoring because of IMCAs broadened reach to RIAs. Russell has long list background—Russell indexes 30 anniversary this year. But it's making additional efforts to reach out to advisors more directly in recent years. Creating materials for financial advisors. New websites. Methodologymatters.com was created to offer materials for financial advisors. They have enhanced their efforts by reaching out to educate advisors on indexing how to use Russell indexes to build better portfolios. See: How Russell is faring since joining the competitive ETF party with an all-star ex-Barclays crew.
Free headshots
Justin Angelson, vice president of business development for Alta Street, was one of three people at booth and a bronze, first-time IMCA sponsor. Alta does web design and web marketing. There are no other sponsors at IMCA that do what it does. Many firms like Alta Street don't focus on this vertical — its decision to be here based on attendees. The business started in 1998 and since 2006 it has started to focus on financial services.
Another giant platinum sponsor was Nationwide, repped by Kelly Moore, channel marketing director. Nationwide had done a much smaller sponsorship in the past but wants to build mutual fund and retirement brand business. IMCA provided a opportunity to connect with sophisticated advisors working within high net worth area. "Most people think of nationwide as auto insurance," Moore says. Nationwide distinguished itself by doing professional head shots at booth. Also gave away a wooden speaker amplifier for iPhone. See: Why brokers from Nationwide, LPL, Merrill Lynch and others are giving RIAs a cut of their 401(k) action.
Oppenheimer Funds is exhibiting at the conference this year after a hiatus of many years. The reason is the profile of the attendees has changed in the interim. Years ago it was heavily focused on wirehouses and separately managed accounts, according to Mike Sussman, vice president RIA channel, accompanied by Kevin Healy strategic account manager at its booth. See: An advertiser's-eye view of TD Ameritrade's cram-packed RIA conference.
Now IMCA is putting on a much more broad based event and their are many more RIAs attending — namely dually registered and unaffiliated RIAs. The product set is much more diverse with mutual funds, ETFs and other products other than separate accounts.
Kelly Newsome is principal of ConnectRoot, which sells advertising for RIABiz.com and occasionally gets pressed into writing for same. She can be reached at KellyN@RIABiz.com
---
Mentioned in this article:
---
---
Share your thoughts and opinions with the author or other readers.
---