David Butler: We don't talk much about the performance of funds. We talk a lot more about the theory of the investment process.
Brooke's Note: Whenever I invest through a mutual fund that has a track record of success the gnawing question in the back of my mind is: Were they lucky or good. With that in mind, I don't want to know how a manager achieved its results. But I am interested in how the manager thinks and researches. If it sounds like an intelligent, disciplined, tough-to-copy, but easy-for-my-manager-to-replicate process then I'm intrigued. To some extent I think everybody thinks that way — and particularly the people at RIAs who pick fund managers for clients. So it is no surprise to me that the best wholesalers are able to talk to RIAs consistently and articulately about the investing process used by their research and portfolio management teams. RIAs are, if nothing else, selling a process and if fund managers can add value to that effort at perfecting their processes then…voila!
Cogent Reports has come out with a list of mutual fund companies with wholesalers who are getting past the gatekeepers and straight into the RIA inner sanctum.
Among the 206 RIAs surveyed by the research firm, Dimensional Fund Advisors is the clear leader for in-person meetings with RIAs. In fact, 13% of RIAs surveyed had in-person meetings with wholesalers of the Austin, Texas-based fund giant in the first quarter. In second place is PIMCO, with 12%. Boston-based Fidelity Investments and Malvern. Pa.-based Vanguard Group each garnered 8%. New York-based BlackRock came in fourth at 6%. See: How Fidelity is locking arms with BlackRock and appealing to RIAs to fend off a Schwab ETF threat.
Meanwhile, wholesalers for BlackRock and Franklin Templeton Investments of San Mateo, Calif. top the list as favorites across all advisory channels in the survey that canvassed 1,410 advisors online in April regarding their first-quarter visits with wholesalers. See: Why PIMCO's brand is most sterling and Powershares, Vanguard and ProShares are fast-gaining.
Drilling down even further to examine those RIAs who manage $100 million or more in assets, researchers discovered that a higher percentage of these larger RIAs are accepting visits from wholesalers. Among the sample size, 41%, or 84 RIA firms, managed $100 million or more in assets. Of these larger RIAs, 22% of these firms received visits from DFA wholesalers in a three-month period ended in April. PIMCO came in second on the list with 18%. Goldman Sachs and BlackRock both tied for third with 13%. Vanguard came in fourth at 12%.
Targeted impact
DFA has a strong-but-small following of RIAs who like the company so much they'll happily take meeting with wholesalers. See: Dimensional's co-CEO tells clients at Monterey event that DFA is changing its Classic-Coke intellectual fund recipe.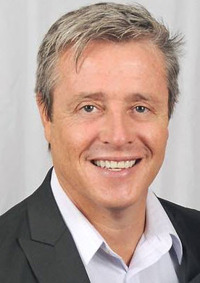 John Meunier: DFA doesn't have a
very big reach, but that is
also intentional.
Of the RIA sampling, one in four, or nearly 25%, are clients of DFA and of those RIAs who work with DFA, roughly half of them saw a DFA wholesaler in the first quarter.
But advisors in RIAs that aren't DFA clients also agreed to meet a DFA wholesaler in the first quarter, according to Cogent Reports data. In fact, 13% of RIAs who aren't DFA clients said they saw a DFA wholesaler in that period, the data shows.
That percentage is pretty impressive, says John Meunier, managing director of Cogent Reports, which is part of Market Strategies International. Market Strategies is based in Michigan and Cogent Reports is based in Cambridge, Mass.
"DFA has very targeted activities and that's their strategy. They're not trying to be Franklin Templeton and reach every advisor in the universe. They're looking at a very targeted approach. DFA has a very successful wholesale program," he says. "They make our list as one of the firms that have a big impact, but they don't have a very big reach, but that is also intentional."
For instance, 58% of RIAs who saw a DFA wholesaler said DFA made a positive impact on their likelihood to invest in the future. That is above average in the industry among wholesalers: Forty-four percent of advisors say a wholesaler's visit impacted their likelihood to invest in the future. See: How RIAs are forcing mutual fund wholesalers to lead or get out of the way.
Information, please
PIMCO also has a strong following among RIAs, the survey found.
"RIAs love and respect PIMCO," Meunier says.
RIAs tend to have a negative impression of wholesalers, Meunier says. "We see for the most part that RIAs are loath to see a wholesaler," Meunier says.
The key ingredient to persuading an RIA to visit with a wholesaler is to lose anything that smells like a sales tactic, Meunier says. "They'd rather not see a wholesaler who is essentially a salesperson. They want to see a technical person or a specialist. They want to understand the philosophies behind the products. They want to really kick the tires. Wholesalers who are capable of that type of expertise are few and far between. Believe me they do exist."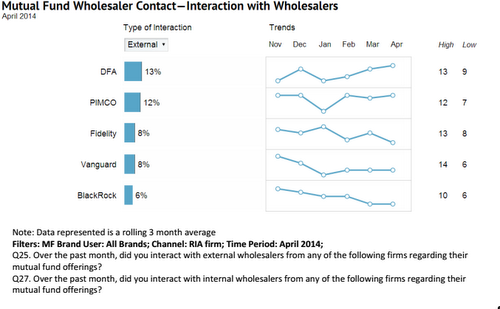 Cogent's list of top wholesalers among
RIAs
Warm calling
DFA takes the standard wholesaler approach used by many mutual fund firms and turns it on its head, says David Butler, head of the firm's global financial advisor services. DFA has just about 47 wholesalers whom they call regional directors. Most RIAs they visit are already clients or have been referred to them. It's very rare for a staffer to make a cold call, Butler says. See: A veteran DFA exec tells what enduring RIA success is made of — and why the next-gen advisors will not disappoint.
"It's a very different approach. It's methodical and collaborative," Butler says. "We're not trying to make a certain number of calls or visits. Most of our interactions are warm leads where someone has suggested we reach out to a certain advisor. Usually, the advisor has read about us or heard of us. We don't talk much about the performance of funds. We talk a lot more about the theory of the investment process."
DFA works with about 1,500 RIAs and the firm managed $365 billion as of March 31. Of that amount, $208 billion came globally from advisors. See: Dimensional's co-CEO tells clients at Monterey event that DFA is changing its Classic-Coke intellectual fund recipe.
Beyond performance
"We want to be there to meet with advisors to help them grow their business," says Butler. "We position ourselves to be consultants to the businesses. We've gained their trust and we can help them build their business and obviously we want to grow our business too," Butler says. See: DFA takes on life cycle funds by putting an alternative offering in the hands of 401(k)-minded advisors.

Top wholesalers among all channels of
advisors
The biggest challenge, Butler says, is ensuring the RIAs and DFA share the same approach. "If we chat with an advisor and we think there's a comfort level on capital markets side, we want to pursue that relationship. We don't spend a lot of time running around trying get as many clients as we can. We want to make sure we're able to work closely with that advisor. We take a very narrow and deep approach."
It's important that the firm offers input and help to RIAs rather than simply having a discussion about performance. "There's always something there that allows us to go beyond the performance of the funds. We don't talk much about performance of funds. We talk more about theory," Butler says.
Good to see you?
Terrence Morgan, of OK401k.Inc. in Oklahoma City, counts himself as that rare breed of advisor — one who puts out the welcome mat for wholesalers.
"Isn't it funny that someone likes talking to wholesalers? It's almost like someone liking to talk to telemarketers. But I look at wholesalers as a tremendous source of intelligence and a tremendous source on what they see working out there.
That doesn't mean Morgan is willing to talk to every wholesaler.
"I get nervous about the new ones who were just hired and have no experience. They've got to make a living, but I'm nervous about them. The experienced wholesalers are gold to me because they can really help you out." See: 10 fund wholesalers and executives offer views about how they seek to add value for RIAs.
Morgan says he meets about one wholesaler each week. They tell him about new pricing changes or new policies that could sway him to make a change.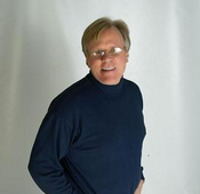 Terrence Morgan: I don't want
to know the hot fund. I
want to know what's new in
the industry.
"Every three or four years, you've got a pricing change in the 401(k) industry. All of a sudden, the vendor who was hustling to get business is fat and happy and not interested. But all of a sudden a new vendor may be looking very good and added a lot of business recently and you need them to keep you up-to-date." See: Why RIAs would rather go to Twitter than talk to a wholesaler.
Grapevine tidbits
Morgan has gleaned valuable information from wholesalers. It was from a wholesaler that he learned that Fidelity had decided to work more closely with RIAs and no longer compete with them. See: Fidelity Investments recognizes power of RIAs in 401(k) market and has increased efforts to work with advisors.
Recently, Morgan sees wholesale vendors only pitching to advisors who are specific to certain areas. For instance, he says the wholesalers who come to him are retirement specialists. Morgan focuses on 401(k) plans working with mostly Oklahoma-based employers whose 401(k) plans manage less than $15 million in assets. See: Cerulli: RIAs and hybrid RIAs make giant advances on banks and wirehouses in the 401(k) race.
"If they're a fund guy I put on my screening tool because I don't want to talk to the fund guys. I want to talk to the retirement guys. I don't want to know the hot fund. I want to know what's new in the industry. Quite frankly, I'm looking preferably for 401(k) wholesalers who are specialists and know what is going on in the industry and see breadth and trends of what is happening in the industry and I can use them as a resource."
---
Related Moves
August 10, 2021 – 11:46 PM
---
November 12, 2020 – 4:43 AM
---
---
---