Pat Allen: You stand to gain minutes if not hours back in your day by checking RSS out.
Brooke's Note: For the most part I try not to lead a life distracted by social media issues and other web ideas that sometimes sounds more like sorcery than substance. But when Pat Allen speaks, I listen, at least with one ear. She is fully versed in both marketing and the asset management industry. She is the reason I now tweet after years of barely doing so. Allen is a big contributing reason that RIABiz has such an organic strategy for growth. She openly and usefully abuses me for my social media recalcitrance. It's all in action here.
I remember exactly the day and where I was when I first learned about what that orange icon on websites stood for. OMG! (Sorry, Brooke, I'm guessing you probably despise texting shorthand right along with your disdain for social media.)
The fact that I could click on the icon, add it to a reader, and never have to worry about missing an update again came close to blowing my mind. While managing to keep it together, I had two thoughts:
1. My life has been changed forever (and it was).
2. Why didn't anybody tell me about this earlier? See: How one RIA is running his practice on a Mac and finding it totally doable.
RSS revelation
There's a minor data point in the recently released American Century Investments research on social media that would have us believe that 98% of advisors have yet to be awakened to RSS. That cannot stand—not when you consider the other findings: that 28% of advisors are using social media to read expert commentary and insights and 16% are using it to monitor industry and market news. See: 6 ways that RIAs can hone their expertise in social media by acting more like journalists.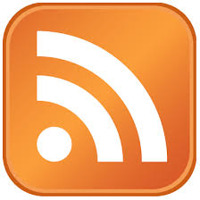 RSS logo
RSS continues to be the most efficient, most accessible way to stay on top of everything you care about. Whether you're using social media or not, you stand to gain minutes — if not hours — back in your day by checking RSS out.
Push-me-pull-you
RSS—short for Really Simple Syndication—is an admittedly technical name for a means by which website publishers and bloggers enable readers to subscribe to their content updates.
As RSS subscribers, advisors can add all of their RSS feeds to an RSS reader, enabling them to collect and monitor all their favorite content in one place. The website or blog that offers RSS acknowledges that while it will pull readers to its site occasionally, pushing all new content to them via RSS will help assure it builds a loyal, attentive following. See: The RIABiz top 10 industry blogs — and which bloggers they recommend.
In addition to the instructional videos you can find on YouTube, there are at least two fund companies whose websites offer RSS tutorials: What is RSS Anyway? on Putnam Investments' AdvisorTech Tips blog and, a little older but still good, a video entitled Make the Most of RSS on Ridgeworth's Efficient Advisor site.
And, many of the fine companies that specialize in advisor marketing can no doubt help explain RSS. See: How 25 pieces of web content from 2010 should guide an advisor's digital approach for 2011.
Simple steps
Here's what I specifically recommend.
Go to Feedly.com and create a free account. You will be able to access this account on your desktop or iOS or Android smart phone or tablet. Whatever you read on one device will be synchronized with what you read on the others. This is your newsreader. You need only to add the URL, title or topic of the website once to Feedly's "Add Content" box and you will be subscribed to that Website on an anonymous basis.
That's right, they won't know your name, e-mail address or whatever else you prefer not to disclose. But you will have a direct line into whatever content they're publishing—with no additional effort on your part whatsoever.
I organize my feeds, again a simple task, in categories that meet my needs. For example, I keep up with RIABiz's postings in "Investment Industry News" and I cluster all the asset manager blogs in a separate group. Just about every worthwhile site offers RSS feeds. Even Google alerts are available as RSS feeds. See: How Google Love can put an RIA onto an equal marketing footing with BlackRock.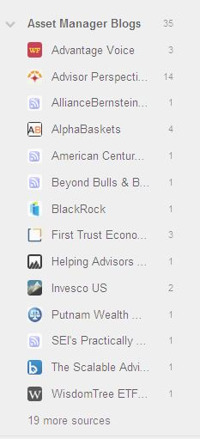 My RSS feed: I organize my
feeds — a simple task —
in categories that meet my needs.

Feedly's interface is simple and straightforward. The numbers to the right of each entry tell me if there's anything new. I scroll down, take the measure of the piece and when all items have been scanned, I swipe the group as read. I read somewhere that's by design: the act of swiping gives the reader a feeling of accomplishment.
Virtual assistant
If I don't have time for something interesting but want to read more later, I save it. This process goes on all day, when I catch a moment here or there on whatever device is handy, and in the evening when there's more time.
Since a social media study prompted this, I'll close with a tip about combining RSS with Twitter. Nobody can scroll through their Twitter streams all day. But what if you could use RSS to monitor what you care about on Twitter—individual users, search terms or Twitter lists? You can do that if you have a Twitter account. The steps are clearly spelled out on this Digital Inspiration Web page. See: RIAs recount how they reap new clients using LinkedIn and Twitter, stealing a march on shackled wirehouse advisors.
Thank you for your attention to what I consider a public service announcement. RSS rules, as I hope you will see for yourself.
Pat Allen is a Chicago-based digital marketing strategy consultant whose firm Rock The Boat Marketing helps asset management companies explore the speed-to-market communications advantage and measurability of digital media. As a proof statement that financial advisors are indeed gravitating to social media, Allen in September 2009 launched AdvisorTweets.com, a website that aggregates the tweets of financial advisors. She sold the site to Smarsh in 2011. For financial services marketing tweets, follow @RockTheBoatMKTG.
---
---
Phil Hamilton
Our platform, www.rengaged.com will automatically aggregate content from feeds for an advisor and then suggest personalized content recommendations for each unique client or prospect. You can then send it out automatically through email or social media. We even will tell you what topics are most and least popular among clients.
Phil Hamilton
VP Sales
Rengaged
Stephanie Sammons
Wow, I had no idea how unfamiliar advisors were with RSS technology. I'm glad you are shedding light on this, Pat! We also use RSS feeds to help advisors create a more automated social media posting strategy for sharing highly trusted content to their social networks. Buffer, one of my favorite tools, recently added the ability to pull in content via RSS feeds from your favorite websites and blogs for scheduling social media posts as well! RSS is killer technology without a doubt.
I thought Twitter had removed RSS capabilities, although there are some workarounds out there.
Stephanie
http://www.wiredadvisor.com
Brooke Southall
I know little about RSS. But if you're wondering what the RIABiz feed looks like, here it is: http://feeds.feedburner.com/riabiz/MkWB
Thank you again, Pat, for these thoughts.
Brooke
Dan T.
Great article, Pat. I've heard about RSS before, but you've convinced me to start using it.
Pat Allen
Dan, I'm happy to hear you're going to try it—hope you'll find it useful.
Even though it may not always be given credit, RSS technology is what underlies a lot of blog and social media tools, such as what Steph and Phil have mentioned.
Oh my, thank you, April!
Brooke, it's always a treat to work with you and your team. Thanks.
April Rudin
Pat Allen is one of the best, and brightest people in the financial services digital marketing space! When she speaks, people should listen!!