Allison Couch went home to AIG without much to say about it.
Brooke's Note: Cetera is in a massive mode of becoming itself, largely in the image of its founder, Nicholas Schorsch. Yes, two high-level women have left in short order and a third woman is being promoted so that her boss has more time to take on master-of-the-universe tasks at the side of Cetera chief executive Larry Roth. Our headline notwithstanding, I don't think there is a "woman" angle here and indeed I believe Schorsch's comments suggesting that he may actually be biased toward, not against, women — at least for roles that require multitasking as a prime requisite. But all this executive shuffling and M&A activity portends change and change means shaking things up and that is the only way things progress and get out of ruts. I remain fascinated and optimistic that Schorsch is a closet progressive on the RIA side of the ledger (notwithstanding the fat-ass commissions his non-traded REITs encourage) if for no other reason than that he is someone determined to succeed and has a pronounced independent streak.
Extra Note: We were not able to reach Allison Couch or Erinn Ford by publication time for this article. We subsequently reached Erinn and you can read her interesting thoughts. See: How Erinn Ford feels about life under Nicolas Schorsch as she takes the helm Cetera's most RIA custody-like arm. The Schorsch plot thickens.
A second top woman executive is bidding adieu to Cetera Financial Group in as many weeks.
Allison Couch, managing director and national sales wealth management at the Los Angeles-based independent broker-dealer umbrella with more than 9,000 reps under it, has departed to return to AIG where she spent the bulk of her early career, according to an industry source.
Couch has been managing director of national sales wealth management at RCS Capital Corp.-owned Cetera since February 2011. See: West Coast talent grab: Cetera hires an LPL exec in Allison Couch.
AIG announced Thursday that Couch joins the organization on June 2 in the newly created role of executive vice president of national sales. She will be based in New York and will report directly to Erica McGinnis, president and chief executive officer of AIG Advisor Group.
Musical chairs
On Wednesday, Cetera announced that that Erinn Ford has been named president of Cetera Advisors, one of the firms in the Cetera network. Ford reports to Brett Harrison, formerly both president and chief executive of Cetera Advisors, who will continue on as CEO. Harrison is also taking on an expanded executive role at Cetera Financial Group, reporting to Larry Roth.
Cetera Advisors serves approximately 1,300 independent financial advisors. In total, Cetera Financial Group serves approximately 8,400 independent financial advisors, making it the nation's second-largest independent broker-dealer and custodial platform.
Two careers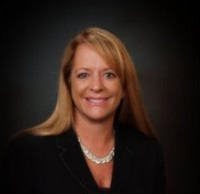 Allison Couch was looking for a
bigger job, according to a source.

Ford, 44, has more than 20 years of experience in the financial services industry. She joined Cetera Financial Group in 2012 as senior vice president of advisor relations for Cetera Advisors. Prior to joining Cetera, she served as chief operations officer and chief marketing officer of Pacific West Financial Group, an independent broker-dealer and RIA.
Prior to joining Cetera, Couch was senior vice president of business consulting at LPL Financial and president of Associated Securities Corporation, a broker-dealer acquired by LPL. Couch also served as president and chief executive of The Financial Services Network, where she managed a group of more than 200 financial advisors with $8 billion in assets and $42 million in revenue.
But Couch spent the majority of her career — 17 years — with AIG broker-dealers FSC Securities Corp. of Atlanta and New York-based Royal Alliance Assoc. both as a financial advisor and in recruiting advisors, according to her LinkedIn page. See: Press report: AIG pays in the ballpark of $115 million — or $82,000 per rep — for Woodbury.
Unsettling shifts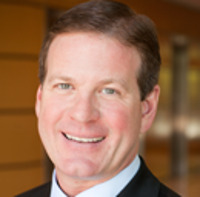 Harrison is taking on a role
as Larry Roth's right-hand man.
Another source familiar with the circumstances insists that the Couch and Brown departures differ substantially in texture. Couch, the source says has been looking for a position with a company that would place her higher up on the executive food chain. At Cetera, Couch did not report to the CEO whereas at AIG, she will.
Our first source says that Couch resigned from Cetera this week to take a "prominent sales role" at AIG, a broker-dealer headed by Erica McGinnis, who took over in 2013 when Roth left. See: Larry Roth has AIG playing offense again in the advisor game.
"You've just lost a CEO that everyone loves and now the head of sales is leaving. You don't want this kind of movement right away. It upsets advisors," the source told RIABiz.
A Cetera spokesman declined to comment for this article. Couch e-mailed us on LInkedIn and said she hoped to talk to us soon. We will add comments as they arrive.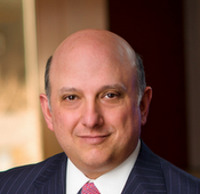 Nicholas Schorsch: Women can do a
better job because of an inherent
ability to multitask which is far
greater than a man's inability to
multitask.
Fit to lead
As head of sales for Cetera, Couch was a frontline figure for many advisors. Her LinkedIn page explains that she was responsible for all aspects of advisory sales and training, as well as growing product sales and strategic relationships.
During his interview last week, Schorsch stated emphatically that Brown's parting with Cetera was unrelated to her gender.
"I'm a Quaker by faith and I believe in equality at all costs. I'm the father of five children and four of them are daughters and three are adult daughters. My company is something I'm very proud of and we have 147 women executives. If there was a company where the old guard was in charge and healthy it wouldn't be here."
Gender positive
He added: "I believe strongly in women roles and I believe women can do a better job because of an inherent ability to multitask which is far greater than a man's inability to multitask," he said
To back up his comments, Schorsch listed the women executives at his firm, and indeed it is an impressive list. Catherine Bonneau is president and chief executive officer of Cetera Financial Institutions; Nina McKenna is general counsel of Cetera Financial Group; Lisa Beeson is executive vice president & COO of American Realty Capital Properties; Lisa McAlister is senior vice president & chief accounting officer of American Realty Capital Properties; Louisa Quarto is president of Realty Capital Securities and Lavea Thomas is senior vice president and director of national accounts of Realty Capital Securities.
One female he did not list last week was Allison Couch.
---
---
Mary Ann Buchanan
I had the pleasure of working with Erinn Ford at Pacific West. Erinn understands the challenges advisors face and has deep experience of the IBD and RIA world. I am certain the advisors are thrilled to have Erinn at the helm as President of Cetera Advisors! That was a good move on Cetera's part.