Rush Benton: We're not afraid to take on a firm that is looking to sell.
Brooke's Note: When it comes to gleaning interesting viewpoints from industry experts in position of authority, there is, unfortunately, the rule of inverse critical mass. If you get a whole panel of the top executives from custodians in one place, a panel of top RIA technology experts or — as in this case — a panel of top roll-up executives, more can be worse. Participants on these panels are inhibited by some combination noblesse oblige, not wanting to give away competitive secrets, fear of saying something stupid in smart company and terror of saying something provocative that will have a competitor firing a missile back that leads to the PR version of mutually assured nuclear destruction. This phenomenon of banality occurred at the most recent T3 and among the custodians and their technology chiefs at the most recent Barron's Top 100 among three custodial chiefs and now at this lower-profile event in Philly among roll-up types. We, as an industry, need to learn from this experience and structure panels differently or get somebody a little meaner (i.e. a real journalist) to ask the questions. Otherwise, these executives answer questions as if they all work for the same company and love each other when it's just the opposite. A sub-optimal amount of fresh viewpoints come from a love fest.
Gladstone Associates' annual conference in Philadelphia last week led off with a panel discussion that promised juicy tidbits for the M&A-minded advisor audience assembled.
But "The Secrets of Successful Acquirers" turned out to be more of a soapbox upon which firms delivered their thoughts on influential industry trends than about the conveyance of any real secrets about being successful in acquiring and integrating other RIA firms. See: On Barron's panel at IMCA, three top advisors tell what knocked them on course.
That doesn't mean that conversation wasn't without notable differences of opinion, head-scratching comments and more.
Seated on the dais were Rush Benton, formerly of WealthTrust and now senior director at CAPTRUST; Rajini Kodialam, co-founder of Focus Financial Partners LLC Mark Skinner, CEO of US Retirement Partners and Matt Brinker, senior vice president-acquisitions at United Capital Financial Partners.
Old school M&A
The roundtable kicked off with a question about how things have changed within the industry in the last few years.
Benton reminded the audience of the history of the RIA aggregation business, going back to 1980 when Norman Reamer launched United Asset Management. Benton noted that, in terms of deal structure, the aggregation business "has come full circle" in that buyers are often seeking 100% of the equity of the acquired firms — a point echoed by Brinker and Skinner. See: Rush 'Rusty' Benton is back in the deal game — wielding the checkbook and credibility of $85-billion CAPTRUST.
But after each of the panelists shared their own versions of why cultural fits and recurring revenue were so important for successful acquisitions, the conversation heated up.
Buying what's not for sale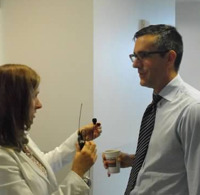 Matt Brinker being wired for sound:
The rise of the robo-advisor means
we'll see pricing pressure and increased
usage of technology force us to
look at how we defend our
business.
"When you're looking at buying another firm, the lack of a cultural fit can be incredibly expensive," asserted Brinker.
The panelists from Focus Financial and United Capital seemed to agree on one point: Both firms often bought other firms that weren't focused on selling.
"We've never bought a business that was for sale," asserted Brinker. "We are looking for partners who embrace change and who are looking to get back to working more with their clients. Their first priority is not about selling their business, but finding a way to get back to what made them successful in the first place, which usually is the time spent with their clients." See: What to make of Mark Hurley's latest prophecy that most RIA firms will go out with a whimper.
Focus' Kodialam agreed that her firm didn't focus its deal flow on firms proactively looking to sell, but more on firms that were looking to tap the resources of a broader firm to solve a problem that they had.
But unlike his fellow panelists, Benton didn't shy away from the idea of buying firms that were actively shopping themselves.
"We'll buy firms that are for sale," said Benton. "For many firms, there is a real need. For some there is a succession issue, for others it is a liquidity issue. We're not afraid to take on a firm that is looking to sell." See: Lon Morton shows how to sell to a bank and live happily ever after — but don't try this at home.
'Robo'-advisors and change
"The fact is that to stay in this business, survival requires the willingness to adapt to an incredible amount of disruption," said Brinker. "The rise of the robo-advisor means we'll see pricing pressure and increased usage of technology force us to look at how we defend our business to ensure growth, attach value to the client experience and protect our profit margins." See: Online RIAs will mostly fail — and here are 10 reasons why.
Not all the panelists agreed with Brinker about forcing change on the advisor. Kodialam exhorted the advisor audience to remember that their advice was important, more so than the importance of scale. "You are in the people business. No computer can replace you," she said.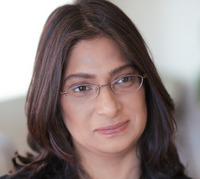 Rajini Kodialam: We don't want to
change them
"Many of our advisors were successful before we came along and they don't want to change. And, we don't want to change them."
Value trumps technology
Brinker said that his firm focused on the client experience to counter the robo threat.
"Clients need to understand what they are paying for. We need to put a value on what we do as advisors — give advice," stated Brinker. "Otherwise, it's just a race to the bottom in terms of fees."
Benton offered that bigger firms (like his) were best equipped to handle the technological challenges that robo-advisors presented. "Firms with greater scale are probably able to keep up with technology challenges better than firms that don't have the size." See: Purchasing too much technology has its own dangers for RIAs.
Always remember…
Mike Bilotta, Gladstone managing director, asked the panelists to conclude with their recommendations for what prospective buyers to should keep in mind.
"Always remember the functions of value you can create. You have raised the bar and need to continue to do so," asserted Benton. See: This generation of advisor aggregators puts the roll-up ghosts to bed, for now.
Skinner reminded the audience that finding a "price is easy. Coming to terms is hard. Don't do a deal for a deal's sake."
Brinker commented: "You have to find that natural inflection point for buyers and sellers to come to a fair price. If you overpay, the seller should be less incentivized because the equity they are receiving is likely to be diluted."
Joe Anthony is senior vice president of financial PR of Gregory FCA Communications. His Twitter handle is @joeanthony.
---
---
Mentioned in this article:
---
---
---