News, Vision & Voice for the Advisory Community
Personal Capital and Motif presented and United Capital was there in force
May 2, 2014 — 6:20 AM UTC by Guest Columnist Zohar Swaine
Brooke's Note: We couldn't have a better first-time raconteur at Finovate, the technology innovation conference for financial advisory firms and banks, than the RIA business' own Zohar Swaine. He traveled to San Jose, Calif. from New York last week on his own Mink Hollow dime with the eye of a technologist, wealth management aficionado and equipped with the radar to recognize RIA business luminaries. He even rattled quotes out of Mike Alfred and Gail Graham. So this is a treat that we didn't see coming and more relevant than you might imagine. Thank you, Zohar.
Following the lead of Betterment, Motif Investing is now launching a recast version of itself for RIA use.
The San Mateo, Calif.-based online broker's new Motif Advisor platform is now coming out of beta phase and with RIAs with portfolio construction and rebalancing. Manhattan-based Betterment reported a similar business model modification at the Tiburon CEO Summit in New York a couple of weeks ago. See: Tiburon CEO Summit extrudes big news: Betterment Institutional is born.
Motif's board members include Sallie Krawcheck, former president of Bank of America Corp.'s global wealth and investment management group and Arthur Levitt Jr., a former chairman of the Securities and Exchange Commission. It attracted $26 million in venture capital from Ignition Partners LLC, Foundation Capital and Norwest Venture Partners. See: A Microsoft alum stomps into the RIA business with $26 million in VC money, Sallie Krawcheck and a 'new' approach that looks old to skeptics.
At the Apex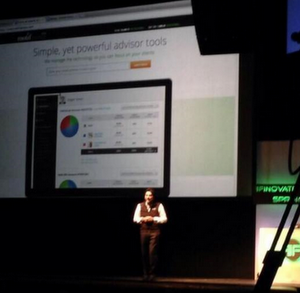 Hardeep Walia used Finovate to tell
the crowd that Motif's next iteration
is to serve RIAs.
Until recently, Motif targeted the individual investor. But it may have appeal for advisors looking to automate rebalancing across all models and clients.
Chief executive Hardeep Walia commented, "Advisors adoption of the technology ranges from [using Motif for] select clients to more comprehensive solutions." He declined to define "comprehensive solutions."
The client service model for advisors was not discussed. The fact that Motif Investing acts as an introducing broker to its clearing broker, Apex Clearing Corp., may leave some RIAs in unfamiliar territory.
Motif Investing's customizable ETF concept has been around for a while and some of the major custodians offer their own version. And while the very intuitive Motif platform will not likely replace custodian's robust trading platforms anytime in the near term, Motif's strategic options have expanded as the company recently added to their war chest with the completion of their Series C round led by Goldman Sachs for $25 million in early April 2014. Motif has now raised a total of $51 million since inception in June 2010. See: Startup firm bets its ETF research technology can cut out the middle man for advisors.
Attendee Mike Alfred, chief executive of BrightScope Inc., observed, "Similar to Betterment's recent announcement, we are seeing technologies in the online advisory space recognize the importance of the financial advisor [distribution channel], and creating products and services to meet their needs."
Gong show
The Motif news blip was one of dozens that emerged from a withering stream of 70 seven-minute, no PowerPoint-allowed presentations I viewed at a confab of more than 1,000 attendees who gathered this week at the San Jose City National Civic Center in sunny San Jose, Calif. for the Finovate Spring 2014 conference. The presentations have a hard stop at seven minutes and a bell rings.
Finovate, founded in 2007 by Seattle, Wash.-based Finovate Group, is building its reputation as the conference where CEOs and founders of financial technology firms pitch emerging technologies to financial service and technology executives — and people like me who consult to these firms.
Unlike the Consumer Electronics Show (CES), TechCruch, or even leading RIA technology conferences such as T3, Finovate is geared expressly to the intersection of technology and financial services. Finovate Group, founded in 1995, publishes Online Bank Report and NetBanker.com. See: Postscript: What exactly should we make of the T3 phenomenon?.
Another commendable aspect of Finovate is that it is not pay-for-play. Presenters apply and get selected by Finovate staff.
Gang's (mostly) all here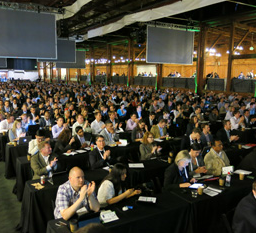 Finovate packs the seats.
As mentioned, Finovate is not targeted specifically to RIA types, but former colleagues from TD Ameritrade (who co-presented with LikeFolio, a website that uses social media to introduce investing concepts), Schwab Advisor Services, other major custodians, eMoney Advisor, and United Capital Financial Advisers popped up with some regularly in my rounds.
Many of the other usual suspects were nowhere to be found. While I don't have the statistics to back this up, attendees seemed to hail from across financial service organizations, private-equity or venture capital firms, and biggies like IBM and Microsoft.
One technology I keyed in on is biometrics. Technologies that authenticate based on biology are no longer only reserved for Hollywood screens. NICE Systems, for example, provides real-time authentication based on 5 to 10 seconds of normal speech.
Another interesting technology solution is EyeVerify, which, as the name implies, authenticates people based on the pattern of blood vessels in the whites of your eye by taking a "selfie." Password fatigued consumers might finally have the solution to put an end to the madness of trying to keep track of the numerous passwords that dominate our lives.
The technology is sharp enough to not be fooled by pictures or other similar trickery — or at least so I'm told. In a different type of authentication technology, TextPower bills itself as the world's only omni-factor.
Authentication works by users sending a text message from their cell phones for verification as opposed to waiting to a verification code, which seemingly only adds an additional step or two. Because the text is mobile originated, it solves for the traditionally reversed process of waiting for a secure code sent TO your mobile, and completing the process from there. See: Laserfiche user conference draws a big crowd that wants to toss filing cabinets.
Ordering sneakers via Google Glass
It takes some imagination to explore the world of new possibilities this category opens in the areas of client service and security for financial advisors and custodians alike. For starters, envision the future where the cumbersome processes associated with fund transfers, address changes, or any number of other security measures, are a thing of the past.
Fiserv wowed the audience by presenting an interesting set of use cases for wearable technologies. By speaking to his Google Glass, the presenter pulled up checking account balances. Staring at a QR code resulted in the purchase of a pair of sneakers, with payment made from the checking account. Purchase receipts were sent to the Samsung Galaxy Gear watch and finally, as minimum balance thresholds were breached, an alert was triggered and also sent to the Samsung watch. See: Fidelity now has an Office of the Future for RIAs, pre-RIAs and their clients.
There were a couple of other presenting companies that have begun to leverage the published Google Glass APIs. I'm interested in hearing potential RIA use cases from others. I suspect as the popularity of Google Glass increases, we will start to see the emergence of advisor-related applications.
One click = one proposal
Another web-based RIA presenting was Personal Capital, with $450 million in AUM. It has a niche of delivering financial planning and investment portfolio management services. Presenting on behalf of the Colorado company was none other than Bill Harris, chief executive of Personal Capital, esteemed for heading up Intuit earlier in his career. See: How one 'robo-advisor' got $25 billion on its platform with a Mint.com mindset, 401(k) friendliness, a merger and 16 years of work.
Unlike other pure online plays, Personal Capital investment clients work one on one with an individual Personal Capital advisor to develop personalized strategies to meet their goals, in a hybrid online / personal model of sorts.
At Finovate, Personal Capital debuted its One Click Investment proposal capabilities. Personal Capital financial advisors are now able to generate 90% of a proposal with one click (depending on your clicking math), saving advisors hundreds of hours per month and thereby allowing their services to be more scalable. In some ways, the announcement seemed pretty inside baseball in that the innovation referenced seems aimed at internal operations, but perhaps grander plans are just beyond earshot.
Like Motif, the Personal Capital is well funded, having also raised $50 million to date.
United Capital explores its 'robo' options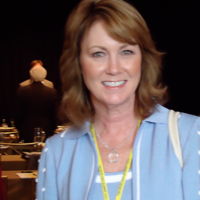 Gail Graham: We are a company
that is deeply human.
In keeping with the theme of technologies pivoting towards the RIA channel, Flexscore was another interesting presenting company. Traditionally serving consumers with a Financial Life Experience score, it announced it is now offering it's web-based financial service scores to the advisor channel — with Joe Duran's United Capital seemingly as exhibit A.
Flexscore was created by two financial advisors to game the financial planning process by giving the client a score based on how well he or she is doing with their money and the financial decisions they make. Using a web-based platform, users receive their score based on unique goals they set for themselves. To improve FLEX scores, users earn points by completing recommend action steps that move them closer to their own goals.
Flexscore used its precious minutes to announce a deal it struck with United Capital Financial Advisors. Interesting to note is that United Capital also recently made the news in partnering with another technology firm, Vestorly, Inc., a financial advisor digital content discovery application" See: Five RIA happenings: MarketCounsel shapes up; Zohar emerges, a new RIA-focused recruiting firm pops up and two more.
Gail Graham, chief marketing officer at United Capital Financial Advisors, had this to say on United Capital's push to automate:
"We are a company that is deeply human – we know money is a very emotional subject – but we also know this is a digital world. We seek out the most innovative partners to help us integrate technology that helps our advisers better serve our clients and attract prospects." See: Online RIAs will mostly fail — and here are 10 reasons why.
I couldn't agree more.
Topless cash machine
Another interesting technology innovation came to Finovate from Ukraine, where PrivatBank has just launched a "Topless Android ATM" which is controlled by customer's smart phones. The "topless" refers to the lack of a terminal in which one inserts ATM cards and PIN numbers, which makes the ATM only about three feet tall. The ATM itself is equipped with an Android phone, an NFC chip, Rasberry Pi, cash dispenser, and safe. Obtaining cash is as simple as standing next to the machine, opening the app on your smartphone and following a set of simple instructions.
The presenters were quick to quip about getting cash from something topless; I think I'll leave it at that.
Finally, other technologies of lesser relevance to advisors focused on advancement in Bitcoin technologies, crowd funding commercial real estate or alternative investments, innovative digital wallet and payment systems, IPOs to consumers, and many other offerings too numerous to list here.
Mobile before office desk
As I sit in the San Francisco International airport awaiting my redeye flight home and taking stock of the past two days, there are some interesting trends across all financial service technologies that we should take note of.
For starters, there is a heavy bias towards to building applications to be "mobile-first," with highly intuitive user interfaces and backed by seamless interactions across client service channels (also referred to as omni-channel client servicing). We are also seeing major advancements of existing technologies such as geo-location, mining social-media data, crowd-related applications, increased security and risk-related offerings. The combination of some of these technologies is starting to make the world a lot more interesting. See: Fidelity, Schwab and TD Ameritrade prep for arms race in mobile technology for advisors.
Parting shots
In retrospect, while the conference is geared exclusively towards financial service firms, I couldn't help but wish for the inclusion of more technologies applicable to the wealth management space and RIAs in particular. With the RIA industry's growth and maturation in recent years we've benefitted from the proliferation of emerging technologies and I anticipate this trend will continue and then some. See: Where RIA technology stands heading into 2013 after 2012 lost some steam.
The price of admission to the conference was $1,595 (although presale tickets would save you $400). While conference sponsors didn't supply the requisite Red Bull and other caffeine-fueled energy drinks sometimes associated with hip start-ups, the content seemed to sufficiently energize the audience, and perhaps the $5 Starbucks gift cards handed out for survey completions served that purpose.
The next event will be held in New York City Sept. 23-24, in keeping with the cadence of alternating East and West Coast venues. I for one, am planning to attend, and perhaps I'll see more of my colleagues in wealth management there as well. I'm not sure I would recommend this conference for most RIA firms, although some exceptions would apply.
Bottom line: a good event for those interested in learning what lies in store around the corner for our industry, but if its James Bond gadgets that you're looking for, you might want to look elsewhere.
Zohar Swaine is president and founder of Mink Hollow Advisors LLC, a boutique consulting firm serving broker-dealers and technology firms in the wealth management industry, and can be reached at zohar@minkhollowadvisors.com. (Full disclosure: Vestorly is a consulting client of Mink Hollow Advisors.)
---
Mentioned in this article:
---
---
Share your thoughts and opinions with the author or other readers.
Kelli Cruz said:
May 3, 2014 — 3:50 PM UTC
Nicely done Zohar thanks for sharing this recap of the conference. Very comprehensive and useful information. Good to see it is not a pay-to play speaker format and the short presentation format is refreshing.
Marie @ PF Pro said:
August 1, 2014 — 1:08 PM UTC
Wow, that EyeVerify is very interesting! Btw, we just did a review of Personal Capital on our site and I couldn't believe how much information they give you for free. Almost seems too good to be true
---
---