Abby Johnson interviewed by NPR's Tom Ashbrook: Lean on Fidelity.
Brooke's Note: If you weren't one of the 300 people invited to Fidelity's conference, you missed being part of RIA rarefied air, though had you been there it might have simply been hotel-processed oxygen. That is certainly part of the thinking behind keeping the numbers of people at the gathering low and the assets that Fidelity commands high at elite events. When you finally get the thick envelope for the Fidelity conference, you want to see, without frantic searching: colleagues of the highest order at the receptions, check. You want to be able to hear from industry partners, like Abby and Ned, you normally only see in Forbes articles, check. You want to hear views brought in from outside by people like New Yorker reporters, check. And you want to hear from Mike Durbin who hold purse strings most connected to services you need, check. You also don't want any pestering reporters around, check. All these systems were go, according to Robert Glovsky, principal of The Colony Group, which manages $3.5 billion from Boston and who traveled to the event with his wife, Susan. "It was a great conference," he says. "Abby didn't speak and hide. She's wanting to learn and she spent a whole day with us." Glovsky and others allowed that there were no rollicking takeaways from the event (though Bernanke's talk stood out) but a good steady flow of helpful, stimulating information and a reassuring presence of Fidelity's brass. In that spirit, David Canter, executive VP at Fidelity Institutional has provided an account of the event that captures the taut current of conversation and softens the blow of not being there. For RIABiz, it reduces the need to execute on the logistics of having reporters pose as hotel wait staff to gain entry among such select company. We are grateful.
Fidelity's 15th annual Executive Forum conference, held this year in balmy Orlando, Florida, brought together leaders, principals and owners of approximately 300 of the largest and fastest growing broker-dealers and RIAs in the country — clients of Fidelity's clearing and custody units.
While about 80% of the attendees were veterans of the invitation-only event, 20% were able to take part for the first time, including Adam Birenbaum from Buckingham Asset Management and BAM Advisor Services, Angela Osborne from First Republic Investment Management, Stan Gregor and Bill Natsis from Cantor Fitzgerald Wealth Partners and Rush Benton from CAPTRUST Financial Advisors. See: Rush 'Rusty' Benton is back in the deal game — wielding the checkbook and credibility of $85-billion CAPTRUST.
The conference provides a venue to consider big ideas about the future of the industry, collaborate on business opportunities and to network. From the speakers and presentations, it's clear that the themes on advisors' minds are growth, leadership and appealing to that next generation of clients and employees. The mood was upbeat — firm leaders reported that business is strong in the wealth management profession.
We had an all-star and incredibly wide-ranging cast of speakers, including former Federal Reserve Chairman Ben Bernanke, historian Doris Kearns Goodwin, TIME contributing editor Fareed Zakaria, journalist and prolific author Bob Woodward, "introvert advocate" Susan Cain, 20-something sage Meg Jay, futurist Andrew Zolli, as well as our very own Abby Johnson, Gerry McGraw, Mike Durbin, Sanjiv Mirchandani and Ren Cheng. See: What happened at Fidelity's RIA conference this year.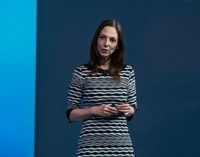 Susan Cain preached to a large
choir as an introvert advocate.
The presentations and dialogue among this group reinforced the inescapable reality: We all operate in an increasingly complex ecosystem in this interconnected financial services industry. As such, it's important to first recognize and embrace it. And, because of this complexity, we need to be mindful of the individual elements.
I've pulled together some of those elements discussed at Executive Forum for advisors to consider for their businesses:
Address from Abby
Are you connecting the components of your client service chain?
Abby Johnson, president of Fidelity Investments, opened the event. In a 30-minute interview with NPR's Tom Ashbrook, she emphasized the importance of a differentiated and connected client experience. She explained that it's important for every person in an organization to know his or her impact on the client experience. For example, the IT professional needs to understand how keeping the servers going is critical to driving client satisfaction. She urged the audience to "lean on" Fidelity for solutions and provide feedback.
Johnson also talked about our continued commitment to reducing effort for our clients — removing even minor steps, automating processes and putting the right people in the right roles to support these series of interconnected moments and experiences. She discussed Fidelity's initiatives to simplify account openings and transfers of assets, as well as the firm-wide initiative to implement e-signatures.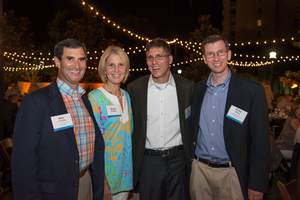 Bob Glovsky — with his wife,
Susan, correspondent Dave Canter and Blake
Stuart: Abby didn't speak and hide
.... She's wanting to learn and
she spent a whole day with
us.
A word from Ned
The chairman and chief executive officer of Fidelity Investments, Edward C. Johnson III, was also in attendance and had many spirited conversations with attendees. In my own conversation with him, he reminded me of the simple business maxim: effort and vision should ultimately lead to results. See: Postscript to the Fidelity Executive Forum article: The RIA perspective.
The message: Many RIA firms are small with a laser focus on client satisfaction, but as firms grow, merge and evolve, it's worth reviewing your workflows and processes to maximize efficiency and client experience. And, having each individual understand his/her role, improves their own sense of contribution to the whole business.
Long road to Oz
In a world of choice, are you making it easy for your clients to do business with you?
Futurist Andrew Zolli addressed that question, telling the audience that today's society is somewhere "between Kansas and Oz" referencing the increased pace of change and spawning of new technology and choice in our world.
"We shape the world by the questions we ask," he said. Zolli charted the "choice vs. satisfaction continuum" which chronicles our satisfaction levels as measured against the number of choices we have available.
The message: Human beings love choice, but too much choice can decrease our satisfaction level. Simplify choice for your clients.
Extremes become the norm
Do you recognize the increased cycles of investment volatility?
Ren Cheng, a senior research consultant in Fidelity's Global Asset Allocation division, talked about why markets "go crazy," explaining that today's financial markets are highly interconnected, non-linear systems — and can operate in a highly correlated fashion. See: Flash crash update: Why the multi-asset meltdown is a real possibility.
Because of the tight linkage of trading systems and investors, he explained that "fat-tailed distribution" — where things like to go to extremes — are increasingly the norm. According to Cheng, systemic properties arise from the inter-connectedness of all financial institutions and vehicles. The whole, he explained, is much more complicated than the simple sum of its individual pieces.
The message: Cheng's presentation resonated with me as a metaphor for the state of our industry. In today's increasingly crowded "advice" market, continue to emphasize what makes your firm different, whether it's your target clients, your investment capabilities or your leadership infrastructure.
Crowd IQ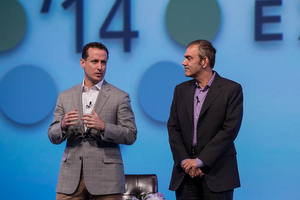 Mike Durbin — presenting with National
Financial president Sanjiv Mirchandan: At some
point the investor will say to
a trusted human advisor, 'Did I
do it right?'
Where can human connections make a big difference for your business?
New Yorker columnist and author James Surowiecki talked about the wisdom of crowds. According to Surowiecki, crowds have proven over and over to be more successful than individuals at solving difficult challenges. He said crowds need three things to be successful: a way to aggregate lots of different opinions, cognitive diversity (people looking at problems from a number of different perspectives) and independence — the ability to rely on their own opinions and judgment. See: James Surowiecki has lessons for RIAs about marketing's mushy middle.
The message: Many in the financial advisory profession are decisive, "type-A" people. This concept is one to consider as you look to solve difficult challenges. You may be able to reach better decisions by embracing the collective wisdom of the broader talent in your organization.
Different hands
Some of the best ideas in your organization may come from someone who rarely speaks up. Susan Cain, best-selling author of "Quiet", talked about how to harness the strengths of introverts, which she said make up as much as half of the population. Indeed, by show of hands, about half of the room — which generally fell into the categories of investment experts, operations leaders or firm principals — considered themselves introverts. Cain explained that introverts often struggle to articulate their ideas "in the moment" and are overshadowed by their extroverted counterparts.
Some of the world's more powerful leaders were, or are, introverts, including Albert Einstein, J.K. Rowling and Warren Buffett. In order to get the best from the introverts in your firm, Cain suggests sending a list of things to think about in advance of a meeting (not just an agenda). Half-way through a meeting, she suggests stopping and giving people a chance to reflect. I've seen this play out within my own team and have been making deliberate steps to draw out each team member to contribute in meetings, especially since Cain emphasized how so many introverts struggle in a world where being an extrovert is far more recognized and rewarded. See: FPA Retreat 2012 shines spotlight on the emotional and psychological dynamics between advisor and client.
The message: Make sure you recognize the personality traits of colleagues in your firm so that you can understand how best to harness their contributions and way of thinking. Consider adopting Susan's idea of "pre-think" and equal opportunity engagement.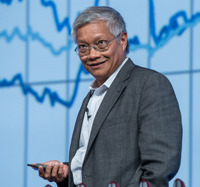 Ren Cheng of Fidelity: explained that
"fat-tailed distribution" — where things like
to go to extremes — are
increasingly the norm.
21st century blues
Meg Jay, a Ph.D. and 20-something expert, explained that many in that age range see their 20s as a lost decade. As young people start "life" later, they also encounter phenomena like "present bias" (the tendency to be more interested in making ourselves happy now vs. planning for the future), "optimism bias" (nothing bad will ever happen to me) and "planning fallacy" (the tendency to underestimate the time it takes for tasks). See: Next-gen advisor breaks the standard RIA mold to grow with her young clientele — many with $100,000 or less of assets.
The message: It's worthwhile to keep in mind that these may be the children of your clients, your future clients or your ultimate successors. RIAs can bridge the gap with these employees or clients by asking explicit questions about goals and creating simple steps they can take toward achieving them.
Humans still wanted
Will digital advice be disruptive or complementary?
While digital advisors have been a topic of intense conversation within our industry recently, much of the talk about digital models at Executive Forum was about how to leverage them to serve a growing class of mass/emerging affluent investors that it has been heretofore been difficult to efficiently serve.
Mike Durbin, president of Fidelity Institutional Wealth Services and Sanjiv Mirchandani, president of National Financial, addressed the topic in their joint interview with Tom Ashbrook. Durbin noted, "There's plenty of room for digital advisors to succeed. Their principal disruption to the advice business is going to be in making the value of holistic offline client experience even more valuable." See: Bill Crager: I've got your back against the attack of the killer robo-advisors.
He continued: "Helping households with their financial futures is always going to be an emotional process. At some point the investor, regardless of their sophistication and regardless of the technological tools … invariably, they're still going to come around and say to a trusted human advisor — 'Did I do it right? What do you think?'"
Mirchandani added, "It's hard to say which models are going to work. For every Pets.com, there was also an Amazon.com." He advised the attendees, "We can't think of technology as a disintermediary, which is how many advisors look at it. It's something that should be embraced."
The message: As a first step, leaders can start to get educated on what models are out there and then consider which model might be useful to their business.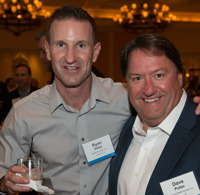 Ryan Sabol and Dave Potter were
among the consumers of the RIA-IBD-tailored
program.
Presidential wisdom
Are you connecting to the past to help frame the present and the future?
Several speakers brought us back to the past to remind us of the important lessons history has to offer going forward. Doris Kearns Goodwin, renowned author and historian, shared leadership lessons from three of her favorite "guys": Abraham Lincoln, Theodore Roosevelt and Franklin Delano Roosevelt.
Among the leadership traits these men possessed were high levels of emotional intelligence, the confidence to surround themselves with people who could argue with them and the ability to reconnect with people during times of crisis. See: Column: Advisors should be 'heroically available' during a crisis.
Washington Post associate editor and best-selling author Bob Woodward talked about the continued state of partisan divide in Washington politics. He noted that "in a negotiation, the person on the other side of the table is your best friend." He remarked, as did Kearns Goodwin, how leaders must have an increased focus on the greater good as we look to the future of our country.
The message: Focusing on the greater good is an important lesson from history and one that applies to our own day-to-day business. I've seen countless mergers fail because the parties did not come to the table with that degree of reverence, and perhaps, the emotional intelligence Kearns Goodwin referenced in mind.
A man for all seasons
The final act of the conference belonged to former Fed chairman Ben Bernanke. In many ways, his persona, achievements and presentation were a parable for the entire conference. I say this because Bernanke comes across as highly emotionally intelligent, as a quiet leader and is clearly a student of history. See: 9 things worth knowing from Schwab's newest advisor study.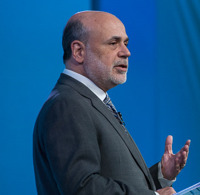 Ben Bernanke won RIA respect.
Bernanke led the Fed during perhaps the most turbulent period in our country's economic history since the Great Depression. He emphasized the value working as a team with the president, Treasury and Congress. He also leveraged the expertise and skill of the staff of the Federal Reserve. Several times during his presentation he emphasized the dedication and hard work of the many public servants whose names we do not know — the consecutive 100-hour weeks they put in during the financial crisis thinking through every possible solution to the conference.
Dr. Bernanke also took us back to the lessons of our past. "The panic of 2008 was very much like that of 1907, It was different only in that it was in a more complicated, interconnected world." Bernanke had shared that the crisis of 1907 was called the "rich man's panic." It occurred when speculators tried to conquer the stock of the copper companies, which ultimately created a run on the banks.
The same, only faster
Fareed Zakaria painted a fairly rosy picture of the present day, saying it was one of relative political stability, economic convergence, and reflective of an information revolution.
Gerry McGraw, president of Fidelity Institutional, talked about the increasing role of the regulators in our marketplace. McGraw has seen it firsthand, having sat on several industry boards, including SIFMA and Options Clearing Corp. He reminded the audience that post-financial crisis, the regulators will continue to take a more active and broader role in their oversight of financial institutions.
The major difference between the modern era and past generations is our wired, economically interdependent world. "The challenges come more quickly now" Kearns Goodwin said.
Many of you are business owners — and, on top of that, are advising the financial futures of thousands of clients. You, too, feel the weight of difficult decisions and pressure of fast-moving, interconnected world. To that, I would leave you with another one of Kearns Goodwin's leadership traits. Lincoln and both Roosevelts "knew how to renew and relax." This is an important lesson for the leaders in our industry too. On the journey between Kansas and Oz — keep calm and carry on.
David Canter is executive vice president, Practice Management & Consulting, at Fidelity Institutional Wealth Services. Fidelity Institutional Wealth Services is a division of Fidelity Brokerage Services LLC. Member NYSE, SIPC. The content provided herein is general in nature and is for informational purposes only.
---
---
---
Grant Barger
After reading this article I feel like I was there with you, David. Well done and thank you.
Grant Barger