Stuart DePina of Tamarac is Envestnet's RIA connection
Brooke's Note: Covering conferences is a huge challenge for us. We are a desk bound few and advisor events are many and far-flung. So we improvise. We have a big report on Fidelity's Executive Forum written by David Canter. Lisa Shidler provided a report on Envestnet's summit from her Chicagoland turf and I just got a good little dispatch from that same event through the Brian Hamburger lens on his ride from his hotel to the airport. The MarketCounsel founder looked at it all from the perspective of a CEO, a conference organizer, a presenter and a fly on the wall. There were a windfall of good thoughts from a sardonic sage that shouldn't go to waste.
The Envestnet Advisor Summit had about 1,300 attendees and about 800 of them were financial advisors — an unsurprising statistic. But a closer look at the composition of the crowd yields an "aha!"
"People are really drinking the Envestnet Kool-Aid and I don't mean that in a negative way," says MarketCounsel Brian Hamburger, who made a presentation to the Chicago event's crowd on subject of the myths and realities of dealing with SEC compliance.
"There was a noticeable uptick in young people. I didn't feel like the young guy [at 40]. The number of women and minorities was also higher than any conference that I've been to."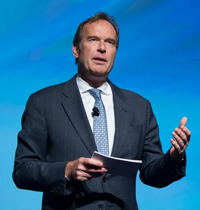 Jud Bergman is attracting a diverse
crowd.
Hamburger, who was speaking from the back seat of taxi cab in a Chicago traffic jam, added that there was another unexpected characteristic of the attendees — the presence of a critical mass of RIA business and IBD big shots. Big-time Credit Suisse breakaway and Dynasty Financial client Hal Lambert was in from Texas and in fact Dynasty was well-represented in general.
Big tent, big shots
Along those lines, Elliot Weissbluth, chief executive of HighTower Advisors, appeared and Focus Financial Partners, LLC, the giant among roll-ups, had corporate staff and advisors from its RIAs like LLBH of Stamford, Conn. (Read about LLBH's explosive growth since leaving Merrill Lynch here.)
RIAs have an increasing call to be at an Envestnet conference since that firm acquired Tamarac, which Stuart DePina heads.
The presence of these bigwigs told Hamburger something about the Envestnet's evolving position in the industry. The firm is known largely as the outsourcer to tens of thousands of IBD reps.
"This was a place where people didn't want to be without representation because of Envestnet's importance in the advisory ecosystem."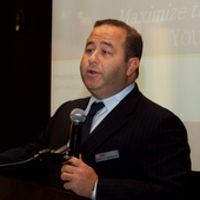 Brian Hamburger: There was a noticeable
uptick in young people. I didn't
feel like the young guy.
Conspicuous absence
Still, Hamburger noted that the exhibit hall was heavily represented by financial product firms but bereft of ancillary providers of technology and other services. Also, noteworthy in the exhibit hall and hallways were the chiefs of Envestnet personally monitoring the satisfaction of guests, he says.
Hamburger says his own session was aimed at driving home a point about compliance that bears repeating for many advisors when it comes to his field of expertise.
"Nobody's ever died from a regulatory exam. The mortality rate is zero, so, relax," he said to me from the fumes of traffic approaching Midway Airport, where snow flurries were reported earlier in the day.
---
---
Mentioned in this article:
---
---
---
Bill Winterberg
Easy solution Brooke: keep sending Tim Welsh to industry conferences!