News, Vision & Voice for the Advisory Community
The conundrum: In the dawn of the Age of Transparency, alts makers still favor pulling down the shades, and charging a premium for the disservice
April 8, 2014 — 4:42 AM UTC by Dina Hampton
Brooke's Note: I admit I sent Dina Hampton to this event with an extra call for vigilance. When Fidelity, Goldman Sachs and Morningstar feel like they need each other, then either hell has frozen over or the lift is so heavy that the premise that the boulder can be hoisted at all needs to be questioned. The lift here is to make hedge funds as mainstream as mutual funds. It's always a good idea to start a near-impossible pitch by explaining it to people so smart that they might get it. Reporters: they're damn smart. What I know is that owning hedge funds is like buying insurance for your portfolio. I also am like a GEICO gecko when it comes to insurance. Paying insurance stinks. Anything that takes me more than 15 minutes and that looks expensive will make me stick to what I know. I'm not sure hedge funds, liquid alts or what have you are quite there yet. But, too, it's good to see great companies teaming up to try to make it happen. After all, insurance has its place and the air seems a little thin where the market averages are perched these days. See: How the Winklevoss twins disrupted a big NYC hedgie event and distracted from the poor job most hedge funds are doing for clients.
The RIA tipping point for alternative investments as garden-variety portfolio building blocks is not quite at hand — but it's about two seconds away.
That was the message delivered to some 16 reporters at the Manhattan offices of Fidelity Investments in the Time & Life Building last Thursday. The idea was to show us that the new hyper-branded Fidelity effort, with Goldman Sachs Asset Management, Morningstar Inc. and CAIS working with it, would break through in putting hedge funds — albeit ones that are really mutual funds — into the hands of folks who more frequently wield hedge clippers. See: A cottage industry of hedge funds-to-RIAs is springing up but so far the mutual fund industry looks like the big winner.
The layered pitch was crowd-delivered by Michael Diamond of Fidelity Institutional's product group; Larry Restieri, head of alternative sales of Goldman Sachs Asset Management; Matthew Brown, co-founder of alternatives platform producer CAIS; and Josh Charlson, director of alternative funds research for Morningstar Inc.
To their credit, the men did their presenting with equal parts of enthusiasm and humility — and perhaps some hubris — at the coming out party of sorts for Fidelity Institutional's alternative investments platform, first announced in October. See: Fidelity teams with Goldman Sachs as part of big push into alternative investments on behalf of RIAs.
Comprehension gap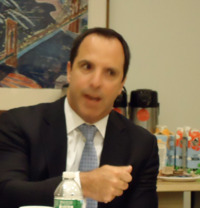 Larry Restieri: Five years from now
they will be a part of
people's portfolios. It will happen fast.

Fidelity Institutional moderator Gary Gallagher opened the session by trumpeting the growth of alternative assets: "Of Fidelity's $1 trillion in assets, 22% of that growth was in the liquid alternatives last year. Two years ago, that sector's growth was in the single digits."
But the senior vice president of Investment Products and his colleagues frankly acknowledged the roadblocks on the way to successfully mainstreaming these products:
1. Making advisors understand what a hedge-fund-that-is-a-mutual-fund-that-is-a-hedge-fund actually is
2. Convincing RIAs that what they don't get is what their clients need
3. Convincing RIAs that by the time they get the idea of a hedge fund-in-a mutual fund that the white board product ideal will be on the product shelves.
"It's a concept so new the first question is: What are alternative investments?" said Gallagher. See: The alternative investments sales cycle for RIAs got longer but marketing patience got shorter.
"Demand far outstrips the amount of product available," said CAIS's Brown. "But the weaker players need to be weeded out. That will take years."
The Goldman factor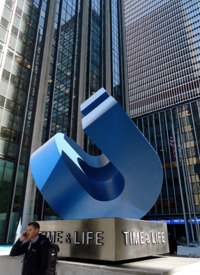 The Time & Life Building provided
the setting for Fidelity's big alts
pitch.
The plan is for Fidelity, Goldman, CAIS and Morningstar's platform to provide due diligence, a centralized marketplace and an ability to streamline the unwieldy investments so they neatly reside on an investor's statement.
"The industry needs a central location," said Brown. "The standardization of vetting and buying is so far from where we are today. Like Fidelity with mutual funds we want to be a centralized marketplace. It's needed desperately in the marketplace right now." See: Step-by-step on finding a platform for alternative investments.
A controversial aspect of this alliance is the inclusion of Goldman Sachs in this consortium — a firm neither beloved nor well trusted in the RIA community. But Fidelity seems confident that it can it can turn Goldman's Darth Vader-like reputation into a plus, stressing the New York giant's muscle and global reach. See: One-Man Think Tank: Inside the legal issues of the Goldman Sachs hearings.
"We have 275 people located globally to do due diligence," said Goldman's Restieri. "$130 billion managed across the franchise. Hedge fund blow-ups have often started in the back office, accounting etc. As a global investment bank we have insight into a lot of managers. [We can ask] Is this a person we trust?"
Fidelity, from Goldman's perspective, lends the enterprise the familiar stability of its brand to transform products with a volatile reputation into household staples.
Restieri, who spent 13 years at Goldman working with alternative capital markets before stepping into the newly created post of head of alternative sales for global third party distribution nine months ago, stressed that the selection of managers would be made on fiduciary grounds alone. "They are all non-Goldman strategies." This is reassuring, no doubt, to many advisors. Historically, Goldman Sachs has been known for having its private bankers dip heavily into proprietary products for client portfolios.
Managed expectations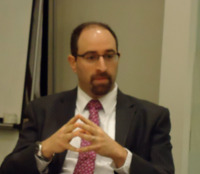 Michael Diamond: Transparency is crucial in
liquid alts but even hedge funds
are more transparent.
Liquid alternatives will be front and center in the push to convince advisors that alternatives are rapidly shedding their reputation for opacity and vertiginous fees while at the same time downplaying the get-rich-quick expectations that investors attach to them. See: AI Exchange to offer hedge fund-like investments in managed-account form through Schwab, Fidelity.
Although still in the "early innings," liquid alternatives are a fast-growing product, said Morningstar's Charlson. "They have been in double-digit growth far better than any asset class in last years. Everyone wants in to bring it to retail."
Yet traditional hedge funds are still in play, the men said — if presented in a kinder and gentler package.
"Transparency is crucial in liquid alts but even hedge funds are more transparent," said Fidelity's Diamond.
"We have high hopes for hedge funds. but the challenge is expectations management," said Restiari. "There are private equities with phenomenal returns but that's not what we want investors and advisors to focus on. The right reasons are to capture upside of markets with much less volatility." See: The hedge fund legal elite meet in NYC to wrestle with a terrifying new threat — RIA-like accountability.
Margin call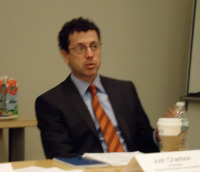 Josh Charlson: Everyone wants to bring
it to retail.
Still, whether margins are fat, or even pleasantly plump, hedge funds' sky-high fees will have to come down to remain viable, all agreed.
"Fees are shrinking rapidly," said Brown. "They're going in one direction and that's down."
"We pay close attention to expenses," said Charlson. "We consider a lot of funds expensive but fees are going down."
Yet Restieri acknowledged that most limited partnerships still use the infamous 2/20 (Two percent management fee plus a 20% of gains) formula. "With liquids, there's more of a range depending on the type of vehicle."
Five years away
All concerned realize that the promise of these vehicles will go unfulfilled unless advisors can be persuaded to take an immersion course in Alts 101. To that end, Fidelity is launching a blitz of seminars and webinars on the micro- and macro- innards of an array of such investments as well as offering instruction to advisors on how to talk about them with clients. The online Alternative Investment Product Center is set to debut through the Goldman Sachs portal.
Toward the end of the roundtable, a reporter asked an iteration of the question others had posed throughout the session: 'Are you confident that traditional investors will ever be able to understand the ins and outs of alternatives?" See: Five steps to get your clients out of bonds and into alternative, low-volatility investments.
"That's our challenge," said Restieri. But he insisted that the mainstreaming of alternatives is all but a fait accompli.
"Five years from now they will be a part of people's portfolios. It will happen fast."
Brooke's Note: A previous version of this article had Gary Gallagher down as Greg. Apologies to Gary.
---
Mentioned in this article:
CAIS
Manager Research
Top Executive: Matt Brown, CEO
---
---
Share your thoughts and opinions with the author or other readers.
MisterRIA said:
April 8, 2014 — 5:55 PM UTC
We have to have these in portfolios. Otherwise, fees are just getting too low for us to live this way.
---
---