What is the story with Derek Bruton's sudden LPL departure?
The powerful veteran seemed to be in the prime of his career and rising with a long track record of goodwill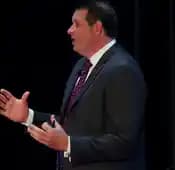 Derek Bruton: It allowed me to step back and look at all I had accomplished to date and where I wanted to go from here. In the short term, I will be taking some time to prioritize and recharge.
---
---
Mentioned in this article:
LPL Financial
RIA-Friendly Broker-Dealer, RIA Welcoming Breakaways, Advisory Firm
Top Executive: Dan Arnold
FA Match
Consulting Firm, Specialized Breakaway Service, Recruiter
Top Executive: Ryan Shanks
---
---
---
MisterRIA
So what's the reason he was fired?
Stephen Winks
Derek was at the point of the spear on many issues requiring innovation and unwelcome change that plague the entire industry make more complex by the limited resources of an independent broker/dealer, al be it the industry's largest. How does the IB/D reconcile institutionalized inefficiencies in (a) enhancing the advisor's value proposition, (b) streamlining cost structure, (c) maximizing the advisor's margins, (d) increasing advisor compensation (e) providing professional standing and (f) reducing cost to the consumer.? All of these issues require fundamental changes in the brokerage business model and more be done with less, which entails a heavy emphasis on prudent process and technology, neither are stregnths of the IB/D., even the largest.
Bill Dwyer having left was brilliantly timed at the zenith of the IB/D market. Derek understood the realities of running the operating business, not just recruiting, and saw the changing nature of the advisory landscape and the battles that lay ahead. Not withstanding concerns about "interactions with employees" , Derek had a difficult job in advancing innovation which has become a competitive imperative required by statute which is disruptive to status quo. Tempers flare, things are said which can not be taken back. In truth, if this sort of souls searching is not going on in every firm, then the firm does not have a future as faster, better, cheaper client solutions which afford professional standing in the client's best interest are coming.
Derek Bruton is just the first executive to face the realities of the unfolding marketplace. It takes a lot of courage to find solutions in a dramatically changing business environment where what worked in the past will not work in the future. Let's assume that Derek is on the right side of history, but as a pioneer is the one who caught all the arrows.
SCW
Jeff McClure
Institutions and their evolution is a deep field in my opinion best addressed by thought leaders like Douglass North (Nobel Prize 1993) in his works on the subject. One of the most critical points in the development of an institution is the transition from a personality centered organization to that of a true institution. We are seen the issues discussed by North among others at PIMCO and now at LPL. Institutions are composed of rules, position relationships, and clear definitions of where and how value is added and cost is reduced in economic transactions. Personality-based organizations are focused on a person's suzerainty and are more like a possession than an institution.
The hand-off from a monarchy or dictatorship to the rule of law is notoriously problematic whether it be in a corporation or a sovereign state, but is critical for survival beyond the life of the ruler. It appears from the outside that both PIMCO and LPL are undergoing that transition. Whether either or both will survive it is, as always, the question.
Brooke Southall
Jeff,
I like any comment that uses the word 'suzerainty', which I haven't used since a term paper for European History in 1984.
No doubt LPL is experiencing growing pains (aren't we all). I think PIMCO has a steeper change curve. How unusual it is to have such a big company so associated with one man, maybe two.
In LPL's case, Todd Robinson is long gone and Mark Casady has fairly successfully shared limelight with Dwyer, Stearns and others through the years.
On the other hand, LPL has the added layer of complexity of building multiple market lines, moving upmarket (think Fortigent) and embracing the challenge of supporting RIAs at the same time as it remains a mecca for brokers.
As Steve Winks points out, Derek was right in the middle of trying to move the company forward on the RIA front and staying true to the brokerage heritage of the firm.
The questions of suzerainty there could lead to a dynamic set of actions.
Brooke