Joe Piazza: I prefer to let my actions and the success of our firm speak to the doubters.
Brooke's Note: Three RIA story lines we have followed intensively in the past year are the 80 or more mostly engineers in Silicon Valley trying to reinvent wealth management software (Addepar), one hell-bent RIA custodian chief (Fidelity's Mike Durbin) trying to bridge the seemingly unbridgeable asset gap to Schwab, and an old guy in San Francisco trying to revive an ancient brand name and make it a mega-RIA (70-year-old Joe Piazza). What fun to see this trio of stories collide in this article by Lisa Shidler in which she advances knowledge of all three.
It's possible that Joe Piazza's Field of Dreams approach to reviving the Robertson Stephens brand — that is, building a management team, brand and infrastructure ahead of building up assets — is working.
Case in point: Piazza just landed a duo of advisors from Wells Fargo Private Client Group, bringing over wealth advisors Jeanette Garretty, 60, and Daniel Rozansky, 46, from the Palo Alto, Calif. office of Wells Fargo Private Client Bank. Garretty has more than 25 years in wealth management and was named to Barron's most recent list of Top 100 Investment Advisors in California. See: Evercore feasts on veterans of an elite Wells Fargo wealth management unit.
But there is some question whether nabbing this Wells Fargo team of advisors is really such a coup considering how difficult it is to move bank assets. Such assets are notoriously sticky, says competitor Jeff Spears, co-founder and chief executive of Sanctuary Wealth Services LLC, who previously worked at Bank of America.
"I can tell you from first-hand experience. Those assets are sticky and it's because of the loans," he says. "If there's such an opportunity, don't you think you'd see a bunch of wirehouse people going after banks." See: 7 things to know about retention bonuses and why the post-check ether may be wearing off.
Up against the balance sheet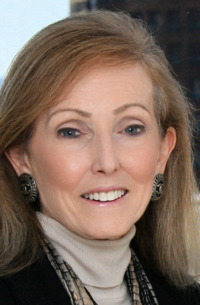 Jeanette Garretty: I want to be
aligned with someone with a vision.

The success rate of moving assets is just very low, Spears says. "I don't fish in that pond."
He speaks from experience. When Bank of America acquired Montgomery Securities, Spears was installed as senior management in the private bank and there he saw firsthand how few clients advisors were able to recruit away. "It was always very low," he says. "I'm not going to fight city hall — which is the balance sheet of a bank. If it does work out for Joe, this will be a real coup." See: Merrill Lynch team breaks away from Bank of America (yes, ironically) to get better access to bankers.
For his part, Piazza has little patience for naysayers. "I prefer to let my actions and the success of our firm speak to the doubters," he says.
One believer in Piazza is Mike Durbin, head of Fidelity Institutional Wealth Services. He expects that Piazza will garner a good chunk of the assets from this team.
"I'm quite confident that Joe and his team did the type of work you need to do to get themselves comfortable with a team of this caliber. I can't comment on the particular circumstances of a firm or a team. What you're seeing with this announcement is the continuing trend of bigger and more sophisticated teams seeking independence." See: Big advisors drive solid year for breakaway wins at Schwab, Fidelity, Pershing and TD.
$2 billion by 2015
While Piazza declines to specify the amount of assets his new advisors managed at Wells Fargo, he is hopeful the Wells Fargo team will move over $300 million in assets or more in the next 60 to 90 days. At that point, his firm would be managing about $600 million in assets, on track to reach his goal of $2 billion in assets by the end of the year. See: As Joe Piazza's 'Robertson Stephens' venture gears up for '$40 billion,' he adds Mercer, Addepar, Fidelity and Schwab and subtracts Fortigent.
"I think we'll be closing in our first billion in two to three months," he says. "We wanted to hit $2 billion in assets by the end of the year and I'm quite sure we'll hit $2 billion before the end of 2014. I think we're right where we want to be."
Robertson Stephens now has 16 full-time staffers, including five financial advisors — a two-to-one ratio that makes sense to Piazza, an ardent Derek Jeter fan.
"We like to play error-free ball and to do that you need the best people in place."
First, build it
Right now, those 16 employees have plenty of room to spread out in the firm's 8,000 square-feet Bank of America office in San Francisco.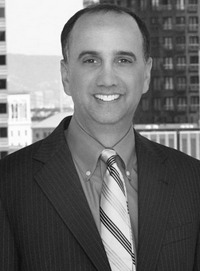 Dan Rozansky: Technology is a big
deal and we're using Addepar. I
wanted to try to get it
into Wells Fargo.
Initially, Piazza one concession to simplifying matters by going all-LPL all the time to provide custody and technology needs. But his thinking changed nearly 180 degrees to a best-of-breed strategy that brings together disparate providers. See: As Joe Piazza's 'Robertson Stephens' venture gears up for '$40 billion,' he adds Mercer, Addepar, Fidelity and Schwab and subtracts Fortigent. Robertson Stephens uses Fidelity and Schwab Advisor Services as custodians.
"My attitude has always been if you build a world-class platform of the very best people, compliance, technology and client on-boarding, then you're going to get the very best possible advisors," he says. "We believe that if you build it first they'll come and that's starting to happen."
Clamoring for innovation
In particular, it was Piazza's decision to offer the services of tech start-up Addepar that proved a significant lure to Garretty and Rozansky. They had been clamoring to offer Addepar to their tech-savvy clients at Wells Fargo for some time.
"Technology is a big deal and we're using Addepar. Two years ago, I was introduced to Addepar. I wanted to try to get it into Wells Fargo," Rozansky says. "We want the tech entrepreneurs as our clients and we need that technology." See: Addepar hits $50 billion of assets and turns its eyes to Advent-Black Diamond's plump RIA market.
Wells Fargo does not use Addepar's technology. A spokesperson at Wells Fargo declined to comment for this story but confirmed that Garretty and Rozansky have departed.
Loving Addepar
The original Robertson Stephens caught fire at the height of the dot-com boom, underwriting 74 IPOs with a total value of $5.5 billion between 1999 and 2000. Its IPOs during the 90s include Switchboard, Mapquest, E-Trade and Vericity.
Piazza says the new technology is a huge bonus in gaining new business.
"We actually picked Addepar because we thought that not only were they the smartest people in the room, but because they match up well with us, both culturally and in that we are both starting our businesses at a time when innovation is badly needed in both of our businesses. The fact that advisors have also caught the Addepar 'bug' is a bonus that we did not expect, but fully understand." See: Where RIA technology stands heading into 2013 after 2012 lost some steam.
Addepar executives are beaming with pride about this news, says Karen White, president and chief operating officer of the Mountain View, Calif. firm. She was recently brought aboard to give the company more "grown-up management." See: The face of Addepar leaves the company amid intrigue about just where it stands with the RIA market.
"It's always great to hear that Addepar is a factor in helping our customers grow their business and take care of their clients. Robertson Stephens is terrific to work with and we're thrilled to support their success," White writes in an e-mail. "We increasingly hear that advisors are done living with the status quo and are demanding a technology that enables them to do a better job for their clients."
White declined to comment about whether her firm has pitched its product to Wells Fargo. "I'm sure you can appreciate that we need to respect the confidentiality of private discussions we have with customers and prospects so have no comment on any interactions with Wells Fargo or others."
Proof point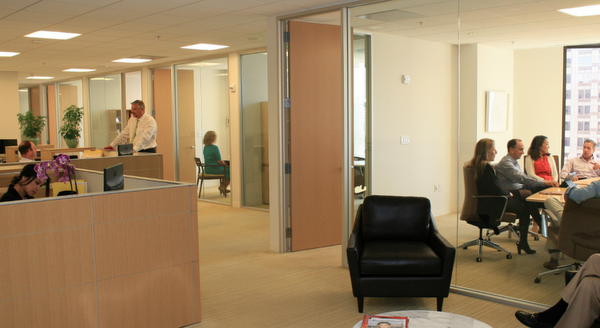 Miles of Aisles: Robertson Stephens' 8,000
square-feet office in San Francisco, currently
home to 16 employees.
Though Addepar spice is a vital ingredient in the Robertson Stephens recipe for success, Durbin sees a broader set of advantages beginning to bake in at the firm.
"Joe would tell you the brand is very important. But being an outsider looking in, I would say the brand is suggestive of the team that's being assembled. They've cultivated their culture and the brand is important but it goes beyond the two names. It's really the culture and the team that Joe is assembling back together," Durbin says.
Piazza says that it is with humility that he sees these pieces coming together.
"When I first walked in that office space, all 8,000 feet of it, the thought crossed my mind on whether I could pull this off, but now with what's happening every day, it has taken the risk off the table. We're getting a lot of attention from a lot of advisors who are in very serious discussions with us. I think at this pace we're setting we're going to be hiring an advisor or two every quarter and that is going to continue in the future." See: The two dramatic moments everyone was buzzing about at the MarketCounsel conference.
Dreams of unusual size
Piazza says he already has his sights set on expansion. In the next year, he's hoping to open new offices in California and, perhaps, New York.
The success and the preparation are not coincidental, according to Durbin.
"To attract teams of this size and complexity you've got have to have third-party solutions and they've got a number of solutions ready. To be able to attract a team of that size and caliber is pretty good proof point. It's what got us excited about being a strategic service provider. It's a pretty unique experience. You've got a venerable brand coupled with an extremely influential management team and those two elements — the brand and team — have a lot of tentacles. They're going to do their best to re-assemble it and we're thrilled to get in there early with them and play out our part."
Equity access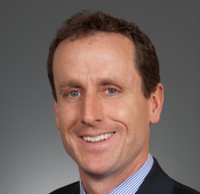 Mike Durbin: To attract teams of
this size and complexity you've got
have to have third-party solutions and
they've got a number of solutions
ready.
Piazza took a hands-on approach in the wooing of Garretty and Rozansky.
"He was very involved in the recruiting," says Garretty, who met with Piazza first at Robertson Stephens. "He has a vision and it comes through and he loves to talk about it. For me, when I'm looking around, I want to be aligned with someone with a vision."
Garretty and Rozansky worked together at Wells Fargo for 11 years and say they're excited about starting on the ground floor at a new firm. "There were things that I wanted to do differently at Wells Fargo," Rozansky says. "For me, it's working at a smaller company and it gives me more control. But I also wanted to make sure of the safety and access for clients."
The opportunity to have ownership in a firm is also a big deal for Rozansky and Garretty. All advisors have the opportunity to get equity in the firm based on the value of their advisory practice.
Silicon Valley feel
Garretty says she's been considering the RIA model for some time.
"The RIA model has been evolving and it's been really interesting to watch. I think what we finally decided was attractive for us was the flexibility. The focus that a smaller firm, particularly an RIA, can provide us is something that would work really well in Silicon Valley. We thought the small RIA model with very good infrastructure was something that works really well for us." See: Why the San Francisco Bay area is almost certainly the capitol of the RIA business.
She particularly likes the fact that the investment committee is in the same office.
There was nothing wrong per se at Wells Fargo, Garretty says. "I've been happy there for awhile. I really do think that's the wrong perspective to say there's a final straw. For us, it is more the opportunity to do more and do something a little bit different that the client needs." See: Loving Merrill but leaving Merrill, two 38-year olds and an 'old guy' take $700 million of assets to an RIA citing the model's better mousetrap.
---
---
Mentioned in this article:
Addepar
Portfolio Management System
Top Executive: Eric Poirier
---
---
---