Stuart DePina: It does close the gap with Salesforce.
Brooke's Note: They say you are as strong as your weakest link. It's true for bicycle chains, perhaps less so for software, but it's a good expression to live by. Tamarac, with its home-built rebalancing software and souped-up PortfolioCenter accounting software, is pretty darn solid. But it may have lacked a little of what they call "feel" on its CRM front-end, an important chain link for a a software bundle. The Seattle company has now added bells and whistles to increase that 21st century feeling and, at the same time, increased white space to cut back on headaches and crossed-eye syndrome. It still isn't out-Salesforcing Salesforce with its CRM link but that isn't Stuart DePina's objective.
Back when Tamarac was just a maker of trading software, its executives had bigger dreams of branching out to add performance reporting, portfolio accounting and customer relationship management systems to its menu of services.
During 2007 and 2008 executives at the Seattle-based firm pondered various CRM partners, and Salesforce and Microsoft Dynamics topped the list as contenders.
Microsoft had a baked-in-cake advantage because Tamarac, built on .NET, already had the cross-town super-giant's DNA in its veins. See: Tamarac picks second Microsoft partner to handle spike in demand from big RIAs.
Yet Salesforce had its own inside track: It was used internally by Tamarac to handle its own customer relations.
Inner beauty
But Bill Gates' CRM play also had some glaring weaknesses in those days. "It was really not a good product, particularly with regard to Salesforce," says Stuart DePina, group president, Envestnet | Tamarac .
For all its drawbacks, however, Microsoft still had a deeper beauty in CRM that earned it a position as the third stool leg of the Tamarac applications for what is now Advisor XI. According to Tamarac's thinking, Microsoft Dynamics was more conducive to efficiently building RIA-specific workflows that could be universally delivered to firms. "With Salesforce, it's not that flexible." See: What Tamarac's overhauling of its Advisor Xi has yielded.
Another plus was that Microsoft was destined to improve and by 2011, it had released a version of Microsoft Dynamics that was looking pretty good.
Tamarac even switched out Salesforce for Microsoft CRM internally.
Gap closer
But all along the way, Salesforce retained advantages that Tamarac's execs were determined to address — and earlier this month it launched the release of its new Advisor CRM.
"It was a true overhaul," Brandon Rembe, senior vice president of technology for Tamarac. What made the project so big was Rembe's determination not to just pass along Microsoft upgrades to upgrade the Tamarac layer for its customers.
Salesforce shines is in its ability to reach mobile devices, tablets and to work through social media. The new Tamarac CRM addresses those issues. On the more wonky side, a new Tamarac overlay to Microsoft allows for more white space, fewer pop-ups and the elimination of many steps. There is "My Wall," a social media message board where users can post activity assignments and reminders, as well as account notes and updates to be viewed by colleagues on other teams. Advisors can also upload client photos that correspond to household-level account records. Skype calls are now woven in to the CRM, too. See: 9 things to know about the 'truth' concerning RIA use of social media.
"This closes the gap tremendously," DePina says. See: Tamarac picks second Microsoft partner to handle spike in demand from big RIAs.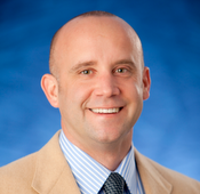 Eric Clarke: The social side is
very impressive.
Still, making a dent in Salesforce's "Chatter" is not going to be easy for Microsoft Dynamics, according to Eric Clarke, president of Orion Advisor Services LLC of Omaha, Neb.
"The social side is very impressive," he says. Essentially, Chatter blends various technologies for internal communications and weaves in social media like Twitter and LinkedIn. See: Social media is effective with ultra-wealthy clients but forget the Morgan Stanley approach. (Tamarac's marketing officer, Matt Stroh says he is working to track down an RIA to corroborate this view. I will add quotes as I receive them.)
Envestnet-Tamarac has enjoyed tremendous success selling a tightly integrated bundle of multiple applications. See: Envestnet struts upmarket stuff by signing a $1.5-billion, a $3.3-billion, a $2.3-billion and a $4-billion RIA to big technology deals.
Meanwhile, Franklin Tsung, chief operating officer of AppCrown LLC New York-based maker of CRM software for RIAs (and other financial firms) built on Salesforce, says he does not believe that, in a sense, Microsoft software can ever be brought onto a par with Salesforce.
"A two year-old can play an iPad and it's the same thing with Salesforce. It's drag and drop and a two year old can learn it. Microsoft just isn't all that user friendly."
One and done

Franklin Tsung: Every time I do
an upgrade, I'm only doing it
once.
The significance of the infant factor is not academic, Tsung says. He came close to choosing Microsoft Dynamics himself for AppCrown because of its compatibility with RIA-beloved See: One firm's odyssey to upgrade its rebalancing system with Tamarac. but shied away from it because it was prohibitively expensive for him to train people to use.
Indeed, Tamarac was very conscious of Outlook compatibility when it chose Microsoft over Salesforce." Microsoft Dynamics works well with Microsoft Outlook," DePina says. Tsung counters that Salesforce has recently developed an Outlook-compatible technology that pulls up Outlook information on Salesforce.
Tsung also disagrees about Salesforce's ability to make changes and apply them widely to a broad number of RIAs. "They say customizations to workflows don't scale. That's not true. Every time I do an upgrade, I'm only doing it once."
Dabbling in 'Sugar'
Still, Tsung emphasizes that his firm has its own software and he remains agnostic about what CRM provider he uses as a platform for AppCrown.
In fact, he says, he is already beginning to pilot use of SugarCRM — the CRM that IBM plugs in to the big systems it builds worldwide — with one bank client that is demanding it. "We're dabbling in Sugar for five years down the road," he says. "We didn't lock ourselves into one CRM. That would be silly. With IBM backing this, [Sugar] will be the talk of the town. See: Seeing mobile devices win niches in immobile offices, Schwab brings its RIA data to an iPad app.
"I agree with Franklin that it's important to be open architecture," says Clarke. "You used to have to chose one [CRM provider] because it took so much work to integrate. Now with open code, it's not that difficult to integrate effectively with multiple vendors." See: Investing In the Digital Age: How RIAs could start a free-data revolution and why it won't bankrupt the vendors.
DePina says his company's architecture is far more open than is commonly understood.
"Unfortunately for us that is a common misperception – we struggle with the marketing on this one," he writes in an email. "We have an open architecture and all of our solutions (including CRM) work with other software products. As for CRM we have clients who use our AdvisorView and Advisor Rebalancer but are using SalesForce, Junxure, RedTail, etc as their CRM."
Still, there are levels of the open architecture game leaving plenty of new entrants like SugarCRM that exude a wide-open purity. It is a 10 year-old Cupertino, Calif.-based venture-backed start-up CRM company that got thrust into the spotlight by IBM, a blessing seconded when Goldman Sachs invested $40 million in the firm last August.
IBM chose Sugar as a way to cut its dependency on Oracle-Siebel CRM. Oracle is increasingly infringing on IBM's big enterprise deals. See: Fidelity is set to add Envestnet, Redtail, Morningstar, AppCrown and Salesforce to WealthCentral.
How, not what
Sugar CEO Larry Augustin, formerly chief executive of VA Linux, told Tech Crunch that essentially Sugar is a pure-play on CRM — and Salesforce is a vast bundle that is defining itself by how it delivers, not by what it delivers. "Salesforce has a broad multi-tenant approach to provide a variety of ways for delivering services. [Is??] acquisitions also demonstrate the approach to offer ways for delivering services.
"For Salesforce, it's less about CRM and more about platforms it can leverage to push apps and a combination of services."
Augustin actually describes the Salesforce advantage with his attempt to criticize it, according to Clarke.
"Salesforce does view themselves as a technology platform," he says. "The really don't push CRM and I think that's been a winning formula for them." See: Greg Friedman is set to finally bring Junxure to the cloud and beat back the Salesforce-ification of the industry.
ProTracker was the first RIA CRM to commit to SugarCRM as it went onto the cloud.
For more thinking on SugarCRM and its perceived advantages over Microsoft and Salesforce, click here
---
---
Mentioned in this article:
AppCrown, LLC
Outsourcer, CRM Software, Tech: Other
Top Executive: Ted Tsung
Envestnet | Tamarac
Portfolio Management System, CRM Software, Trading/Rebalancing
Top Executive: Stuart DePina
---
---
---
http://netishin.e-u.in.ua/user/kopetpdywv/
Given that the advent of Apple iPods in 2001, The Mp3 Player has obtained a lot reputation largely thanks to its sleek and easy yet trendy and desirable design. Considering the fact that its creation millions of units from the products are sold. It attained level of popularity generally a result of the moveable characteristic due to the fact since it could be carried from just one place to one more with consummate relieve. It arrives in various dimensions and likewise arrives that has a assortment of storage options which includes 20GB to 160GB. The seem high quality offered plus the battery existence is 2nd to none. As it is one of its types and it has gained considerably popularity among the persons Apple iPods has also been awarded on many events he most effective invention of that calendar year?
Brooke Southall
Peter,
That's a good perspective. Open sourceness is considered next to Godliness but it sounds like it
also means, in some instances: batteries not included, do it yourself, read the directions.
Brooke
Bill Winterberg
Brooke, go speak with Warren Mackensen of ProTracker, he's very familiar with SugarCRM and is an OEM Partner with them for the ProTracker Cloud solution.
http://www.iwsamerica.lfchosting.com/_layouts/styl
Many individuals will not have an understanding of that drugs really don't cure Consideration deficit hyperactivity disorder. Fairly, they simply just temporarily suppress the indicators and signs or symptoms. Match it up with normal treatments that have components that suppress the symptoms and indicators And provide the head the nutrition it need to restore correct functionality with time. Should you have to have to supply your son or daughter Interest deficit hyperactivity disorder items, why never you supply your son or daughter medicines which will heal his mind, instead of a person which can just suppress the signals and signs? From the end, should really not the intention of giving medication be to help your son or daughter make improvements to?
Pete Giza
Brooke,
Yes to your IBM question. Sugar is what it is – open source. My comments come from my own personal experience with it. Its a lot of work and it was missing a lot of what I considered basic functionality. Being open source means you will be doing development work to make it work for your firm. If you don't have SQL experience you will be buying it.
Pete
Brooke Southall
Peter,
From a distance it sounds pretty cool with its open code, lack of entanglements, Linux heritage, non-legacy-bound systems and the like.
What's not to like?!
Does IBM love Sugar just because it's not Oracle, Salesforce or Microsoft?
Brooke
testing
something something apple cider