Oleg Tishkevich: If the 2045 Avatar Project is successful, we will have to expand the Finance Logix technology platform to creating financial plans for immortals.
"Heartbleed is not a virus, rather it is a bug — a defect and is not criminal in nature like the Target hacking. But what it really is, is a global cry for quality."
Wow. Did you have that very basic understanding of the well-publicized software excrescence? I didn't.
But I was glad to be in the know and I was reassured because that definition was delivered by Michelle Dennedy in her lead-off speech of the third annual Finance Logix Industry Conference in Caesar's Palace in Las Vegas. See: Round 2 in Vegas: Finance Logix advisor conference ponders simplicity as sophistication.
Dennedy is chief privacy officer of McAfee and also founder of the iDennedyProject. A self-described lawyer by training and technologist by career choice, she was just the first in an all-star lineup of experts, technologists, privacy officers — and even the head of IT Security for the Sochi Winter Olympics.
"Fifteen years ago, the role of a privacy officer didn't exist, but it is a requirement today," noted Dennedy who is leading the charge for creating a new category called "privacy engineering" and has a new book out called, "The Privacy Engineer's Manifesto."
New definition of 'private banking'
Dennedy offered advice and guidance to the gathering of RIAs, broker-dealer executives and industry participants on the latest approach to securing data and personal information.
"You need to have one system of record that becomes the backbone of your organization in which you curate the data that matters. If you as an organization are just hoarding data with no plan, then you get Heartbleed, Target and characters like Snowden. Don't think of 'privacy' as an anchor, holding your business back, rather think of it as a way to delight people."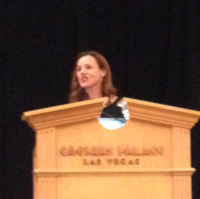 Michelle Dennedy: Heartbleed … is a
global cry for quality.
Dennedy concluded with some relevant advice for mergers and acquisitions in the advisory space. "For any of these transactions, you need to assure that you as the seller have the contractual right to transfer your client's information. Without that, then your valuation goes way down." See: Schwab 2013 RIA M&A data show hope but also futility.
Following Dennedy was Joel Bruckenstein, the T3 producer, who described an RIA industry in denial, particularly when it comes to the rise of mobile apps and the emerging presence of the "robo-advisors." See: Why I find the term 'robo-advisor' objectionable and unhelpful.
"The pace of change in advisor technology keeps moving faster and faster and advisors are not keeping up," Bruckenstein observes, citing his data that shows that 64% of advisors felt technology adds value to their business, however, only 34% are willing to pay for it.
Who loves ya?
"I've seen your [advisors'] websites and mobile presence and those are not as good as Mint or Personal Capital. What is your value proposition? If you are only offering investment-management services, then you are not going to be in business in five years," Bruckenstein warned. "Advances in technology are driving more and more transparency into the advisor-client relationship. And if you are transparent, then you can't charge 100 basis points for investment management anymore."
But on the positive side, Bruckenstein believes that if advisors can learn from the robo-advisors, they can take the best of what those online platforms offer and incorporate into their businesses. "Let's build a better Betterment," he says. See: Tiburon CEO Summit extrudes big news: Betterment Institutional is born.

Philip Palaveev – r. – with
Ken Evans: Advisors can't wait for
the last five years of their
career to start planning and then
ride off into the sunset.
"Advisors will have to separate what they do for clients, and investing. You will need to focus on financial planning and the value added things you do that an algorithm can't."
Reaching the 90%
Additionally, Bruckenstein believes that by lowering the costs for investing and harnessing efficiencies, advisors will be able to lower their minimums and serve more clients. "This isn't all bad news," he says. "Now you can start to reach out to the other 90% of investors who can't afford traditional AUM minimums."
Practice management also was a broad theme during the conference and noted experts Matt Matrisian of Asset Mark, Philip Palaveev of the Ensemble Practice and Ken Evans of Moss Adams gave their perspective on advisor productivity and succession planning.
Matrisian did a great job showing how his company is working to create a robo-TAMP by injecting financial planning into the core investment management process by using Finance Logix software — and making himself a very welcome Finance Logix guest in the process!
"When you are building a unified managed account for a client, you need to have a consistent aggregated view and our new technology platform makes this a simple and streamlined process for advisors," said the AssetMark executive. "This financial planning approach builds a deeper engagement model with clients and can differentiate you from a robo-advisor or someone just selling investments."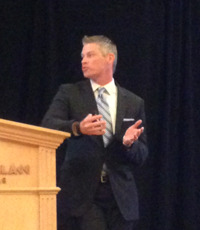 Matt Matrisian: This financial planning approach
builds a deeper engagement model with
clients and can differentiate you from
a robo-advisor.
Paint yourself out of a corner
Palaveev and Evans used an example from ancient history to illustrate the conundrum facing aging advisors and their succession challenges. "Michelangelo is famously known for painting the Sistine Chapel ceiling, however what is less known is that he had 40 assistants helping him. He did not want to share the credit, so he fired them every three months. So, while he did ultimately get the credit for the masterpiece, he also died alone and in poverty."
The message here is that advisors need to rethink their succession approach and involve younger people into their businesses sooner and in more depth to avoid Michelangelo's fate. "Advisors can't wait for the last five years of their career to start planning and then ride off into the sunset. That's not reality." Palaveev cautioned. See: Have an aversion to succession plans? Consider a continuity pact as a vital baby step.
Consistent with the theme of expanding the way you think about your business, Finance Logix conference host and chief executive Oleg Tishkevich gave a mind-expanding presentation on what technology will be like in the future, not the immediate future, but 30 to 40 years out.
Tishkevich emigrated to the United States from the Soviet Union when he was 17. He put himself through the University of Arizona, studying computer science. From there, he worked for Thompson on the big financial planning systems for banks and broker dealers. About 14 years ago, he left to start Finance Logix.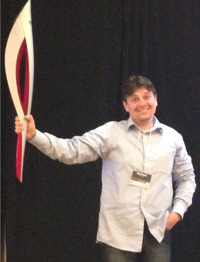 Mikhail Perlov — seen here carrying
an actual Olympic torch: We needed
scalability like never before. That is
why we put everything in the
Cloud.
Tishkevich highlighted the strategic social initiative 2045 Avatar Project (www.2045.com) that consists of a group of researchers, futurists, scientists and technologists that are working on the transfer of individual personality and intelligence into sophisticated artificial carriers such as a robot or an avatar. With the many fast advancements in robotic appendages and the ability for people to control them now with their minds, the likelihood of this project coming to fruition isn't that far off.
"If they are successful, then this means that we will have to expand the Finance Logix technology platform to accommodate creating financial plans for immortals," he said somewhat half-joking, but also in all seriousness.
Carry the torch
Rounding out the conference was a very interesting presentation by Mikhail Perlov, head of IT Security for the 2014 Sochi Winter Olympics. Perlov described what went into the massive undertaking for ensuring the continuity and security of ticket purchases, venue descriptions, streaming video of live action and nearly five billion web page views of the Olympic website.
Particularly as a high profile target for terrorists, protest groups and others, the Olympics present Perlov with a massive challenge. "We needed scalability like never before," Perlov said. "That is why we put everything in the Cloud." Perlov also brought with him one of the Olympic Torches and attendees used that as a prime photo opportunity.
The conference featured numerous networking and collaborative sessions, highlighting the new features in the Finance Logix technology suite, including the new client portal and Retire Logix mobile app, as well as presentations from sponsors TD Ameritrade , Laserfiche, Redtail Technology and LaserApp.
Party penchant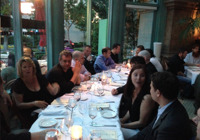 Dinner at The Paris — the
resort across the way from Caesar's.

Finance Logix conference is widely known for Tishkevich's penchant for having fun. The conference evening activities took advantage of a massive penthouse suite at Caesar's and all that Vegas offers. Attendees left in high spirits, optimistic they had a new perspective on change opportunities impacting the advisory industry.
To learn more about what went on at the conference, check out the many tweets on @FinanceLogix on Twitter.
Disclosure: Welsh has consulted in the past for Finance Logix and other companies listed in this article.
Timothy D. Welsh is president and founder of Nexus Strategy , a leading consulting firm to the wealth management industry, and can be reached at tim@nexus-strategy.com or on Twitter @NexusStrategy.
---
Mentioned in this article:
---
---
---
Bill
Funny, but Perlov has never been head of IT Security for the 2014 Sochi Winter Olympics.
Frederick Van Den Abbeel / TradePMR
I thought this meeting was one of the best I have attended this year. Instead of hundreds or thousands of individuals, was very nice to participate in a more collaborative session involving deeper discussions. Finance Logix and their entire team did a superb job and the quality of the presentations and my fellow attendees was A+.