News, Vision & Voice for the Advisory Community
The Austin-based firm is putting more CEO duties on Eduardo Repetto, and letting Gerard O'Reilly do the heavy CIO lifting
April 11, 2014 — 9:11 PM UTC by Brooke Southall
Eduardo Repetto is one person with shared titles and duties and brimming-over schedule.
But the co-chief executive and chief investment officer of Dimensional Fund Advisors will get some welcome relief next week when, in a rare executive tweak by the Austin, Texas-based company, Repetto will become co-CIO alongside Gerard O'Reilly, who is being elevated from head of research to the role of co-chief investment officer.
It's a sign, sources say, that DFA is finally achieving a clear division of C-Suite labor. Now that Repetto is freed up from some of the minutiae of running dozens of enhanced index products with $356 billion of assets in them, he will take over more of chairman David Booth's executive duties. Booth will continue to execute his succession plan of winding down his day to day duties.
The index product company grew assets nearly 20% from the $300 billion figure cited by Repetto at the Loring Ward conference last June. DFA added $16.7 billion of net new assets during the first none months of 2013. See: Dimensional Fund Advisors still has low RIA acceptance rate and stunning growth.
The added support at the CIO level will be a boon to Repetto, who not only has to guide a company on a stunning growth path but one that has significant operations in places like Singapore and Australia that he frequently globe-trots to.
"You'd be hard-pressed to find a guy who works harder than Eduardo," says Alex Potts, chief executive of Loring Ward, a San Jose, Calif.-based TAMP that manages mostly DFA funds on behalf of financial advisors. "He's just an animal."
Pro 'co'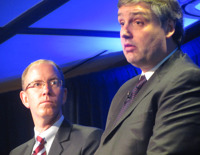 Alex Potts, l., with Repetto: You'd
be hard-pressed to find a guy
who works harder than Eduardo.
But if Repetto is being freed up of CIO duties, he may be doing so with some reluctance.
"You know me and how much I enjoy working on investment issues, from research, to implementation to client interaction," he writes in an e-mail. "Gerard is similar in that sense. We will both work on ways to continue improving our investment solutions for our clients, as we have been doing during the last 10 years we have been working together at Dimensional."
Repetto adds: "Sharing responsibilities has been working very well for Dimensional. We have co-CEO's, co-heads of portfolio management and now co-CIOs.
DFA announced the change today. O'Reilly will step into his new position effective April 15.
True believers
Prior to joining Dimensional in 2004, O'Reilly obtained his Ph.D in aeronautics from the California Institute of Technology — the same rocket science qualification as Repetto. He holds a master's of science degree in high performance computing from Trinity College Dublin in his native country of Ireland, where he also received a first class honors degree in theoretical physics and was a recipient of the Foundation Scholarship.
Aside from his academic prowess, O'Reilly seems to possess a quality prized by leaders at DFA and the RIAs selected to distribute its products — true belief in the value of DFAs offering.
Booth cites these qualities, too.
"Gerard's intellectual rigor and his dedication to Dimensional's investment philosophy make him the ideal person to take on this important position," writes Booth, chairman and co-chief executive officer of Dimensional in a prepared remark. Dimensional launched its first strategy in 1981 based on research documenting the stronger performance of US small-cap stocks.
Succession issue
DFA's success has gained notice among companies like Barclays, AQR, Vanguard and State Street, that have jumped on the intelligent-passive bandwagon method of investing.
Another newer challenge for DFA execs: RIA asset custodians, namely Fidelity Investments, are losing some patience with DFA because the economics of the relationships are not always favorable to holding custody of RIA assets invested heavily in DFA funds. See: Fidelity Investments soon to jack up commissions on DFA and Vanguard Group mutual fund trades.
Of course there is always a bigger succession issue lurking — at least in one reporter's mind, especially after it was raised by advisors two years ago at a DFA/Loring Ward conference.
Will DFA finally execute the ultimate succession strategy — an initial public offering — of its valuable franchise.
On that question, Repetto was definitive.
"No IPO," he writes.
---
---
Share your thoughts and opinions with the author or other readers.
---