Carrie Gallaway's team had to write a check to Morgan Stanley but sees a long-term play with Lebenthal.
Carrie Gallaway is the rarest of financial advisory gems — a 37 year-old female financial advisor with 15 years of experience and a big book of business.
The former New York-based Morgan Stanley advisor could — in breakaway terms — write her own ticket in an industry short on young advisors, experienced advisors, big-asset advisors and, particularly, women advisors. See: Long the underdogs, female advisors are actually winning in two important categories, a study based on $3.5 trillion of AUM shows.
Instead, she and her partner, Andrew Stern, 38, wrote Morgan Stanley a big check to repay a bonus and received no bonus at all for signing with Lebenthal Wealth Advisors, a start-up hybrid RIA under the leadership of Frank Campanale.
What Gallaway was looking for echoes breakaways of all ages and genders: "The ability to choose among a number of custodians and providers offered by Lebenthal, empowers us to present to our clients the choice and competitive pricing they deserve and expect from us," she says.
In joining Lebenthal, Gallaway also secures a ground-floor opportunity with a well financed, well branded firm led by some proven executives — and soon, spanking new offices on Park Avenue. See: Why the slow-evolving metro New York area is still on course to be the capital of the RIA business.
Same business plan, different brand
Meanwhile, Gallaway may represent the first, best evidence that Campanale is on to something with his idea of using a yesteryear brand as a starting point for a new-look advisory practice in 2014. He and Andy Grillo already took a stab at that concept with the E.F. Hutton brand, for which the pair paid a premium price, according to sources, only to fail to achieve liftoff, at least in the United States. See: Why Frank Campanale put his E.F. Hutton dream aside to join an OSJ.
But Campanale brushes off concerns about that venture, saying that it just led to something even better.
"I decided I would take the business plan and drop it into Lebenthal. I thought this was a much better opportunity." See: Frank Campanale's E.F. Hutton reboot starts to take shape as ex-Hutton executives sign on.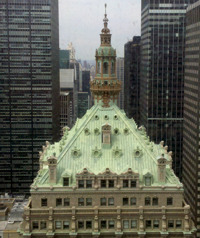 Frank Campanale will seek to re-energize
a landmark brand from the landmark
Helmsley Building.
Calcium infusion
What Campanale likes about the Lebenthal firm, founded in 1925, swallowed whole by Merrill Lynch in 2006, and spat back out for $1,000 in 2007, is its "unscathed" reputation and the effort that has gone into building it up again.
"The bones were intact," he says.
Old bones can be frail and dusty, but Campanale has taken a major step toward dispelling that connotation by recruiting the Gallaway Stern Group from Morgan Stanley.
"Carrie and Andy joining Lebenthal provide an incontrovertible testimonial to the fact that dynamic and astute advisory teams have an appreciation for the boutique approach being offered at our firm," he says. See: A small RIA custodian in San Diego faces a new challenge: accelerating growth [updated].
Family lines
Stern, formerly a junior member of John Sorenson's mega-team at Morgan Stanley, is the stepson of Jeff Lane, chairman of the board, Lebenthal Holdings and a financial backer of the new Lebenthal business. Gallaway and Stern were at Morgan Stanley for 15 and 17 years, respectively. The team joining Lebenthal also includes Jimmy E. Janeczek, Leigh T. Moglia, and Alexander P. Tuason, as vice presidents, wealth management.
Stern is keen on the carrot of independence and opportunity as opposed the stick of bad wirehouse circumstances.
"It's brand recognition and technology," he says. "There was no pressure to move." See: A Morgan Stanley Smith Barney breakaway stepped off the wirehouse carousel to keep in touch with his clients.
Ex-Smith Barney ace in the hole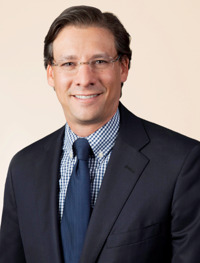 Andrew Stern: There was no pressure
to move.
Though Lebenthal Wealth Advisors, as a fledgling RIA practice, still shows zero assets managed on its ADV, it expects the migration of the $1.2 billion of assets from Morgan Stanley. It also has about $600 million of managed assets under a separate RIA, Lebenthal Asset Management, Campanale says.
Lebenthal also recently acquired New York-based Heckman Global Advisors, Inc., which Campanale says has an additional $600 million advised.
Heckman is a global equity allocation advisory, consulting and portfolio-modeling firm founded in 1994 by Dr. Leila Heckman who was a Smith Barney colleague of Campanale's. She was managing director responsible for global asset allocation and her team was ranked No. 1 or No. 2 for asset allocation by Institutional Investor's annual global poll for four consecutive years. At the time, Campanale was chief executive of Smith Barney's Consulting Group. See: Inside the mind of one recent Morgan Stanley Smith Barney breakaway who landed at HighTower.
TV pitches
What is drawing advisors to Lebenthal, aside from personal connections, according to Campanale, is his firm's rich financial backing, its brand and the swanky offices that it is poised to move into — 43,000 square feet in two floors of the famed Helmsley Building draping Park Avenue. The company, with 70 employees, is still in smaller, humbler Fifth Ave. digs. The wealth management unit currently has nine people.
Campanale says that what people don't quite get about the Lebenthal brand is its broad national appeal and recognition — or at least in a super-region encompassing Florida and parts of the Midwest. When the founder's son, James Lebenthal came aboard in 1963, he pitched its core product, municipal bonds, directly consumers (who in turn had to purchase them through financial advisors.) Starting in the 1970s, that campaign included radio spots and television commercials, the latter of which had Lebenthal, now chairman emeritus of Lebenthal Wealth Advisors, popping up from manhole covers.
Campanale insists that there will be a series of announcements related to new advisors coming aboard on the strength of that brand. He points out that advisors like to be associated with municipal bond expertise that is Lebenthal's traditional core and one it is building up again. Typically, wealthy investors flock to the tax sheltering features provided by the products. See: The deep dish on why Meredith Whitney was dead wrong on municipal bonds.
Big-time backup
Lebenthal, under the direction of its president and chief operating officer, Grillo, is using a series of outside investing and technology partners including Envestnet Inc., Fortigent, SalesForce and FolioDynamix.
Lebenthal Wealth Advisors' primary custodians include the two monsters that Campanale, former chief executive of Smith Barney Consulting, considered safest and most proficient to partner with — RBC Advisor Services and BNY Mellon (i.e. Pershing). See: Pershing and BNY Mellon unveil a unified, 'dream' RIA and bank custody unit.
The company hired AppCrown LLC to bridge the gap to BNY Mellon and Salesforce. See: How AppCrown got a big RIA footprint overnight by handling Salesforce implementations.
---
---
Mentioned in this article:
---
---
---
http://747.liiika.tmweb.ru/viewtopic.php?pid=72191
four. Building the appliance Shop critical … It had been a different tear-jerker of the overall performance on Apple's account. Apple waterproof coat permitted the populace to work with its creative imagination, motivation and familiarity with technological know-how to deliver these kind of excellent apps ( to start with with the iTouch, up coming the i cellular phone also now the apple ipad tablet) that may press the complex limitations on the smartphone. Now, the identical individuals are working with the apple ipad and it is really still to be witnessed what might be finished together with the pill like computer system. In the event the apple iphone 's indicative of just what the ipad can perform, points are likely to stop up acquiring fairly enjoyable.
http://www.conveyormfg.com/_vti_inf.html
As it really is a pre-beta variety of for developer, it'd not be stable or do the job adequately because the final variety of the plan will. Microsoft suggests not by utilizing this inside a production atmosphere or in the particular machines. Get a spare a person if you want to test drive it. Also, some item capabilities and functionality may need innovative or extra hardware, or installing of other software.