Dan Kern: Some of the audience members wanted to hear less of a love fest from the custodians.
Brooke's Note: The Barron's "Top" awards are a peculiar institution. They are heavily criticized for tilting heavily toward advisors with big books. Yet that principled stand never deters the winners from proudly accepting their due. The only way that the true worthiness of an advisor could be judged would be to bring God into the judging process and God has prior engagements. So we make due with a college try of sorts from an esteemed publication and we get a conference or two out of it that brings together some good minds. Reports from the event are always positive. But, too, I have heard growing impatience about the complacency of the RIA custodians in featuring so prominently in the Barron's sessions. That their comments are of the platitudinous, fun-facting and cheerleading variety has worn thin to some careful watchers.
I didn't go to the Barron's Top Independent Advisors Summit last week in Phoenix out of any sense of obligation. I wasn't chosen for a "Top" award. In fact my firm, Advisor Partners, with $250 million of managed assets, is smaller than the typical winning firm and my RIA manages money on behalf of advisors, not individual investors. See: What went down at Barron's Top Independent Advisors Summit in the Arizona desert. See: Three RIA citizen journalists file dispatches from the TD Ameritrade conference.
Yet this was the third time I have attended this event and came away impressed. I believe the event shines because it creates an atmosphere where big egos cancel each other out, which lays the groundwork for forthright conversations free of chest thumping. It's a phenomenon I have also observed among the high-level executives who attend the Tiburon CEO Summit. See: From a Wall Street perch, Chip Roame imparts wry skepticism anaerobically at Tiburon CEO Summit of 2013, spring edition.
The Barron's summit, organized by its advisor guru Sterling Shea, attracts a mix of attendees including industry leaders such as Ron Carson, Shirl Penney, Steve Lockshin and Charles Goldman alongside highly successful but less prominent advisors recognized by Barron's for their achievements. See: On Barron's panel at IMCA, three top advisors tell what knocked them on course.
Empty chair
The conference shared a Marriott complex with the LPGA's JTBC Founders Cup event. This pairing assured that the complex had more than its fair share of motivated, Type-A people. Of course, there were a few differences. Our crowd (average age 55), had a lot less hair and stayed much later at the hotel bar!
The traditional kickoff session with the custodians featured the RIA chiefs of Schwab Advisor Services, TD Ameritrade and Pershing Advisor Solutions. Fidelity Institutional Wealth Services 's custody chief, Mike Durbin, had another commitment, so Fidelity was not represented on stage. The group was surprisingly gentle about Fidelity's absence, avoiding the temptation to place an empty chair on stage.
Graying heads and tattooed arms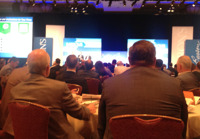 Custodians bigwigs Bernie Clark, Tom Nally
and Mark Tibergien had a disappointingly
uniform perspective to share.
Bernie Clark, Tom Nally and Mark Tibergien had a thoughtful, fairly uniform, perspective to share. At one point, Tibergien quipped that he was going to have Bernie deliver his presentation. See: A sometimes defensive Bernie Clark makes four points pertaining to Schwab's RIA custody business in an update to Wall Street.
The custodians discussed the explosive growth of the industry while highlighting some of the challenges the industry needs to address, such as talent acquisition, branding, and working with younger clients and women. See: TD Ameritrade launches an effort to develop women advisors. As I participated in conversations with advisors during the course of the event, the challenges of hiring good talent was indeed the biggest recurring theme.
Nally contributed statistics, pointing out that only 7% of the young affluent use an RIA, but that there are similar drivers for young and old in selecting an advisor. Another set of statistics also stands out — only 6% of advisors are under the age of 30, while 75% of advisors have no succession plan. See: Favorite succession plan of RIAs remains the same: none at all. More than once, presenters pointed out that the average advisor is a 55-year-old, white man. My favorite example from the session was interesting though not necessarily very helpful for my practice: 40% of millennials have tattoos.
Keeping it (un)real
Some of the audience members wanted to hear less of a love fest from the custodians. Indeed, people remarked that they have seen a recurring theme of custodians fighting tooth and nail behind the scenes but then showing a public face of benign harmony. The snarkier members of the audience wanted the friendly competitors to let loose a bit more, just once, to hear one person say: "the last technology innovation you had was using the abacus," or "your fees make working with a loan shark look like a bargain," or "your customer service team got their training in the old Soviet Union." See: How a small RIA custodian is making big waves.
In all seriousness, it would be nice if we heard a bit more about how the custodians disagree with one another on a variety of industry issues. A debating atmosphere is much more conducive to learning and interesting viewpoints. It can be frustrating to hear high-level executives spouting mid-level platitudes about non-core issues such as social media use and providing advice to an "always-on" generation, without falling into the trap of reinforcing the behavioral tendency to trade too frequently and to chase returns.
Global perspectives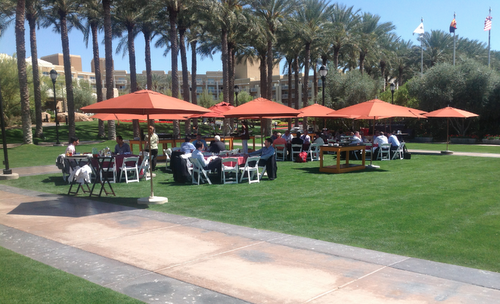 Advisors and golfers overlapped on the
Phoenix Marriott's grounds.
Standouts from a content perspective were Kevin Kajiwara from Teneo Intelligence and Michael Hayden, former director of the National Security Agency and the CIA. Kajiwara discussed the decline of U.S. hegemony and post-war institutions. He also discussed the Crimean crisis, and likely next steps in U.S. response and the potential for a conflict in Asia, calling the East China Sea the most dangerous place in the world.
Kajiwara highlighted the potential for the U.S. to be caught between obligations to a Japan led by a revisionist, nationalist leader and a China that is no longer willing to accept U.S. dominance over the sea.
Hayden discussed the decline of the institutions and artificial borders created after World War I. He pointed out the nationalist appeal to Russia of this crisis, as Crimea had been part of Russia for most of history before being "gifted" by Khrushchev to his homeland in 1954. Unlike the rest of Ukraine, Crimea is largely populated by Russian military and ex-military. Hayden discussed the limitations of the Russian economy, saying that in economic terms that "Russia is Saudi Arabia with cold winters" and that Putin is a failed leader except for instilling nationalist pride. See: A former exec of a Swiss private bank offers his insights into the country's wealth management business and what innovations could redefine it.
Bad guys and e-mail
My favorite quote from Hayden came when he was asked about the controversy over NSA monitoring of communications. He said that e-mail accounts from U.S. providers were the communication tool of choice for terrorists. Hayden pointed out that communications are in the U.S. even if the people aren't, and that it's very hard to balance between protecting citizens and protecting civil liberties. See: $2-billion HighTower practice hosts UHNW event relating to financial — and personal — security.
Other popular sessions focused on practice management, with industry leaders discussing topics such as mergers and acquisitions, philanthropy, organic growth and scalability. Boston-based Banyan Partners LLC founder and chief executive Peter Raimondi and Rob Clarfeld, Principal of Clarfeld Financial Advisors in Tarrytown, N.Y. gave advice about how to be an educated buyer and an educated seller, while providing a dose of realism for audience members with overly optimistic sale multiples in their heads. See: AMG delves deeper into the RIA business with second deal — of $4-billion player in NY.
Daniel Kern is president and chief investment officer of Advisor Partners and he splits his time between offices in Boston and Walnut Creek, Calif.
---
---
Mentioned in this article:
---
---
---
Mike Byrnes
I agree that the Barron's Top Independent Advisors Summit was again a hit and that it is one of the better conferences of the year! I was happy to present at it again! — Mike Byrnes, President of Byrnes Consulting, LLC, www.byrnesconsulting.com
Ric Edelman
This conference continues to be one of the top events of the year – a "can't afford to miss it" opportunity.
http://www.baggetta.lfchosting.com/candlepuzzlepag
Examining your physique is hugely significant for being able to get proper movie star dresses. Some women of all ages prefer to get a unique gown simply just since their preferred superstar has set it on. They really never worry concerning the dimensions as well as other essential elements. Thinking regarding your determine could maybe be the most significant component right before choosing any outfit. Evaluating your body type will not require lots of effort. For individuals who have very little knowledge about various widespread physiques, then it could be super quick to be aware of about your own physique. Outstanding costumes might be obtained for shapely and curvy figures.
http://realnye-films.ru/user/carpinteyrosqk/
With ActiveSync, the Apple iPad Exchange synchronization is enabled, but iPad also supports Google, Yahoo's Zimbra and various servers that use Trade ActiveSync. In addition, the Contacts app has a chance to use ActiveSync and search a worldwide Handle Listing presented on an Trade server.